If all this time at home has taught us anything, it's that there's a creative spirit inside each of us. So many of you have been in touch and tagged us in your lockdown paint projects. We've been overwhelmed at the amazing talents of our lovely customers!
While some are using this time to redecorate entire rooms (hats off to you!) others have created something truly unique at home using just a few tester pots.
Sample pots or smaller tins of paint are ideal if you've not decorated before but fancy trying your hand. You could paint feature walls, furniture or create your own artwork. To help inspire you, we've put together our top six most creative lockdown paint projects:
1. Nerissa Pratt's colour block wall
Nerissa Pratt is a talented individual with an array of crafty skills. She decided to use a combination of Earthborn paint colours to create a colour block style wall.  She explains:
"Since I spend a lot of time working from my home office, it only seems right that it gets a bit of love… Recently I fell down a Pinterest hole and discovered colour block walls and I knew it was meant to be. I really like the idea of not having to commit to a full wall of colour but having a 'pop' of something to keep the room interesting."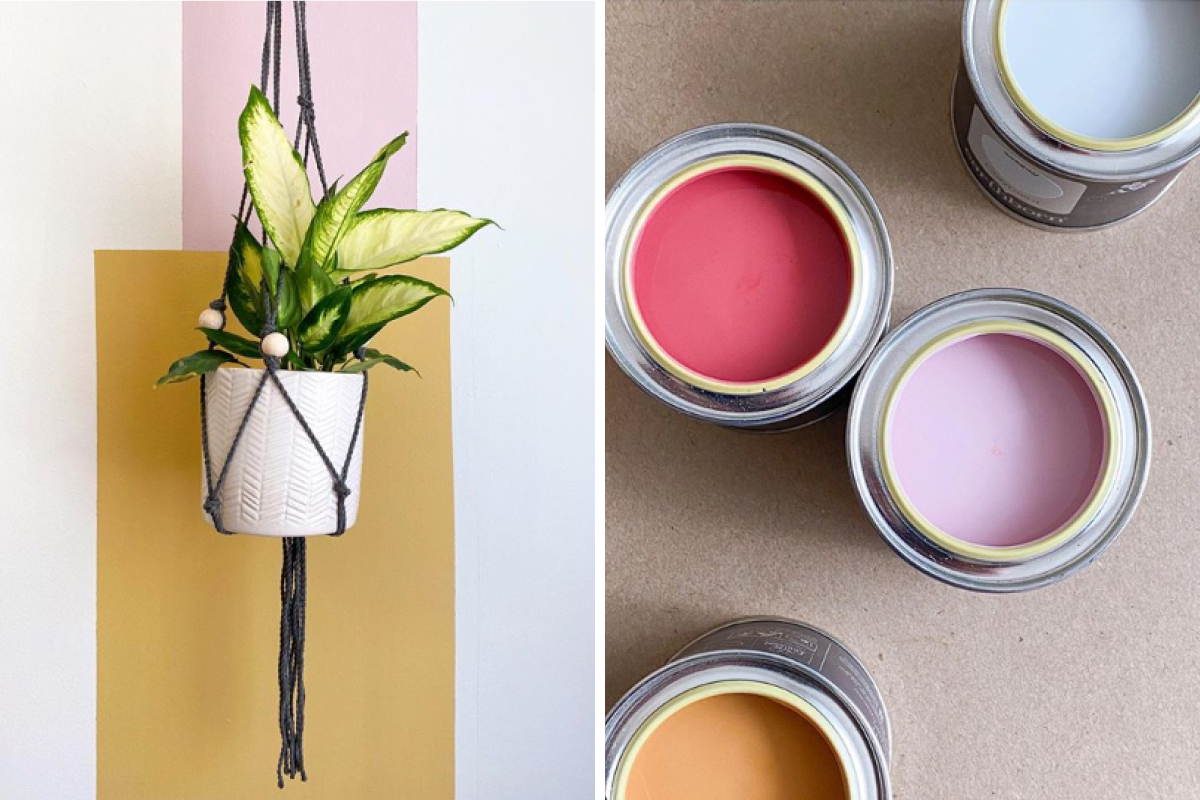 Using mostly sample pots, this is an easy project if you're new to painting because you only need some making tape and a paint brush!
2. Luke Arthur Wells' DIY artwork
One of our very own #claymates, Luke has undertaken some incredible DIY projects around his stylish home (we'll have one of those marble coffee tables please Luke!) Having recently redecorated his living and dining area, he wanted something special to hang above the fireplace.
Ever resourceful, Luke decided to create his own contemporary artwork using MDF panels, filler and some left over Claypaint from his bedroom project in the colour Flutterby. You can see exactly how he did it on his Instagram stories. Oh and in case you missed it, Luke answered some of your DIY questions recently, take a look here.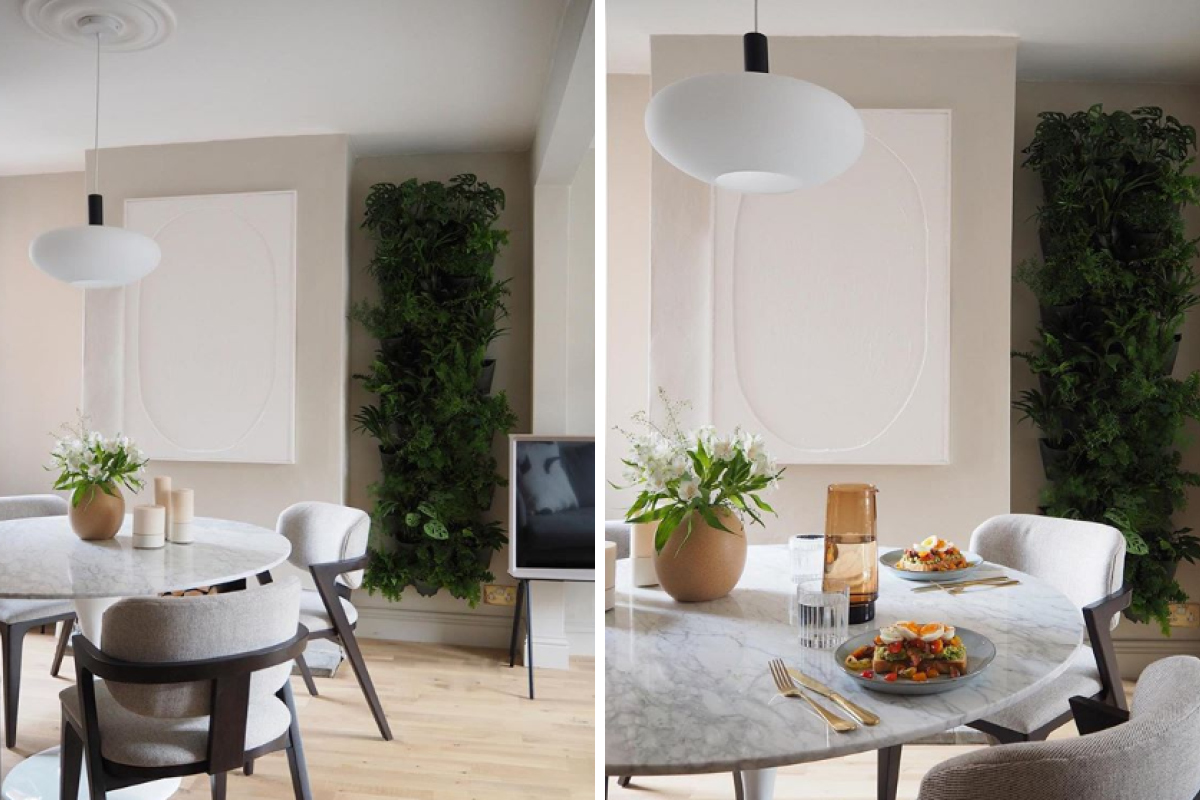 3. Natasha Nutall's colourful nursery
Colour enthusiast Natasha wanted to create a bold and beautiful nursery for her new baby Dylan. But living in a rented property, she couldn't just paint the walls willy nilly! So she decided to come up with something a little more creative.
Along with some vinyl wall stickers and colourful prints, Natasha gave the nursery extra personality by painting some simple Ikea furniture. Natasha used our Eggshell No.17 which is both hardwearing and safe to use on kid's furniture. We love the choice of colours!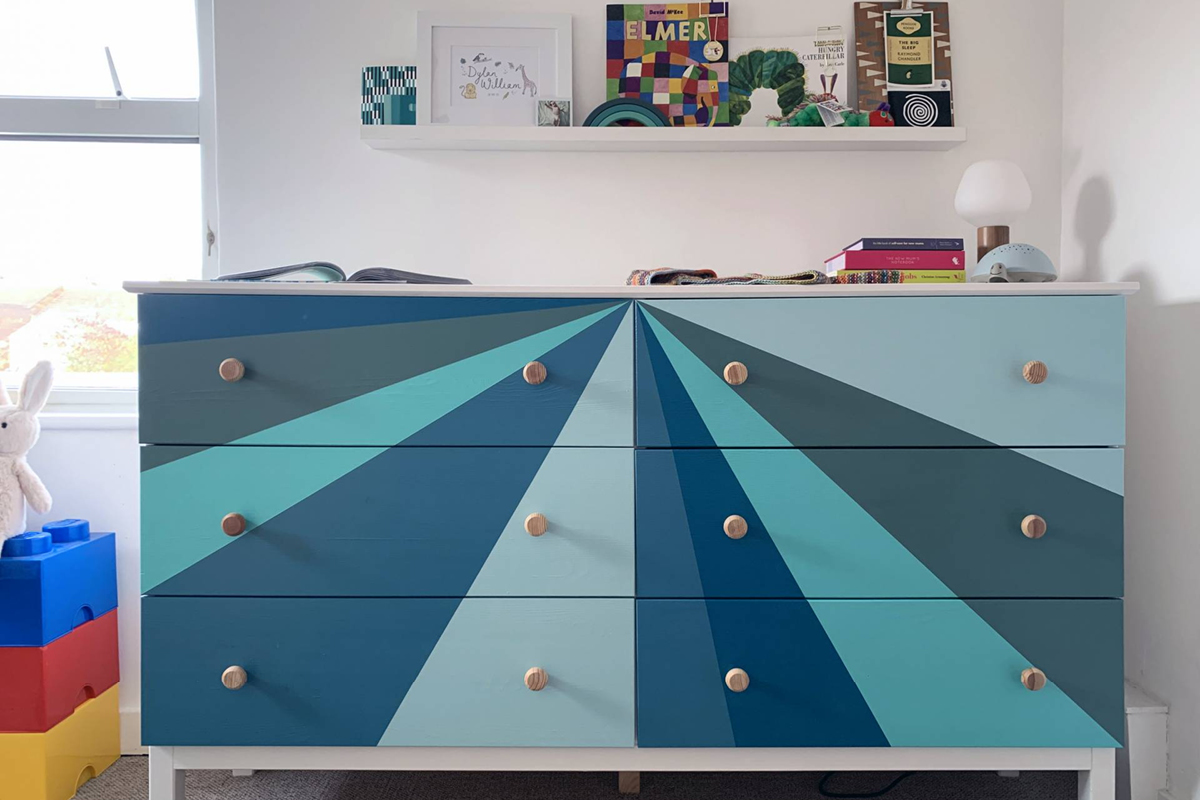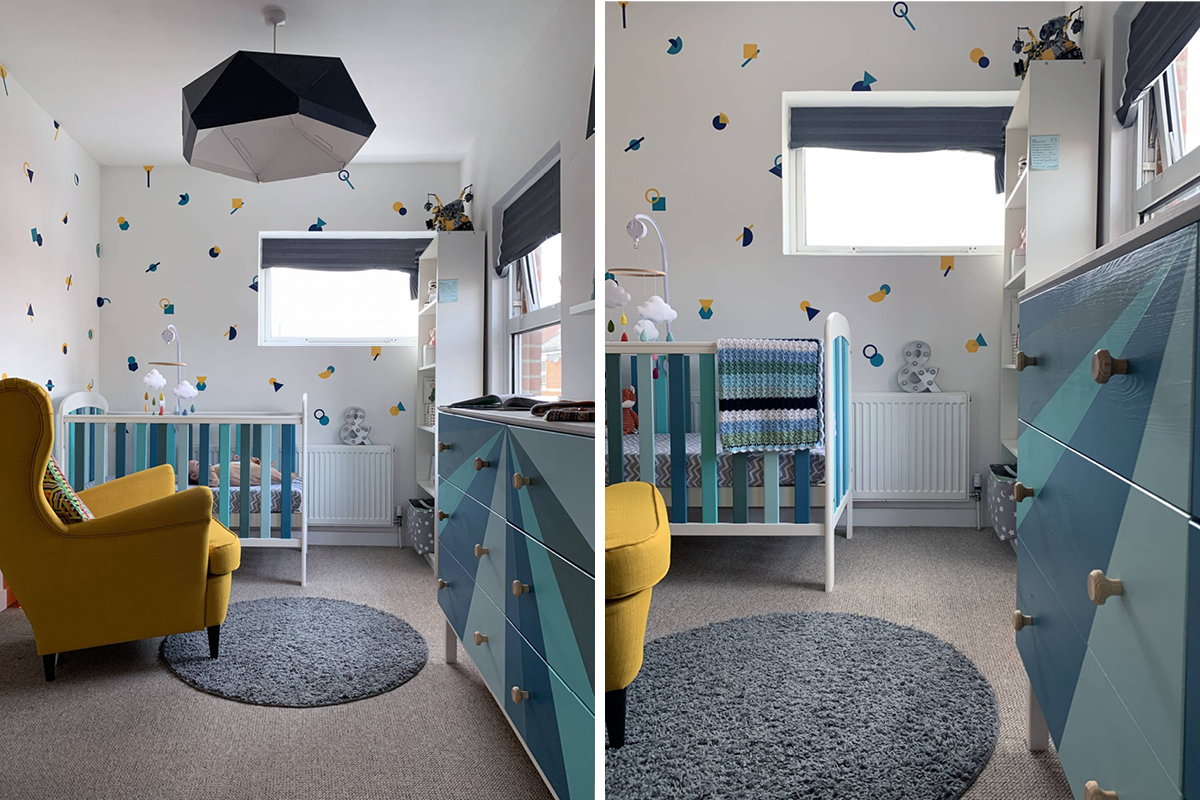 4. Naptime Style's painted headboard
Hannah from Naptime Style is no stranger to creative paint projects. Last year she used a delicious palette of Earthborn shades in this dreamy kids' room, including Trumpet, Delilah and Rosie Posie. We were all a little bit envious of that hand painted leopard print wall!
So it's no surprise she got creative with the paint brush in her own bedroom, this time with a painted headboard! A simple but effective paint technique, we love it!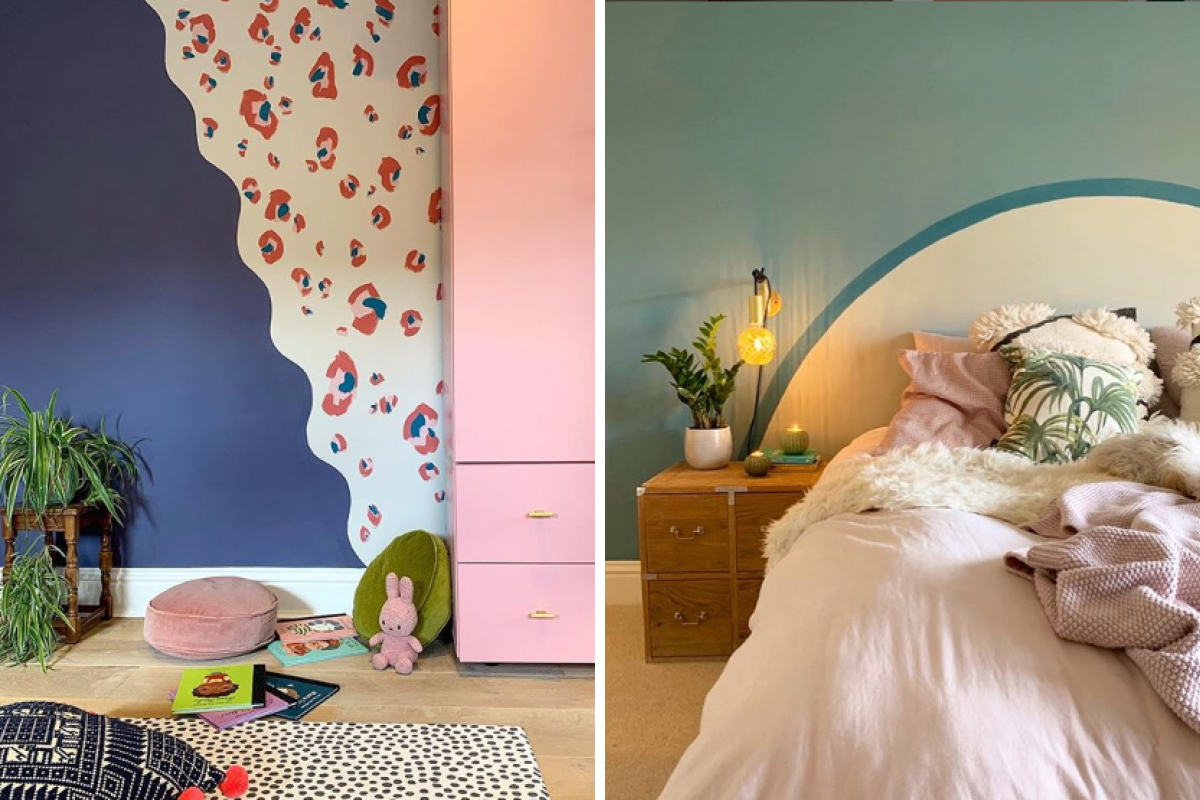 5. Jade Marie's artistic mural
Jade is a professional artist who recently turned her talents from canvases to walls. Using abstract shapes, this wall mural has a similar flavour to her paintings. While the colours are bold, they work together perfectly.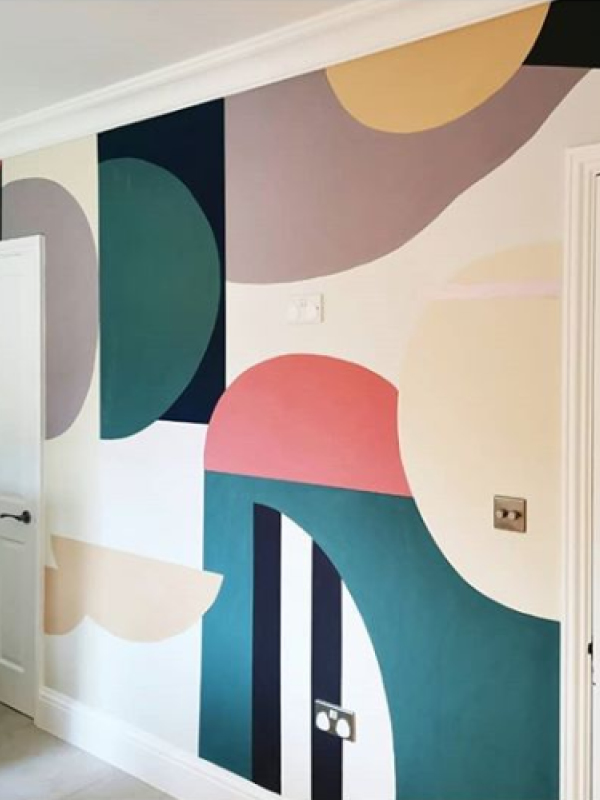 6. Emma Jane Palin's scallop stripes
Another one of our #claymates, Emma has used Earthborn paints for a number of projects. She even did a live Q&A for us recently, which you can read all about here.
Like Natasha, Emma also lives in a rented home so didn't want to paint the full walls of her bedroom. So to add interest to her white walls (and to tie in her overall colour scheme) she created a scalloped border along the top of her walls using Freckle & Flower Pot. This type of project doesn't require much paint but makes a huge impact. Fancy trying it for yourself? You can see her 'how to' over on her Instagram stories.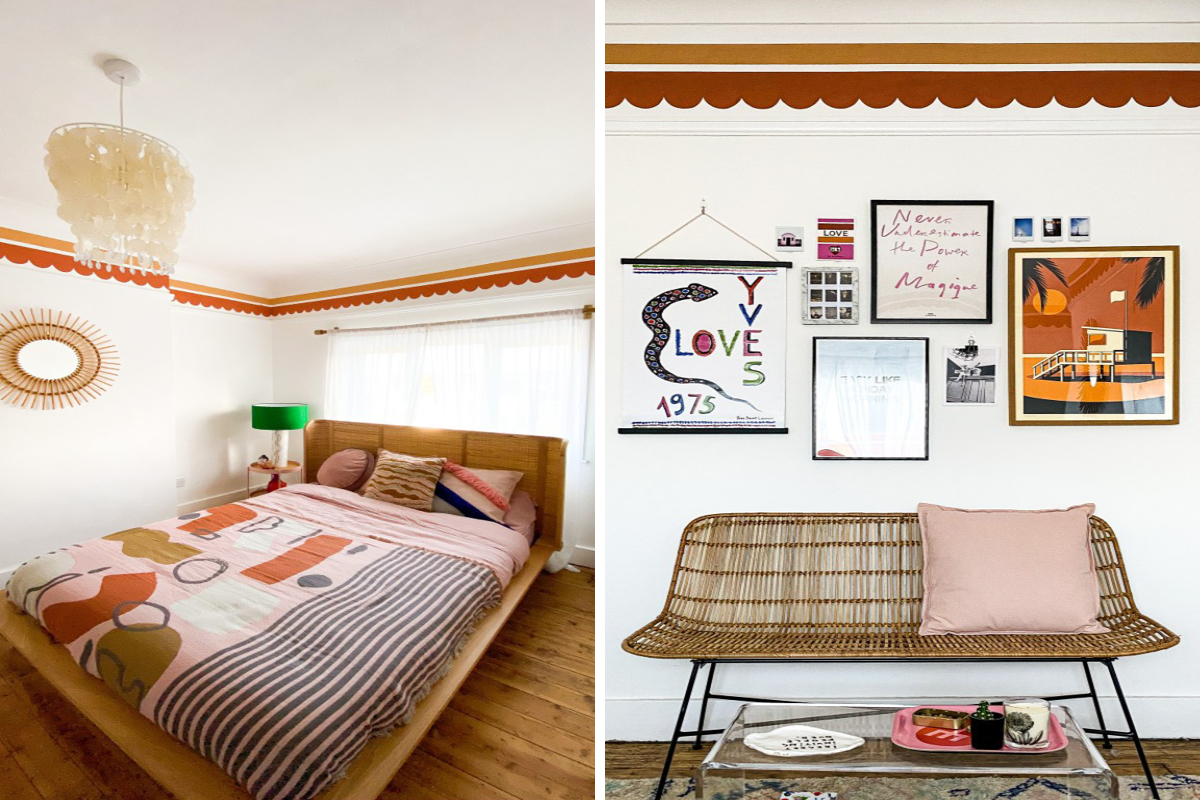 If you've been inspired to give your home a bit of love during lockdown, we'd love to see your paint projects! Head to our social channels and be sure to tag us. And don't forget you can now order all our Classic range colours from our online shop, from sample pots to full size tins (plus paint brushes and aprons!).