The environment is a topic that's close to our hearts and on many people's minds right now. Since Earthborn was founded, our mission has been to create a range of paints that are healthier to live with, beautiful to look at and better for the environment. So we wanted to highlight our top 5 eco credentials:
1. Careful ingredient selection
We consider not only what goes into our paints, but also, perhaps more importantly, what comes out. Our paints are water based and free from oils, with Claypaint being totally free from acrylics and vinyl. We carry a range of titanium dioxide free colours and avoid known allergens. We keep the levels of preservatives within our paints to an absolute minimum, but if you ever have any questions about specific ingredients you can always contact us here. You can also find a full list of ingredients on the sides of our tins, in order to help customers make an informed choice.
2. Virtually VOC free
Volatile Organic Compounds, known as VOCs, are carbon based chemical compounds found in most paints. VOCs are harmful to health, the environment and contribute to global warming. It is a legal requirement for paint labelling to state the VOC content of the product.
The VOC content in Earthborn paints is negligible – less than 62 parts per million! However recent legislative recommendations issued by the British Coatings Federation mean that UK paint manufacturers should no longer advertise or label their paints as being 100% VOC free. Although our paints do not contain any added VOCs, there are certain processes during manufacture (for example, when washing the clay) that are, unfortunately, beyond our control and could contain trace levels of VOCs.
At Earthborn we take an open, honest approach to the marketing of our products. Therefore we have taken the decision to describe our products as virtually VOC free.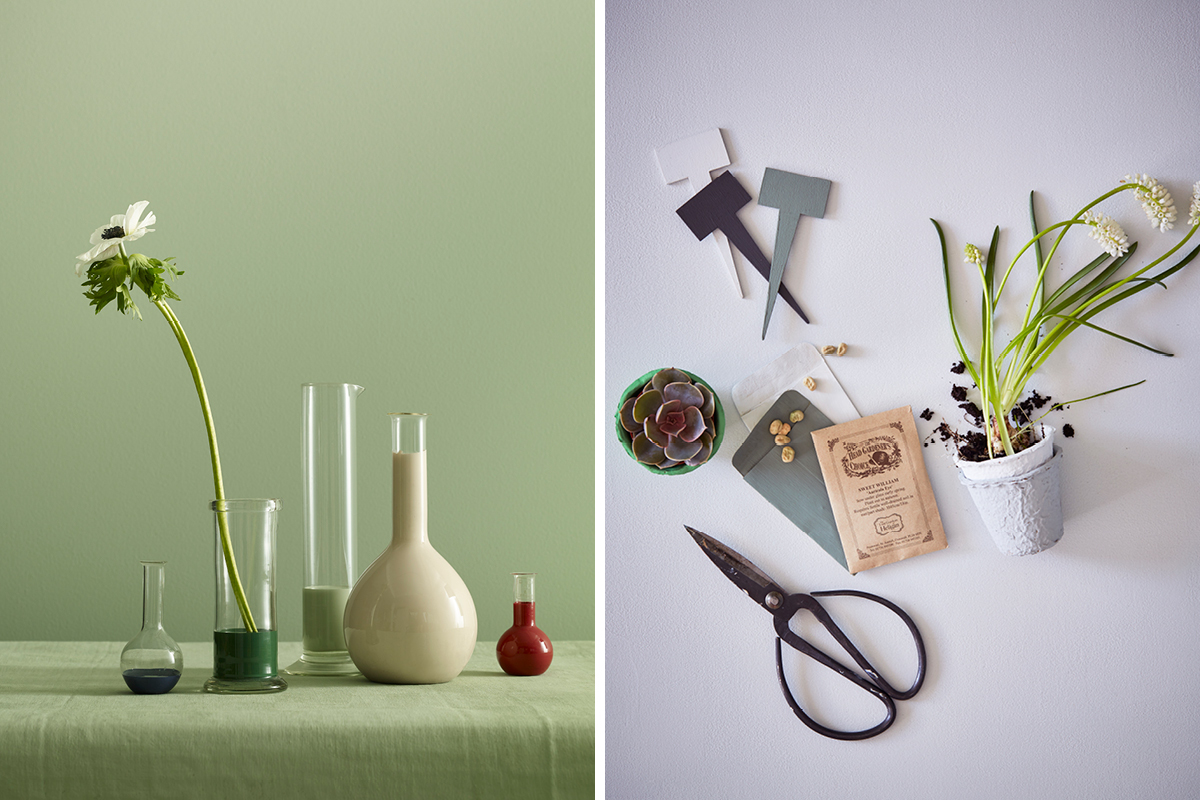 3. No nasty smells or harmful emissions
Because we take so much care over what goes into (and stays out of) our paints, they don't give off any harmful emissions or nasty paint smells. Some paints can continue to 'off gas' for many months after being applied to the walls but our paints are safe to use and rooms can be returned to normal straight after being decorated. In fact, those who would normally be sensitive to conventional paints, such as asthma and allergy sufferers, usually find they have no ill effects using Earthborn paints. Our paints are Ecolabel accredited meaning they have to meet strict environmental criteria in terms of both ingredient selection and during manufacturing processes.
4. Safe for little ones
As well as being free from harmful emissions – making them ideal for children's bedroom, playrooms and nurseries – all of our interior paints are certified as being safe to use on children's furniture and toys too, carrying the Safety of Toys Standard (EN71-3).
5. Highly breathable
The high breathability of our paints, in particular the moisture absorbing qualities of Claypaint, helps even out the humidity in a room, making for a healthier, more comfortable living environment.
The clay in Earthborn Claypaint emits negative ions; higher ambient levels of negative ions are widely accepted as being beneficial to health and wellbeing, especially for allergy and asthma sufferers. Claypaint's high clay content also helps to destroy airborne odours and contaminants, reducing static build up, so reducing dust and allergens.