Paint for damp basements and cellars
18th October 2021

One of the most common questions we're asked at Earthborn is what is the best paint for damp basements and cellars? Of all the rooms in a property, basements are often affected by damp. When considering what causes damp basements there are a variety of factors, but it's usually because these rooms sit below the water level underneath a property and air cannot always circulate freely. In older houses especially, cellars and basements can be subject to ongoing damp problems for many years.
When it comes to choosing paint for damp basements and cellars, we find lots of older properties with damp basements are treated with plastic based, non-breathable plaster and paints, in an effort to waterproof the room. In the short term this might solve the damp issue by keeping water out, (by, for example, using a damp proof paint). But longer term, moisture becomes trapped under the surface and builds up, so the damp basement walls become more and more saturated.
One of the first signs of a damp basement wall is flaking and bubbling paint, where moisture has pushed through, causing it to peel. As the paint comes off the walls, salts, mould and mildew may start to appear (yuk!). Eventually a wet cellar wall can cause the plaster to blow, and can even impact on the fabric of the building itself.
A better way to treat damp in a cellar wall (especially in older properties) is to use breathable building materials such as lime plaster and breathable paints. This will allow any moisture trapped within the walls to naturally pass through the surface of the wall and help to regulate the humidity in the space.
The paint we'd recommend as suitable for painting basement and cellar walls with ongoing damp problems is Earthborn Claypaint, a highly breathable interior emulsion with a high clay content. It is suitable for painting over new and old lime plaster, as well as painting walls that have been stripped of previous paint, and is an ideal for painting basements.
Whilst Claypaint can help to prevent mould growth, is not a cure. Being highly breathable, Claypaint works by allowing the moisture to pass through, then releases it as the room ventilates or the walls dries.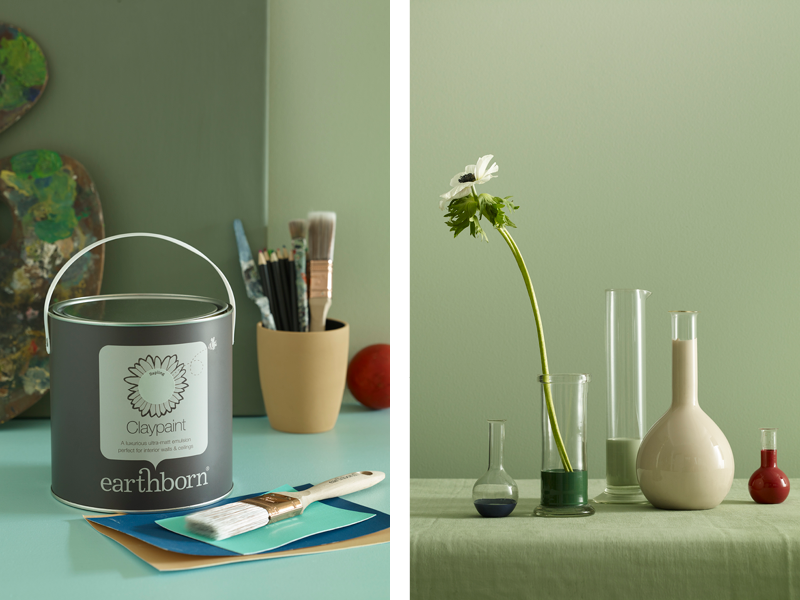 Any existing mould or mildew needs treating before repainting. It's also important to treat the damp problem as a whole, by using a breathable paint in conjunction with other breathable building materials, which will allow moisture and water vapour to flow through the walls and help prevent a build-up of trapped moisture. This is especially important in older properties that may have had a variety of damp proofing works carried out in the past, some of which may not always be suitable for the age of property and original building method. We'd advise contacting a specialist who understands how to treat damp basements and cellars and has experience working with older period properties.
If you have a project that you need help with, contact us and we'd be happy to advise on whether Earthborn's breathable paints are suitable for the job. Alternatively many of our stockists have lots of technical expertise – head here to find your nearest.