We're often asked whether our paints are suitable for use around fireplaces, in areas such as the brick behind wood burning stoves or the fireplace surround. It's a good question, as many paints aren't up to the job – they can easily discolour and flake as they aren't able to withstand such high temperatures.
Earthborn Claypaint has a high clay content and is free from acrylics and oils, meaning it can withstand very high temperatures without affecting the finish. Its flat matt finish also complements the soft glow of a fire and adds to the cosy feel of the space.
If you're thinking of painting around your fireplace, Spring, Summer or Autumn are the best times of year to do this job, as the fire is less likely to be in use.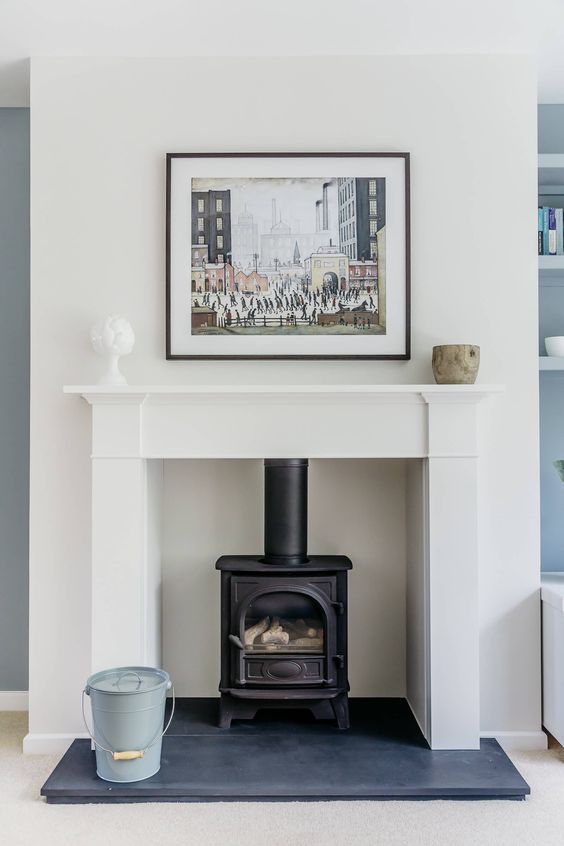 First of all, the area needs a thorough clean – this is the messy bit! Be sure that all soot and dust are swept and vacuumed and use a stiff wire brush to remove build up from any crevices in brickwork. If the area you're planning to paint is bare or new plastered, smooth out any lumps with a medium sandpaper.
Any dry stains can be treated first with Earthborn Isolating Primer – a couple of coats may be required if the staining is heavy. This will block the stain from bleeding through to the paintwork – although it's not advised for use on lime plaster/render as it can inhibit the breathable properties of the lime. Then make sure the surfaces are clean, sound, dry and stable.
Protect the stove or fireplace itself using plastic sheets – the last thing you want is splashes of paint on a black wood burning stove!
When the area is ready for painting, dilute the first coat of Claypaint with around 1-2 parts water to 8-9 parts paint. This is especially important on porous surfaces like brick or plaster. Claypaint can be applied by brush or short pile roller. Follow with a full coat of Claypaint and you're ready to go!
Allow the paint to thoroughly dry over night before lighting your fire.
We'd love to see pictures of your painted fireplace or chimney breast using Earthborn paints. Head to our social channels below to share your project!