How to prevent damp in your property
28th February 2022

Damp can be found in any property, although it's more common in older properties. So if you have found damp walls in your home, what do you do? Although it's easy to ignore the issue and hope it goes away on its own accord, it's highly unlikely to happen. Untreated mould not only looks unsightly but can lead to structural issues and even have a negative impact on your health.
We often get asked the question 'how to prevent and treat damp walls'. In this blog, we have put together some information to try and help you to identify mould, raise awareness of the effects of living with dampness and how to prevent damp from occurring.
Signs of damp
There are several signs to look out for when checking for damp in your home. Firstly damp tends to be visible so look for black spots and discolouration in your home. Check corners, ceilings and behind large furniture where condensation can collect and there is a lack of ventilation.
Another telltale sign is bubbling or peeling paint. This tends to arise in older properties when non-breathable materials like vinyl paints or modern plasters are used, obstructing the natural airflow of the building and trapping moisture. Similarly, modern homes can have bubbling or peeling paint and this tends to happen in rooms that are exposed to high levels of moisture such as bathrooms and kitchens.
Sticking with senses, an unpleasant smell is also associated with mould. Damp can create a highly recognisable musty smell which is caused by mould and mildew. If you can smell a musty scent but can not see any visible signs of mould, it warrants further investigation.
Finally, feel the walls around your home. Do any of them feel unusually cold? Cold walls are a telltale sign of early stages of damp, even if you can not see any.  Condensation collects on cold walls leading to mould and mildew problems.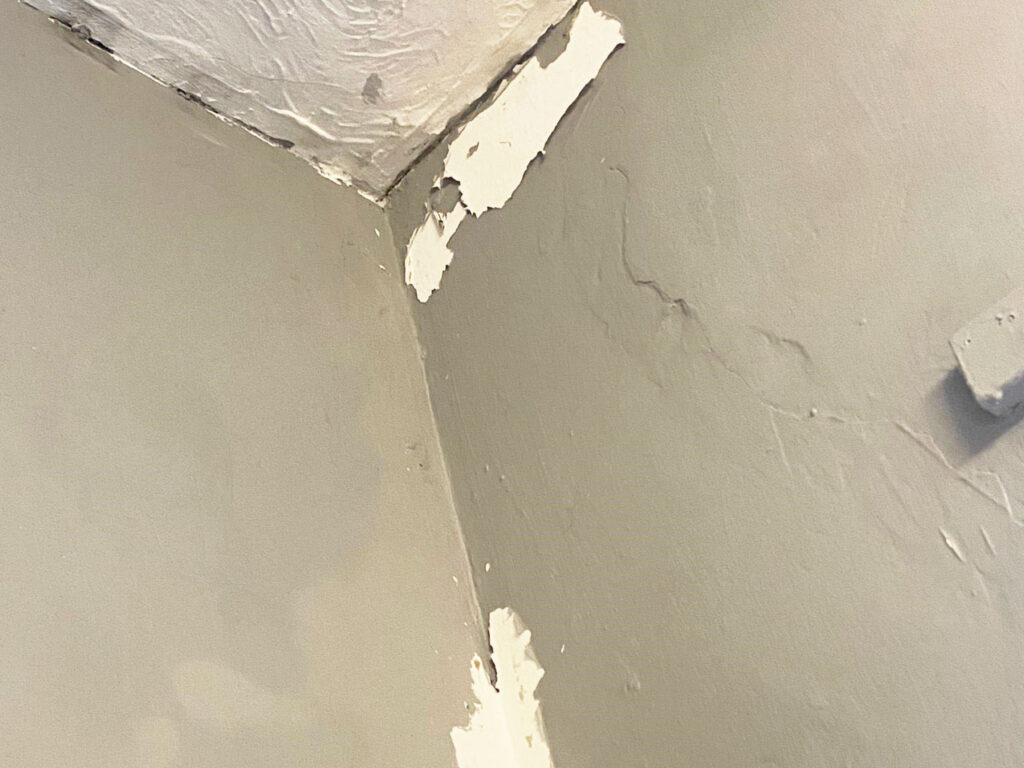 The negative impact of damp
If you have discovered damp in your home then it's important to get it treated. In extreme cases, damp can lead to water being trapped under the surface of plaster and as a result, the plaster can blow which in turn can impact the structure of the building.
Furthermore, damp left untreated over a long period of time can have a negative impact on your health. Mould produces spores that can irritate and cause an allergic reaction. Symptoms tend to be respiratory like sneezing, red itchy eyes, runny nose and even a rash. If anyone suffers from respiratory illnesses like asthma, are more prone to feeling the effects of mould.
Steps to help prevent damp
Mould and damp need to be treated professionally before any steps are taken to prevent it from happening in future.
However, there are many things you can do to help prevent any further outbreaks of mould in your home.  Starting with using breathable materials. Lime plaster and breathable paint such as our Claypaint, allows moisture vapour to be released from walls without impacting on the fabric of the building (when applied to bare plaster). This is especially important for older homes where insulation and damp course is inadequate.
Increasing ventilation in the home encourages airflow. Airflow is important in allowing moisture to evaporate from homes. By opening windows and doors and using extractor fans in bathrooms and kitchens, can all help towards preventing moisture build up in your home.
Maintaining your home regularly not just inside but outside too can help to prevent damp. Looking for signs of deterioration externally such as blown bricks, crumbling mortar and broken guttering should all be checked. Insulation, lofts and floorboards should be checked every few years to make sure they are all sound and working correctly.
Have you found this blog useful? Sign up for our newsletter to get handy hints and tips and all the latest colour and room inspiration straight to your inbox.