In early 2020, furniture brand Furniture and Choice used Earthborn paints for their 'Green Indoors' interiors campaign. With a focus on health and wellbeing at home, this trend featured a palette of spring greens, off whites and soft pinks. In case you missed it, you can read more here.
3 ways to style an earthy paint colour palette at home
We were delighted that Furniture and Choice chose to use Earthborn once again for an autumnal photoshoot featuring earthy paint colours. In this post, the team share three of their favourite looks, where earthy hues of rust, burgundy and mink are used to create a chic, calming, and welcoming atmosphere.
Rebecca Snowden, Interior Style Advisor at FurnitureChoice.co.uk, shows how to style this warm palette at home for the cosy season.
1. Introduce comforting hues in the bedroom
Build a palette of warm, earthy hues like rust, tan, oatmeal and mink in the bedroom. "Colours associated with nature are known for their soothing properties, and this includes the earth tones," Rebecca explains.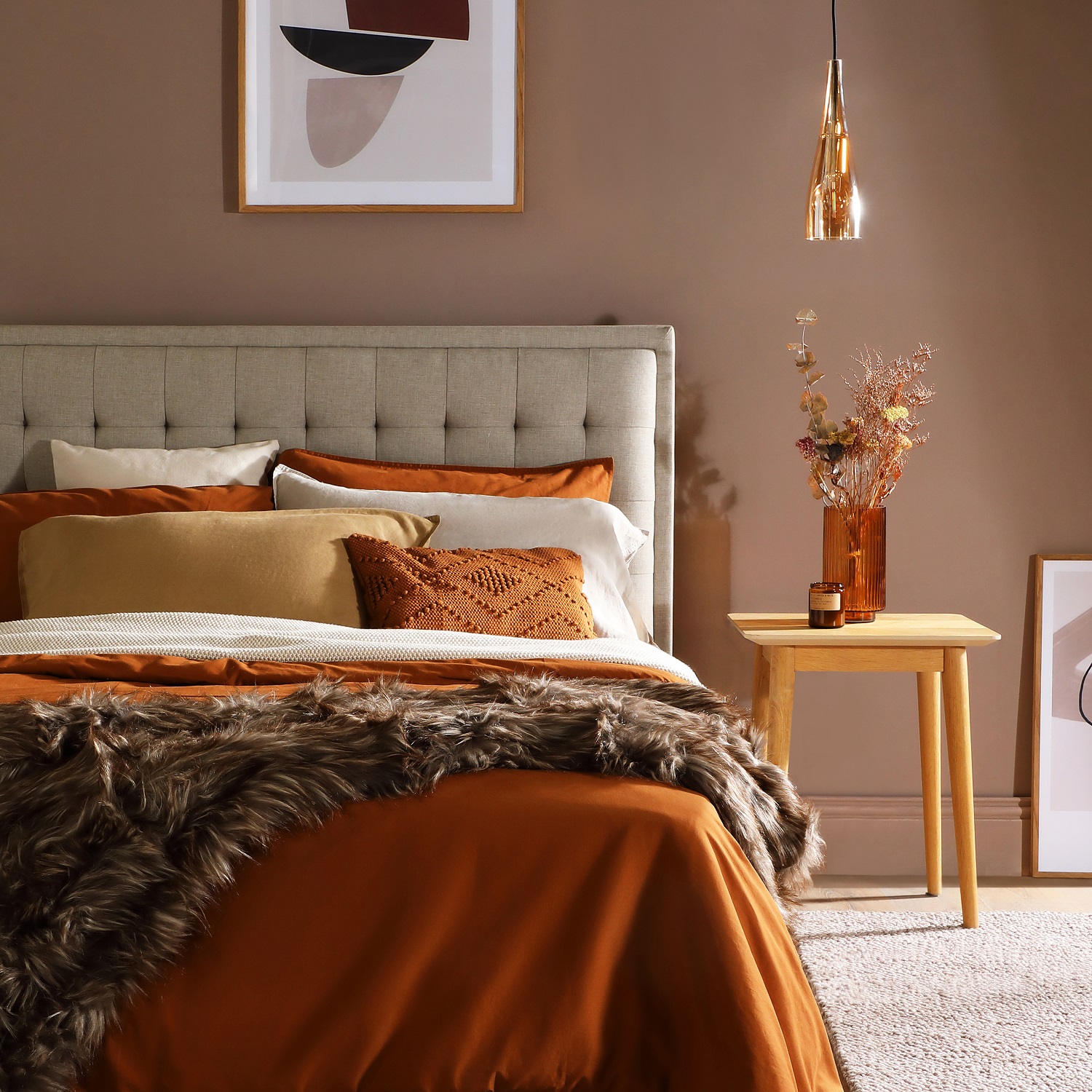 "Begin with a light neutral base like mink walls or an oatmeal bed, then layer on warm browns and off-whites through bedding and accessories." Here, Muddy Boots has been used on walls as a luxuriously warm backdrop.
Add natural interior accents that encourage a calming ambience such as a wooden bedside table or flowers in a vase. Mango wood in particular has a golden brown tone that pairs well with minimal, luxe accessories.
"Amber glass is a chic option for autumn decorating thanks to its rustic colour and natural material base. For a touch of glamour and shine, explore amber glass feature lights," says Rebecca.
2. Create a vibrant contrast in the dining room
Take a daring approach in the dining room by using rich, contrasting autumn tones. "Burgundy is a gorgeous choice – it has a seasonal vibrance which is great for perking up a space that sees more energy and activity," says Rebecca. Lady Bug sets the tone perfectly here. Balance the striking colour with mink chairs and ivory accessories to soften the overall look.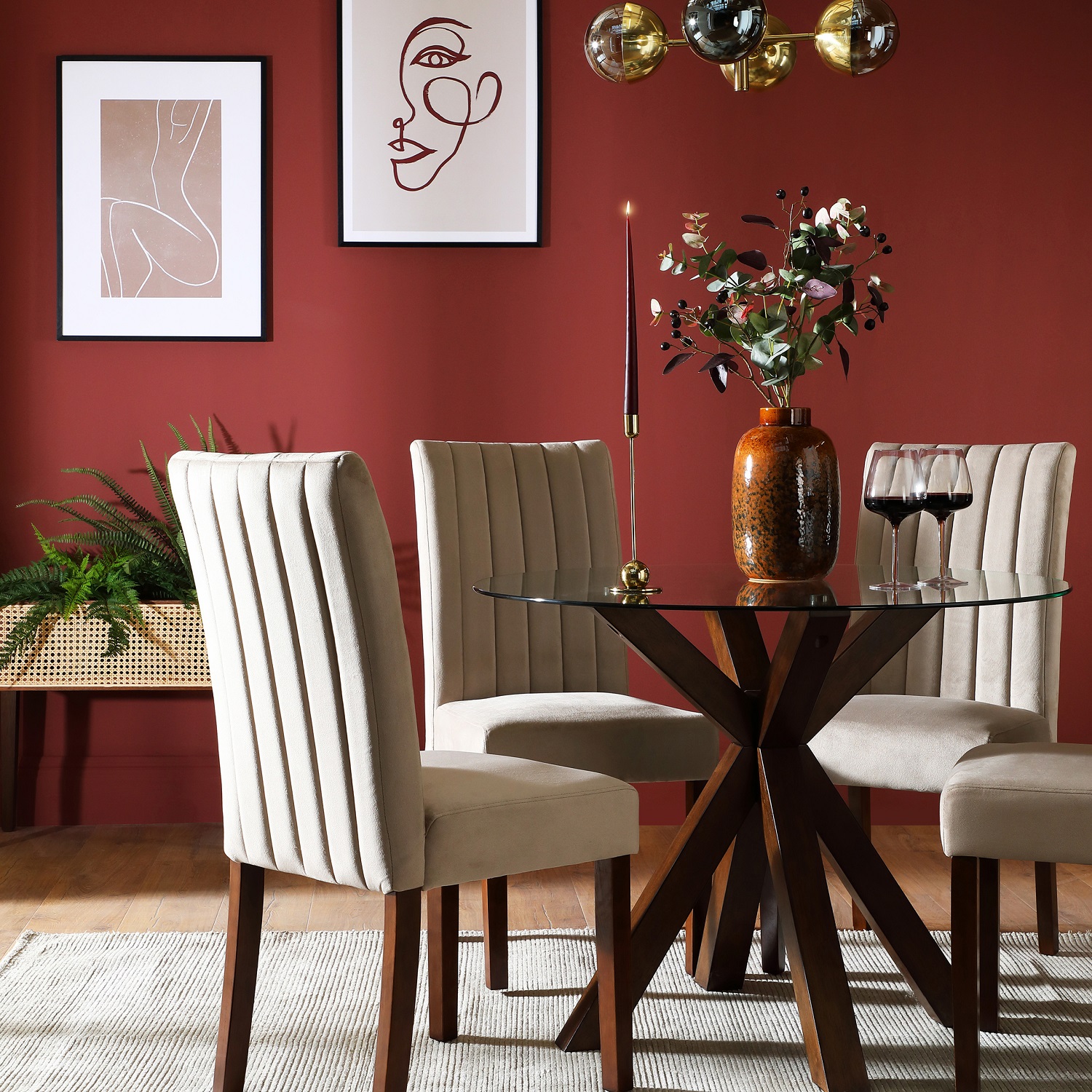 A dark wood and glass dining table holds its own against the bold setting while bringing a sleek, refined quality.
"The rich dark brown tones complement the lush palette and add a material richness to the scene – finish off with some greenery or flowers for freshness," she advises.
Hang a metallic pendant light directly above the dining table to ensure sufficient lighting while introducing a touch of luxe. Further accessorise with natural materials like rattan and clay to create an inviting dining space.
3. Give a grey living room a seasonal update
Update a grey living room with a comforting shade such as Inglenook – a cool grey with a tinge of lilac. The calming and sophisticated colour is softened with candles or warm hued lighting to create a cosy glow.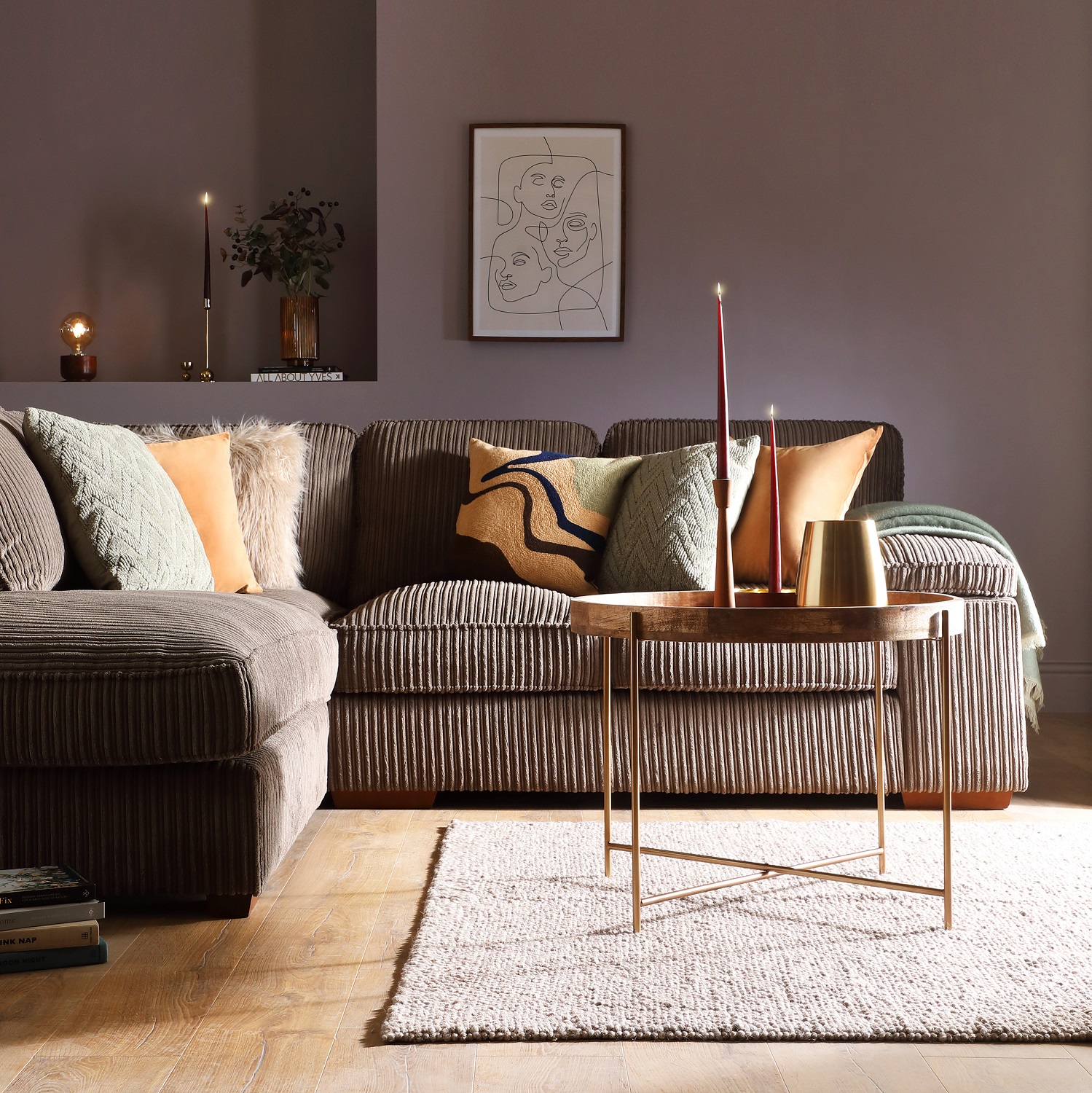 "A cord sofa is perfect for autumn with its soft, plump cushions and comfy material," says Rebecca. "It has a laid back, unfussy style that's dressy enough on its own, but also layers well with chic pillows or throws."
All of the furniture featured in Furniture and Choices's beautiful campaign is available from the newly revamped Furniture and Choice website. Take a look for loads more room inspiration too!
And if you're inspired by any of these warm earthy colour choices, why not order a couple of samples to try in your home? Head to our online shop or contact an Earthborn stockist here.