We're always excited to see our paints used for more imaginative and creative projects. Especially as our latest adverts are about using Earthborn to 'Treat your walls'! So we were delighted when fine artist Caroline Rudge told us she had used Earthborn Claypaint to create an immersive mural.
Caroline is a fine art painter who creates incredibly detailed and truly breath taking paintings (just take a look at her Instagram!)
Here, Caroline explains how she created her intricate, colourful and playful Claypaint mural for her daughter's bedroom.
An immersive Claypaint mural
"It's been just over a year since the birth of my daughter, but plans had been underfoot for many months to create an amazing immersive mural for her bedroom. I'm a fine artist by trade, so this was my dream job! As she was to be sleeping in the room at the same time I was to be painting many of the details, I needed to be assured that the paints I used would be safe, non-toxic and have no horrible odour – Earthborn paints seemed the perfect solution."
To start, I chose the base colours for what was to be my woodland scene – Claypaint in Dorothy blue for the sky, and Mister Toad and Hobby Wood greens for the landscape, with White Clay for tinting. The covering power of the paint is exceptional – I had a strong red to cover, and Earthborn went over it a treat, which meant I could immediately get to the business of creating…
Layering the paints was easy, I just waited for it to be touch dry – I used a lot of dry brush to create lovely texture using tints and mixtures of the two greens and blue. Working top to bottom meant I could get seamless layers, and any drips could be easily covered.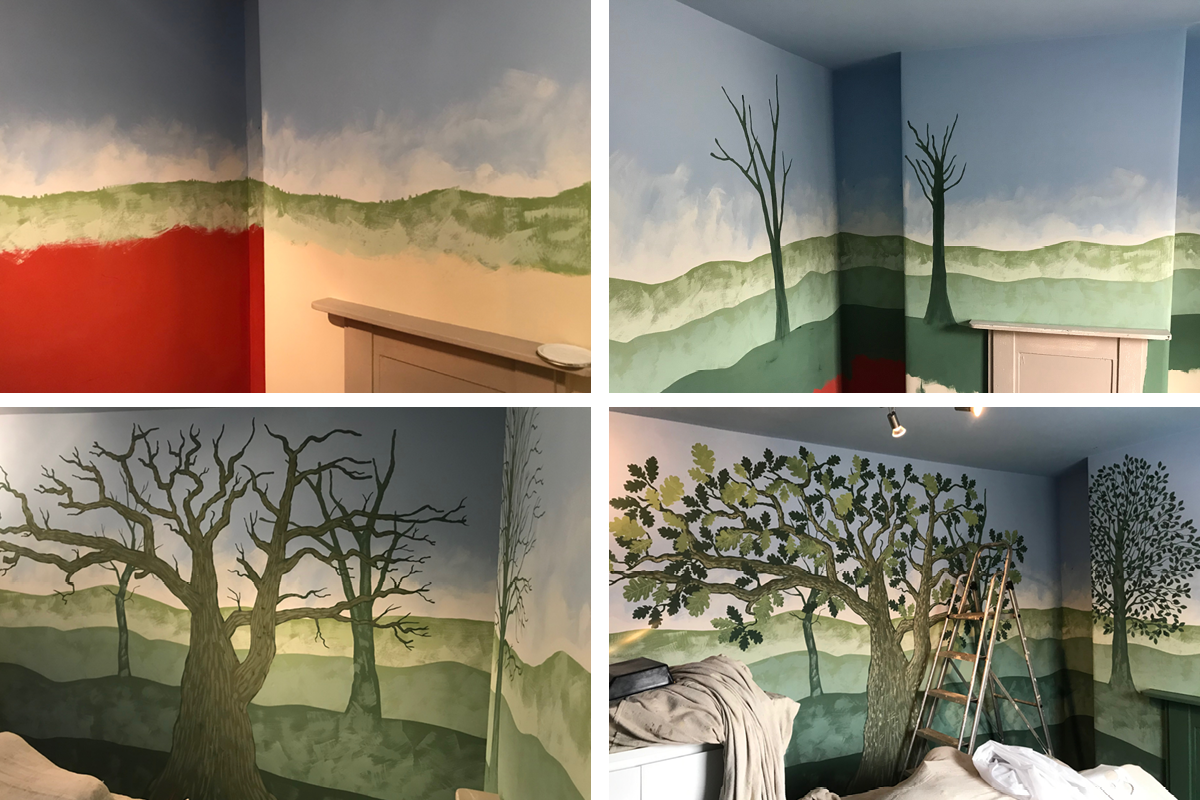 Creating texture with Claypaint
Next came the trees…I was able to really go to town with the texture of the trunks – dabbing, splattering and layering colour. I chose a dozen of the various strong colours in tester pots, so my colour mixing was pretty infinite – a little goes a long way for the details, and I was able to water it down somewhat for smoother application and finer brushwork.
I cut stencils for the leaves and blossoms using Yupo paper (a thin artists paper made from plastic) and layered them to give the trees life.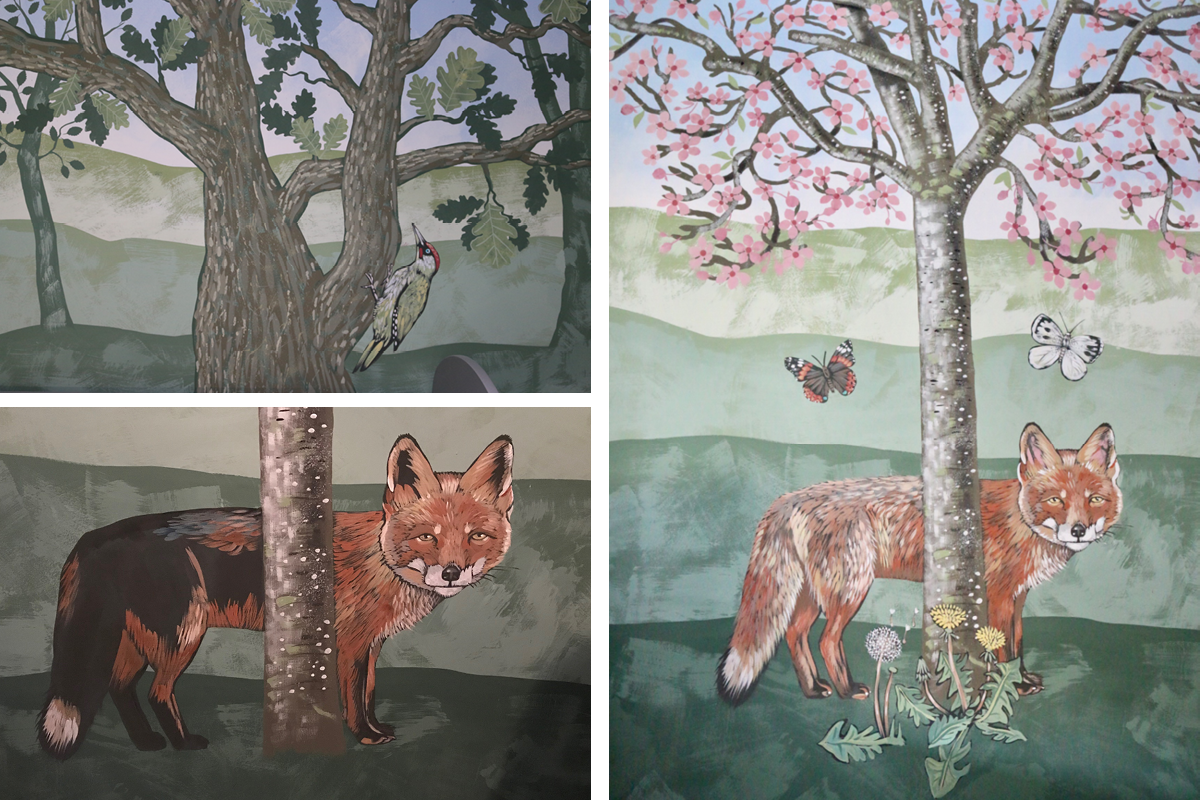 Adding detail to the mural
After the woodwork was painted in Eggshell No. 17 in Hobby Wood, the carpet was laid, and the baby moved in… then for the really fun part, which was painting the flora and fauna of the forest!
All the creatures were painted freehand – I created a silhouette by mixing the darkest grey Hidey-Hole and Hobby Wood, with a few drops of liquid black pigment and water, to make a sumptuous dark base to work on. This method gives a depth to the shadows, and as the paint is so opaque, that layering even the lightest colours is easy.
I'm used to using the finest, tiniest brushes in my fine art painting, which uses a technique of painting from the Medieval era, called Egg Tempera – so painting a mural with relatively ginormous brushes of size 8 and above in a very loose style was great fun!
My daughter adores pointing and talking to the creatures, and especially spotting the flock of birds on the ceiling.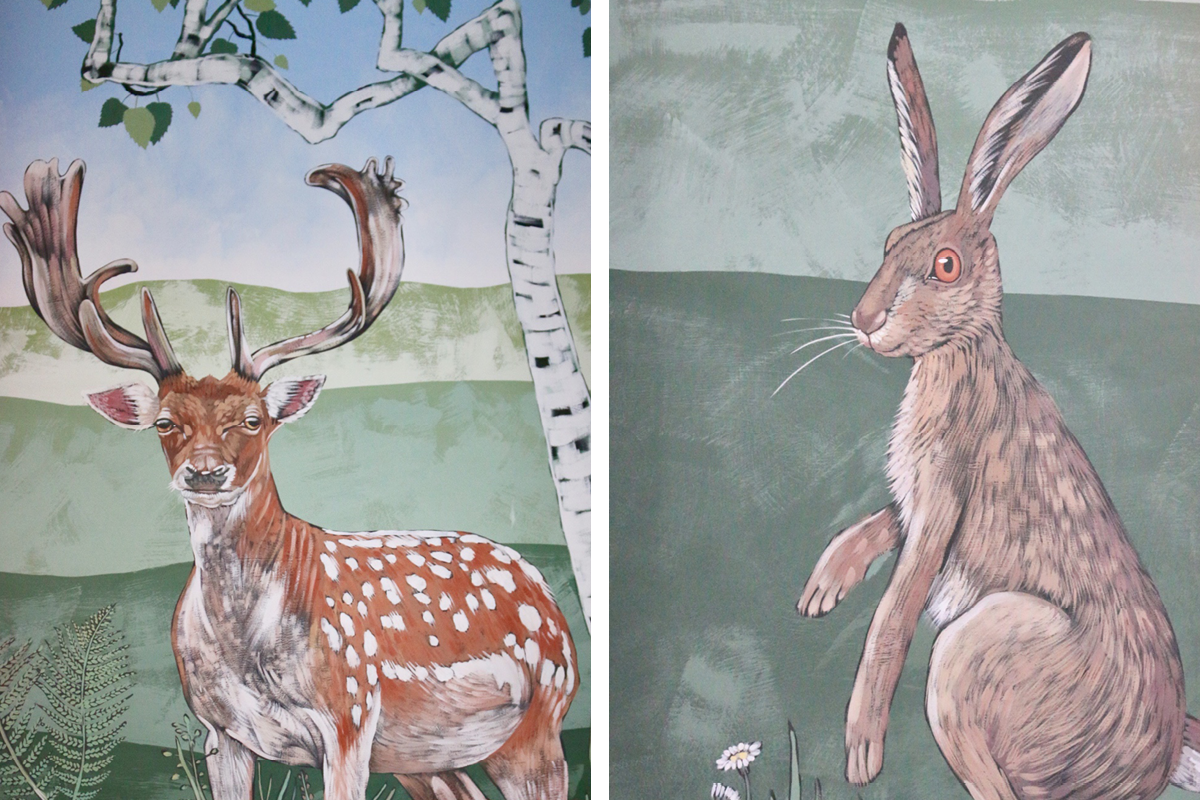 Caroline's future mural plans
I had wanted to fill the room over time with more and more creatures, native flowers and weigh down the tree branches with birdlife…but we didn't anticipate a house move on the horizon…so, I'll consider this my practice run for the new house, where I can paint an even more abundant woodland for her to grow with and explore!"
We think that Caroline has created something truly unique and can't wait to see what she plans for her new home. You can find more of Caroline's original  artwork on her website or instagram pages.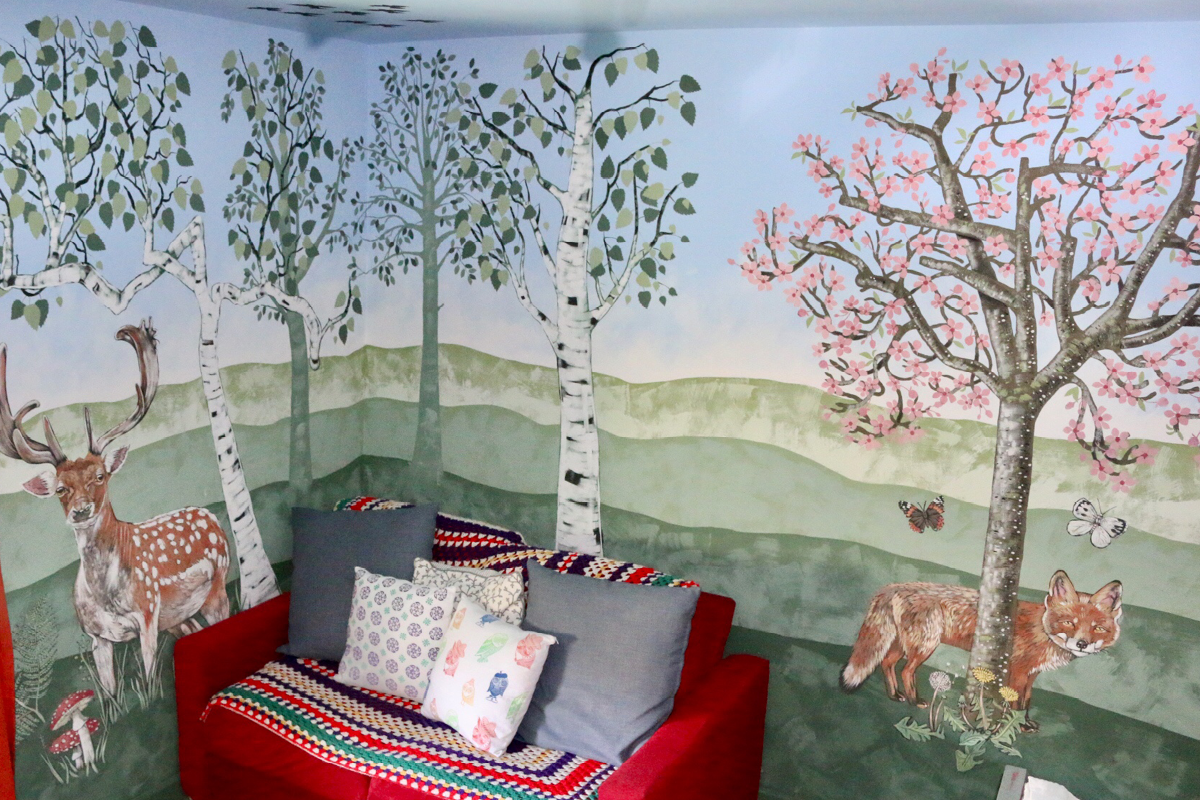 And if you've been inspired to Treat Your Walls using Earthborn, you can buy 100ml sample pots along with 750ml tins of Eco Chic Claypaint direct from our sample shop. Perfect for smaller projects like this immersive Claypaint mural! And if you'd like to see more of Caroline's breathtaking work, visit her website and Instagram account.