Case Study: A closer look inside historic Moreton House
6th January 2020

What better way to welcome the new year than with another inspiring restoration project! In our first blog post about historic property Moreton House we explained how Earthborn's Ecopro Silicate Masonry System had been used to refresh the tired façade of this stunning Georgian building. If you haven't already, you can read it here. We also took a sneak peek at some of the internal works going on at the property, as many of the rooms were repaired with lime plaster and painted in Earthborn's breathable Claypaint.
In this second part of the Moreton House blog, we look at some of its impressive rooms in a little more detail.
The Club Room
For Moreton House owners the Philips family, restoration of the Club Room proved to be one of their biggest undertakings. It's a huge space that had suffered from years of poor materials and inappropriate repairs.  We spoke to owner Helen to explain more:
"The house was a boarding school for just over 50 years, and during some of that time this room was actually used as the school gym. When we moved in, there was a netball hoop on the wall. Not surprisingly, the window sashes and the mouldings were badly damaged. The worst damage was done by the damp, built up and trapped in the wall behind layers of vinyl paint.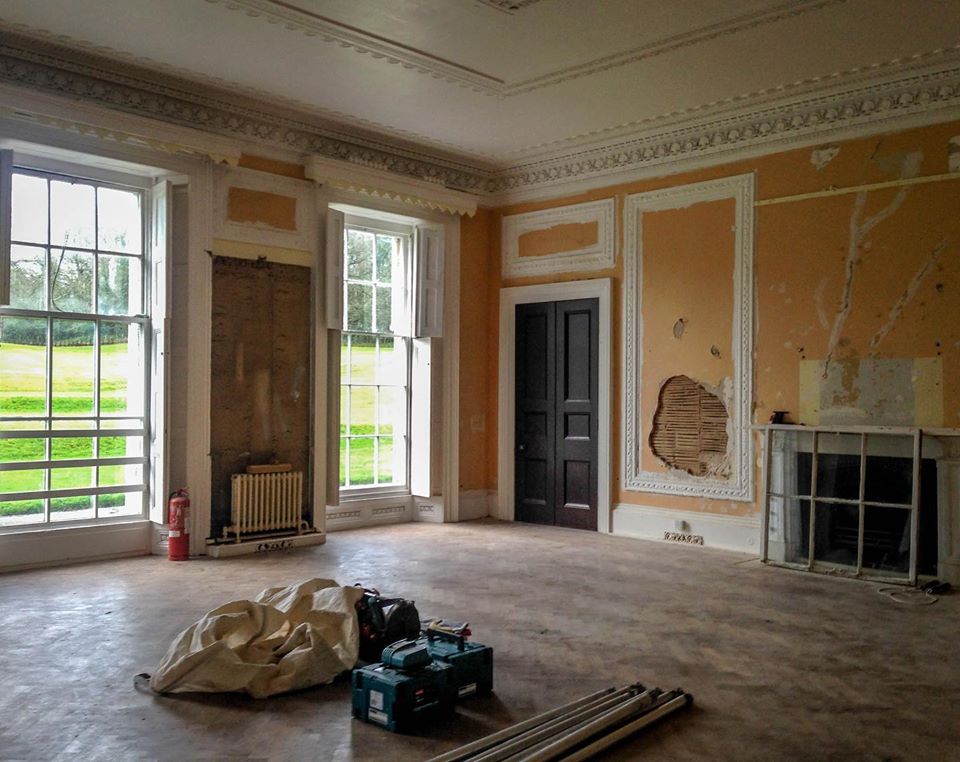 "The old lime plaster was blown, or separated from the laths and the stone walls behind. A lot of the room had to be replastered with lime, so we were keen to use a breathable paint, and found Earthborn."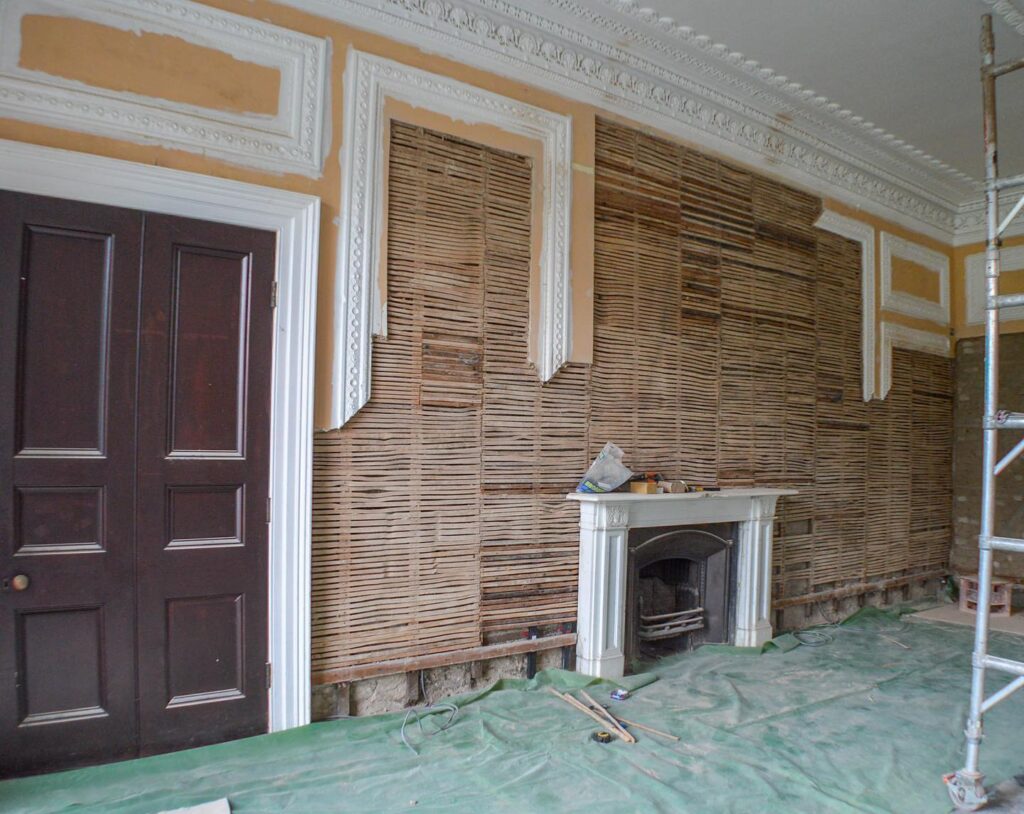 Throughout its ongoing restoration, the Philips family have been keen to do justice to the property by using materials appropriate to the age of this Georgian gem. But the Club Room in particular marked a turning point in the whole process, as Helen explained in one of her regular Facebook posts about the restoration:
"This was a key point in our project where we fully embraced the idea that this was going to be a restoration, using traditional materials rather than simply repairing or plasterboarding and covering things up. We repaired laths, lime plastered, cast from the old mouldings and had oak cut to match the old parquet."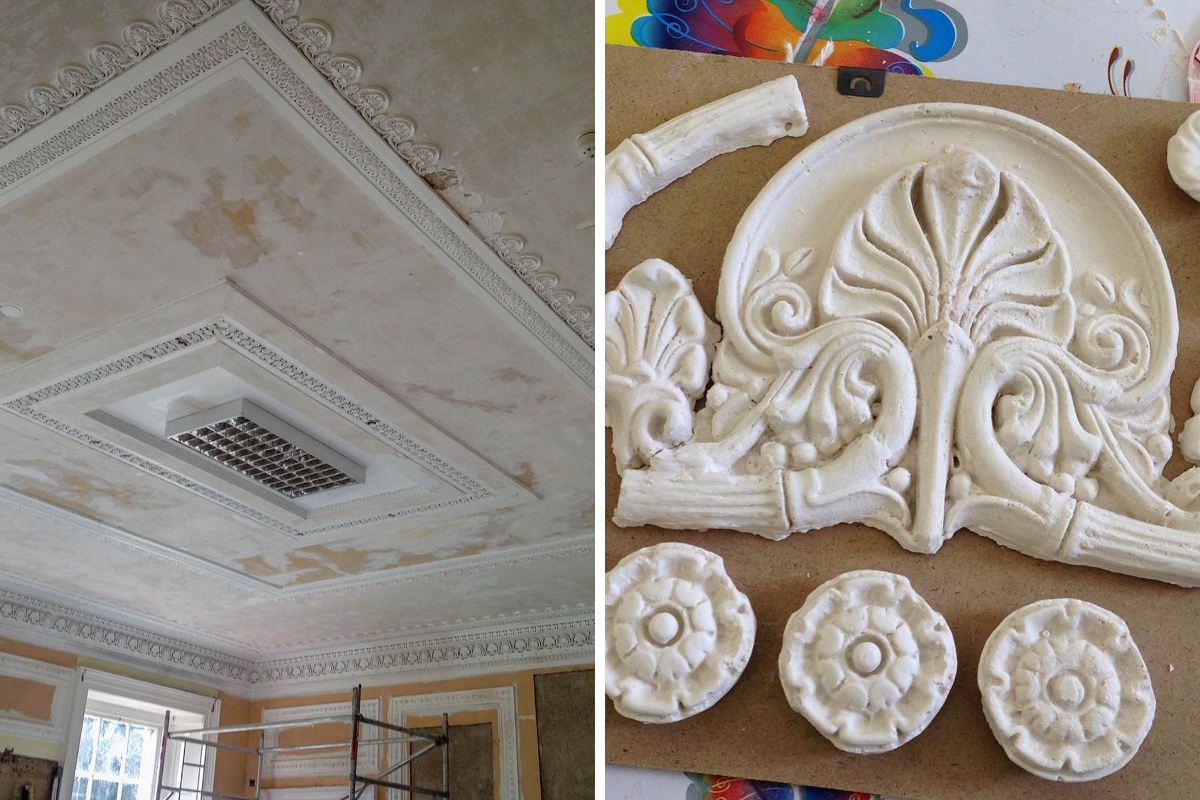 Helen decided to use Earthborn Claypaint colour Gregory's Den for the walls of this large space, as it was similar to a colour found in the room, hidden beneath many layers of paint and distemper. She says, "We opened up some old shutters that had long been sealed shut, and found the hidden woodwork was painted in a colour almost exactly like Gregory's Den. It's a beautiful grey green which I think suits this sunny south facing room beautifully. We used a lighter shade Seagull on the ceiling to contrast with the mouldings. "
The Victorian Wing
The calming green-grey colour scheme was then carried through to another part of the property, the Buck Suite, which is located in the Victorian Wing of the house. As this part of the property contains guest accommodation, it needed to be refurbished in a manner that was both sympathetic to its historic roots whilst comfortable for its 21st century guests.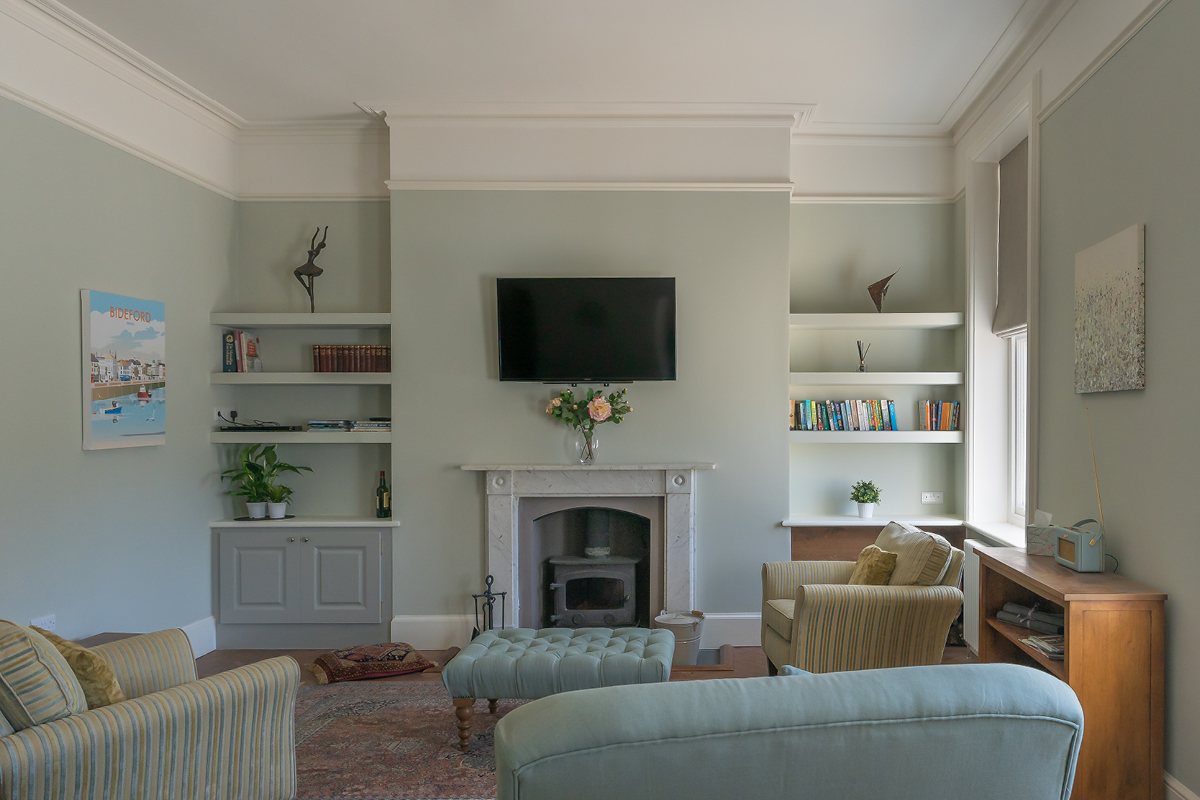 Gregory's Den was once again used on the walls in one of the lounges – in the Buck Suite – along with classic materials like stone and oak floors. To help visualise each space, Helen created moodboards. This is a really useful way of bringing ideas together when decorating a new room, especially when the choice of materials, colour and fixtures can seem a little overwhelming!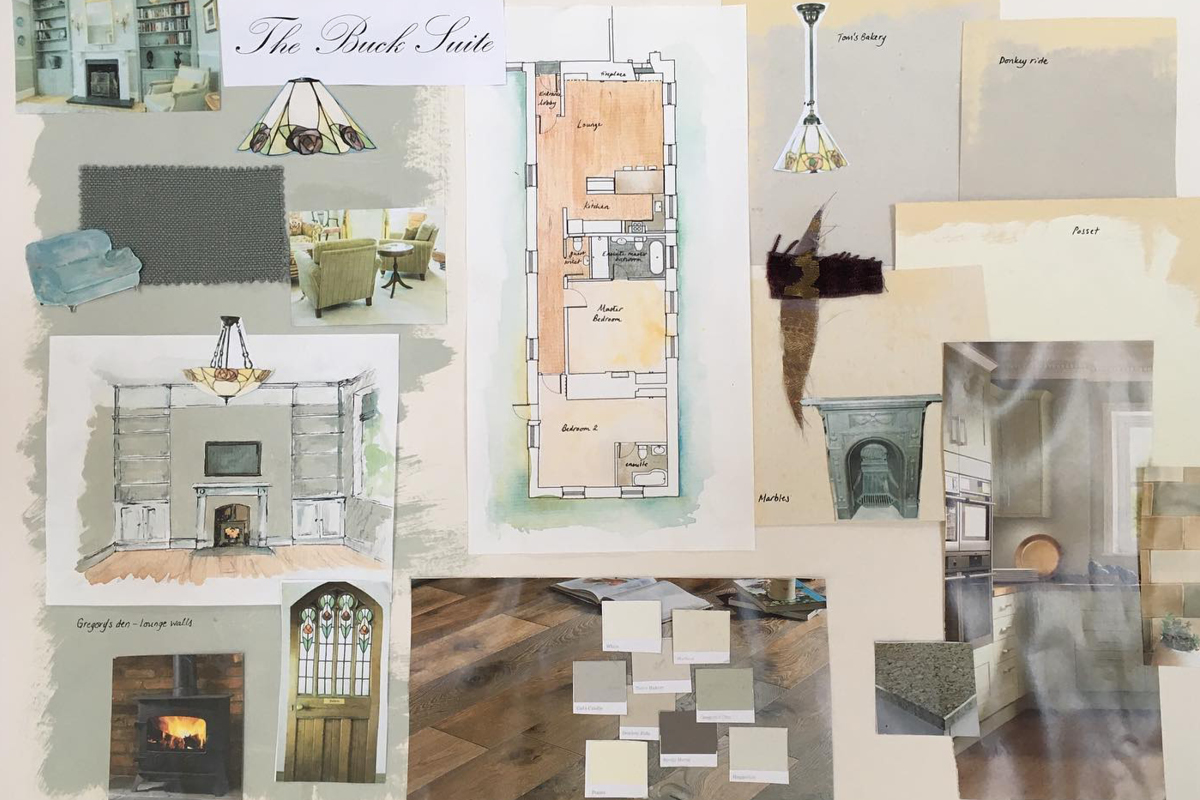 In one of the bathrooms, again painted in breathable Claypaint, the soft grey tones of Cat's Cradle was used to complement the natural stone and chrome fixtures.
Rocky Horse, meanwhile was used in another bathroom. This deep brownish grey is a luxurious shade, that works especially well in older properties. Helen explains:
"I chose Rocky Horse for this bathroom, as I wanted make it feel warm and cosy, despite being north facing. The light seems to bring out purple tones, so this rich dark chocolate-y grey works really well. The part of the house it's in used to be the old service wing, with Victorian kitchens, scullery, bakehouse, pantry, coal stores and so on. I've used a lot of dark grey and dark wood to complement the cast iron fireplaces and ovens."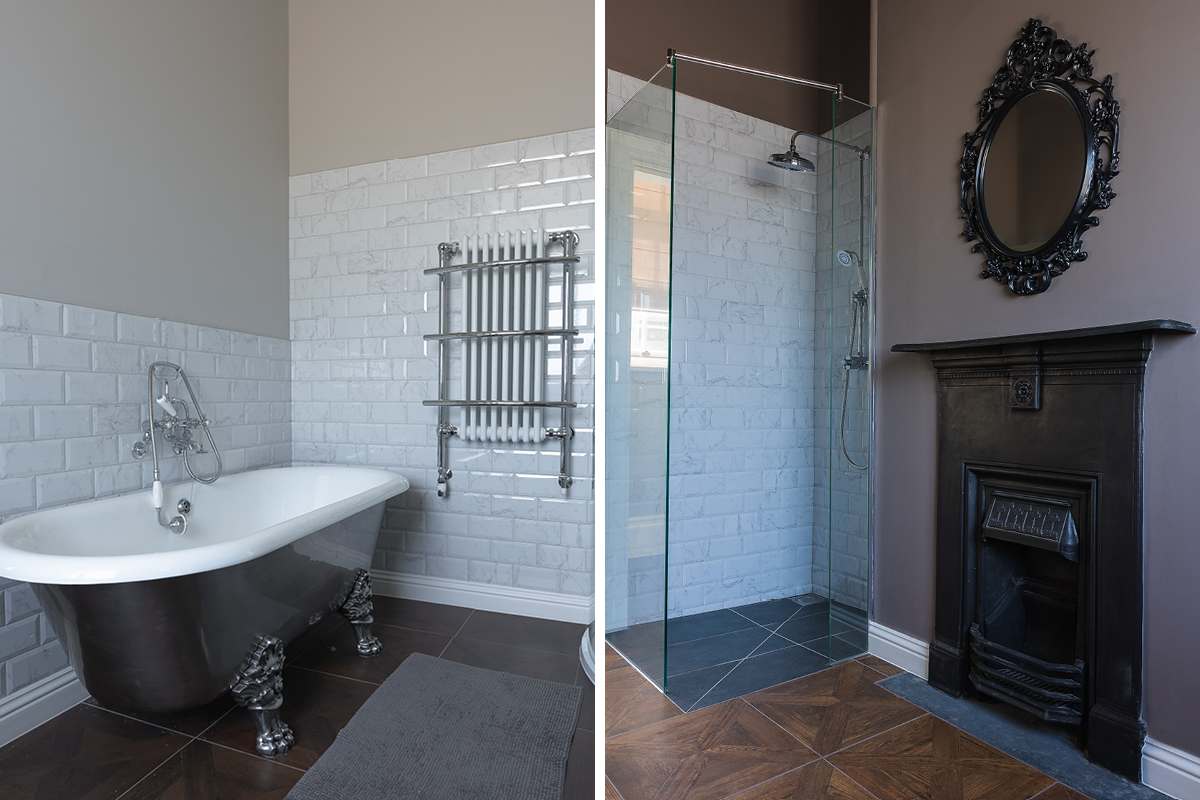 Why breathable paints are best for older properties
Over on the Moreton house Facebook page, Helen explained the importance of using breathable, appropriate materials on her historic property:
"One of the most important things we have learned about our period property is about dealing with damp. The oldest parts of the house were Queen Anne style around 1700, then rebuilt later in Georgian style then added to again in Victorian era. In none of these periods were damp courses used, and so the stone walls behind the plaster and render will always be damp. That's only an issue if you seal it in.
Some of our problems were caused by issues with leaking roofs, damaged window frames and leaking of one kind or another. But even in good repair, cement render, plaster, most exterior paints, interior vinyl paint, even most posh paints all seal or trap the moisture in. Badly planned insulation and filling cavities can have the same effect. Eventually the moisture will allow mould to grow in hidden away places, rot the wooden frames and structures behind, and saturate the plaster under the waterproof paint.
Don't fight it! Let the walls breathe. Traditional lime plaster and render painted with breathable paint works like a goretex jacket, repelling the rain yet still letting the walls breathe. No more damp bubbles or salt leaching through!"

We couldn't agree more with her advice and look forward to see more of this project unfold. If you'd like to learn more, head to the Moreton House website, Instagram and Facebook page for information on this fascinating property, and to see updates on the restoration work involved.
With thanks to Helen Philips from Moreton House and Photographer Mason Summers for images.