Halloween is just around the corner and every year it seems that the Halloween celebrations and festivities get bigger and bolder. Incredibly, in terms of consumer spending, Halloween now represents the third largest event in the UK calendar after Christmas and Easter, having overtaken Valentine's Day.
This year however, you might think that the various restrictions in place mean Halloween is a somewhat quieter affair. But not so! Just head to Pinterest, Instagram and just about any supermarket or shop, and you'll see that, while trick-or-treating may be off the cards, Halloween décor is bolder than ever!
This increased interest in Halloween décor has led to new trends developing and one which caught our eye is the growing trend for painted pumpkins.
Painted pumkpin decor
We've all spent time carefully hollowing out and carving pumpkins for Halloween. It can be time consuming and hard work, not to mention messy and potentially dangerous if using sharp knives with small children around. Painting your pumpkin offers a great alternative, particularly if you are preparing pumpkins with little ones who want to get involved.
A carved pumpkin, lit up on Halloween can look stunning, but so can a painted pumpkin and we've seen brilliant examples. Take a look at our Pinterest board for more spooky inspiration.
Painted pumpkins don't have to be Halloween themed either. They can make a fantastic centre piece for a special autumnal dinner or an attractive window display to brighten up the shorter days.  As you can see from our autumnal pumpkin Pinterest board, the possibilities are endless. Pumpkin painting can be as simple or as intricate as you like, and can make a real impact to any home, no matter the colour palette. It's a great way to use up old paint sample pots, and a fun activity for kids (and grown-ups) too.
What to with your painted pumpkins after Halloween
You still get to enjoy your pumpkin when Halloween is over, just make sure you peel it all first and remove any paint! Personally we love a bit of roasted pumpkin soup, yum! Or if you don't fancy peeling the pumpkin then why not add it to your compost heap? Claypaint is fully biodegradable and sample pots are available in all our classic colours. Don't forget to save the seeds as a treat for garden birds!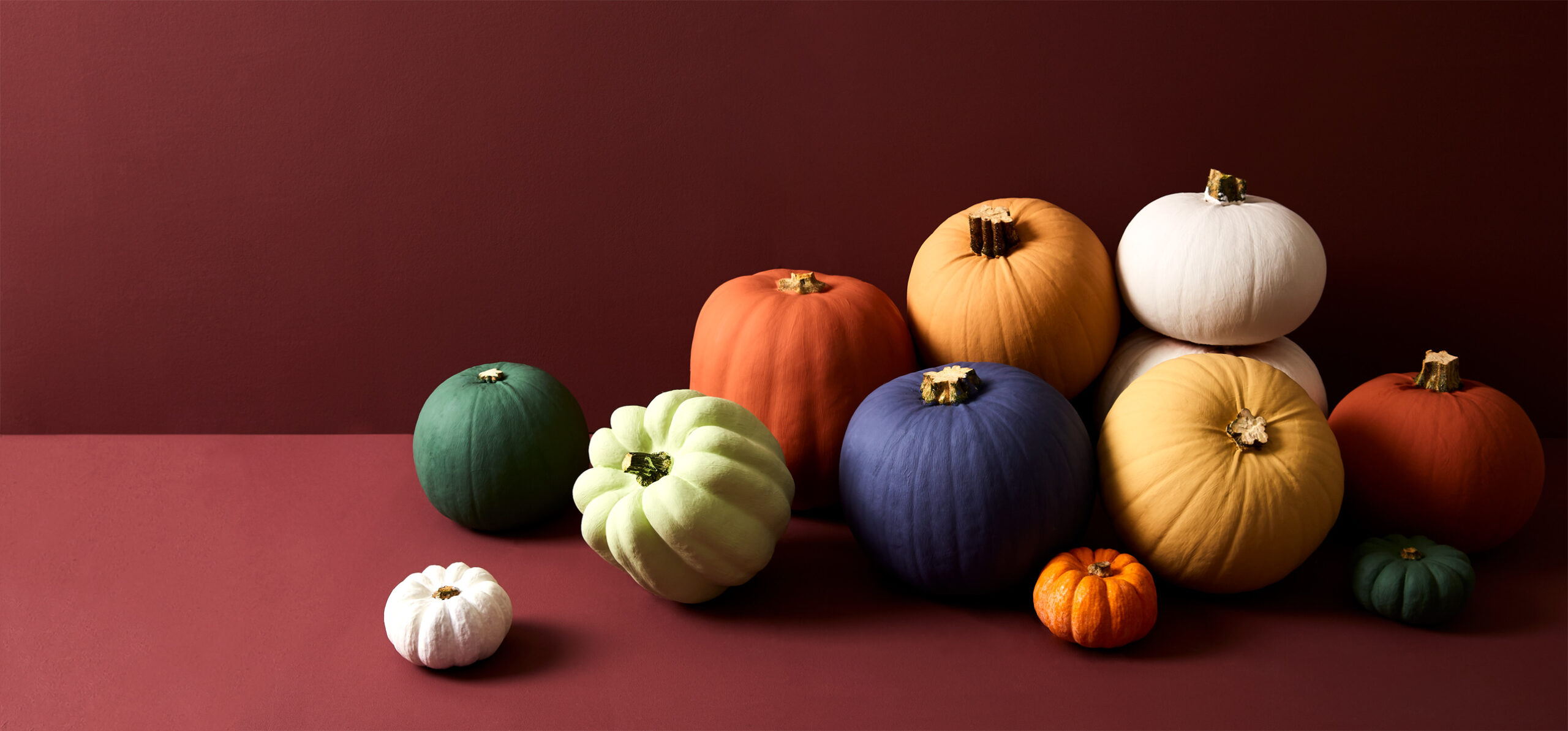 If you've used Earthborn for your autumn or Halloween décor, we'd love to see, so tag us in your social posts!