How to lighten wooden beams
21st December 2020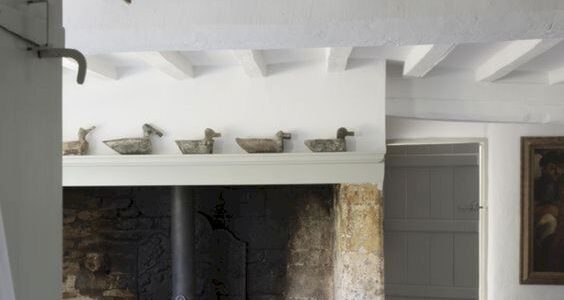 Whether in a lofty new build or a chocolate box cottage, wooden beams appear in all styles of property. But they're mainly associated with older, more traditional homes, where they're often stained black or dark brown. Combined with low ceilings and small windows (typical of many properties with wooden beams) and suddenly a room can feel very dark and gloomy indeed! So naturally, many homeowners are looking for a way to lighten wooden beams. If this sounds like you, then read on for our simple tips on how to lighten wooden beams:
Stripping wooden beams
First decide whether you want to strip the beams or simply paint over them. Stripping beams will uncover the natural wood appearance which you can then treat with wax, oil or paint. It will give you a blank canvas and prevent staining from any existing coatings coming through the finish. However, overpainting is often quicker, less messy and there's less risk of damaging the wood.
If you decide to strip the beams first, you can use paint stripper or sanding techniques. Take care, especially when dry sanding, to wear a suitable mask and protective equipment – and a pair of goggles will also come in very handy if you looking up to your ceiling! As with any original feature, it's important not to cause damage to the beams with a potentially harmful technique. For example, over vigorous sandblasting or harsh paint strippers could damage the wood. If your property is old, the existing coatings may have contained lead so take care!
Preparing wooden beams for painting
If your beams are in sound condition, you can go straight ahead and apply your paint. Any potential stains can be treated first with Earthborn's Isolating Primer, and depending on the paint finish, you might wish to prime first with our Multi Purpose Primer.
Lightening wooden beams
To lighten wooden beams, you can apply a full coat of solid paint colour, or create a colour washed effect, which will allow the grain to show though. You can read more about how to achieve this look in this post.
Selecting the right paint shade for wooden beams will depend on your chosen colour scheme, along with other factors such as lighting and furnishings. Beams painted in the same colour as the ceilings will help to blend them into the décor, creating a subtle feature. Whereas painting them in a contrasting shade with highlight them. A lovely alternative is to go for a similar shade that's slightly lighter or darker, or a subtle contrast.
We'd suggest using water based paint – something like Claypaint is ideal because it's thick and creamy with great coverage, but can also be diluted with water too. Claypaint has a super flat matt finish that's flattering for older properties, and its breathable formulation can be used on the ceilings and walls too, for a seamless, consistent finish. For a little more sheen, our Eggshell No.17 is quick drying, water based and durable.
If you've used earthborn for your project, we'd love to see – so please tag us on your social media posts! To see our full range of colours and finishes, order your free colour card here.