This Autumn we were thrilled to exhibit at the prestigious Decorex International. This high end interior design fair showcases the very best in the world of interiors. As well as meeting so many lovely Earthborn fans (and converting a few who hadn't used our paints before!) it also gave us a chance to meet the faces behind two recent Earthborn collaborations.
Earthborn x Studio Furthermore
Studio Furthermore is home to a design duo based in London.  Marina Dragomirova & Iain Howlett create furniture and lighting as well as objects for living and other design outcomes. They work within a variety of mediums such as aluminium, glass and ceramics.
Studio Furthermore at London Design Festival
They recently participated in London Design Festival, and used Earthborn's Claypaint to create some stunning design pieces.
We caught up with Ian from Studio Furthermore, who also exhibited at Decorex International, where he explained to us what they created for London Design Festival and how they used Earthborn paints.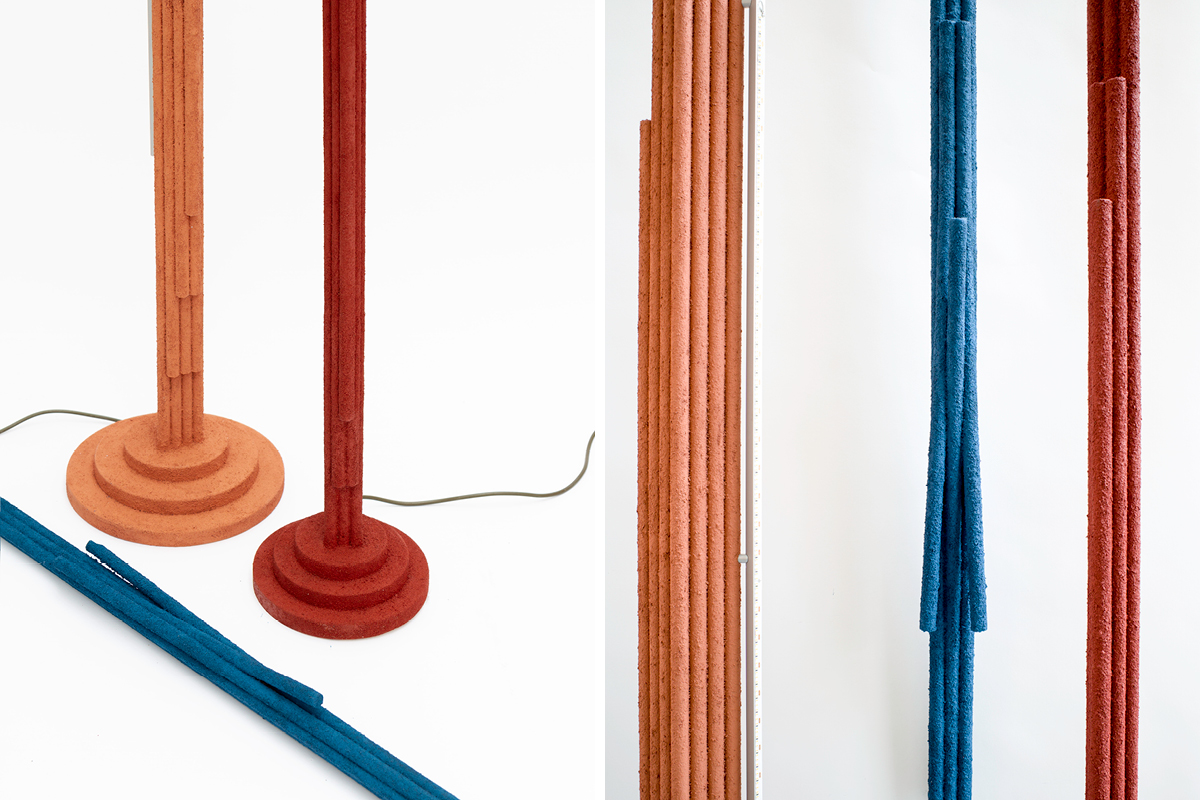 "For the London Design Festival, Studio Furthermore were asked to transform cylindrical Burbridge pine dowels provided by Matter of Stuff, to make a resolute and ongoing statement about the infinite possibilities of sustainable design, upcycling and waste avoidance.
Tasked with trying to re-appropriate the wooden dowels in some way, Studio Furthermore noted that sawing, routing and planing created waste. But the more they tried to figure out what to do with the dowels, the more sawdust they made."
He explained:
"In nature everything is in a sort of constant cycle of re-appropriation and there is never any room for waste. Things become broken down into ever smaller bits before seamlessly reorganising into larger component forms again. This is as true of organic matter such as plants and animals as it is of mountains, boulders and individual grains of sand each making their slow journey through various stages of a cycle.
Studio Furthermore wondered how this natural process of breaking down and reorganising material might be applied to the wooden dowels they were musing over, sawdust and all. With this in mind, the designers created light sculptures from the wooden dowels dressed with a textured sawdust surface. They restricted themselves to working with the dowels combined with leftover components from lighting projects."
Using Earthborn Claypaint
The textured pieces were completed with a rich clay based paint provided by Earthborn. The deep matt clay colours were dabbed onto the sawdust surface creating a material sense of granules being built up over time. They chose our richly pigmented shades of Riding Hood, Flower Pot and Toy Soldier, along with one of our newest colours Lady Bug.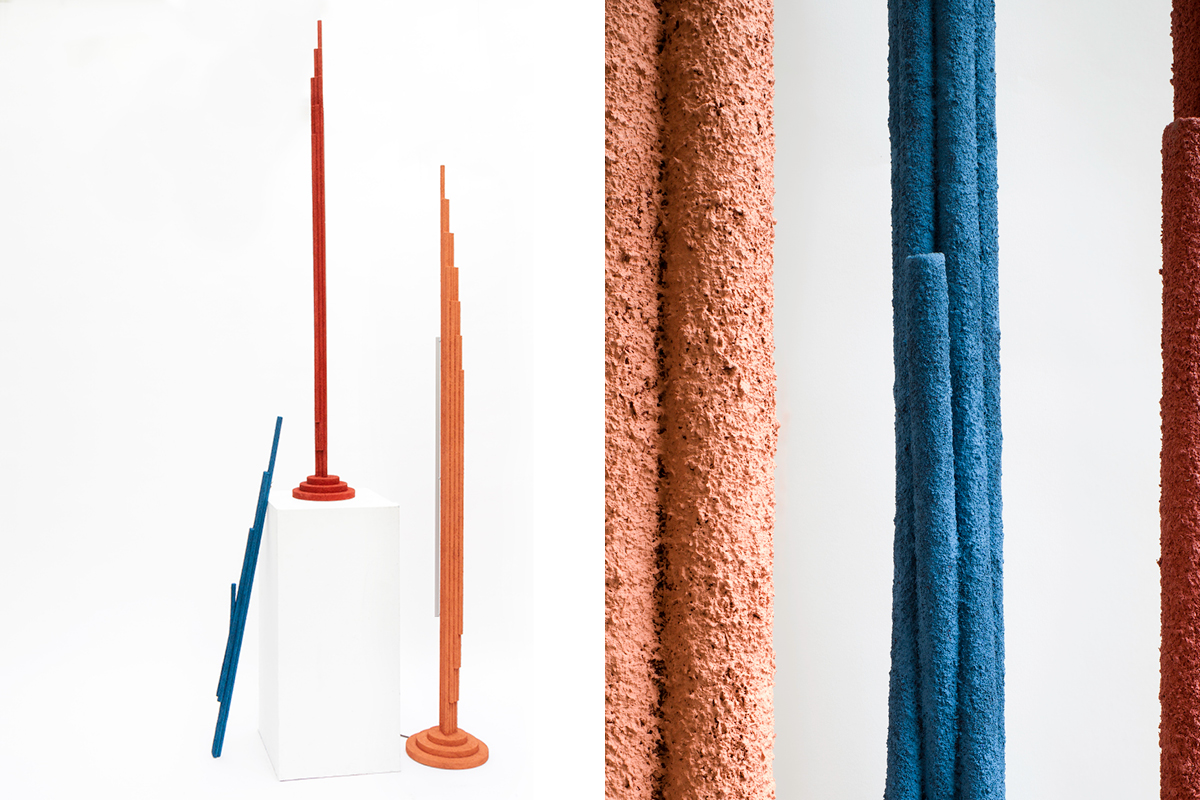 We think the unique light sculptures are truly stunning pieces of design, perfectly combining beauty and function whilst delivering an important message. We were delighted that the duo chose to use our luxuriously thick, flat matt Claypaint to colour the pieces. As Ian told us:
"We found it very interesting to experiment with Claypaint, as its clay character offers many possibilities."
You can see more of the project by clicking here.
Earthborn x Run for the Hills
The second collaboration that we were proud to be part of was by Run for the Hills.
Run for the Hills are a multi-disciplinary design house, specialising in interiors and branding for professional and private clients. They were one of a handful of leading interior design practices selected to work with architect John Allsopp, creating a hero 'house' installation at the London exhibition. The house featured a series of interconnecting rooms, each put together by a designer, with an additional digital layer giving visitors an immersive and personalised experience.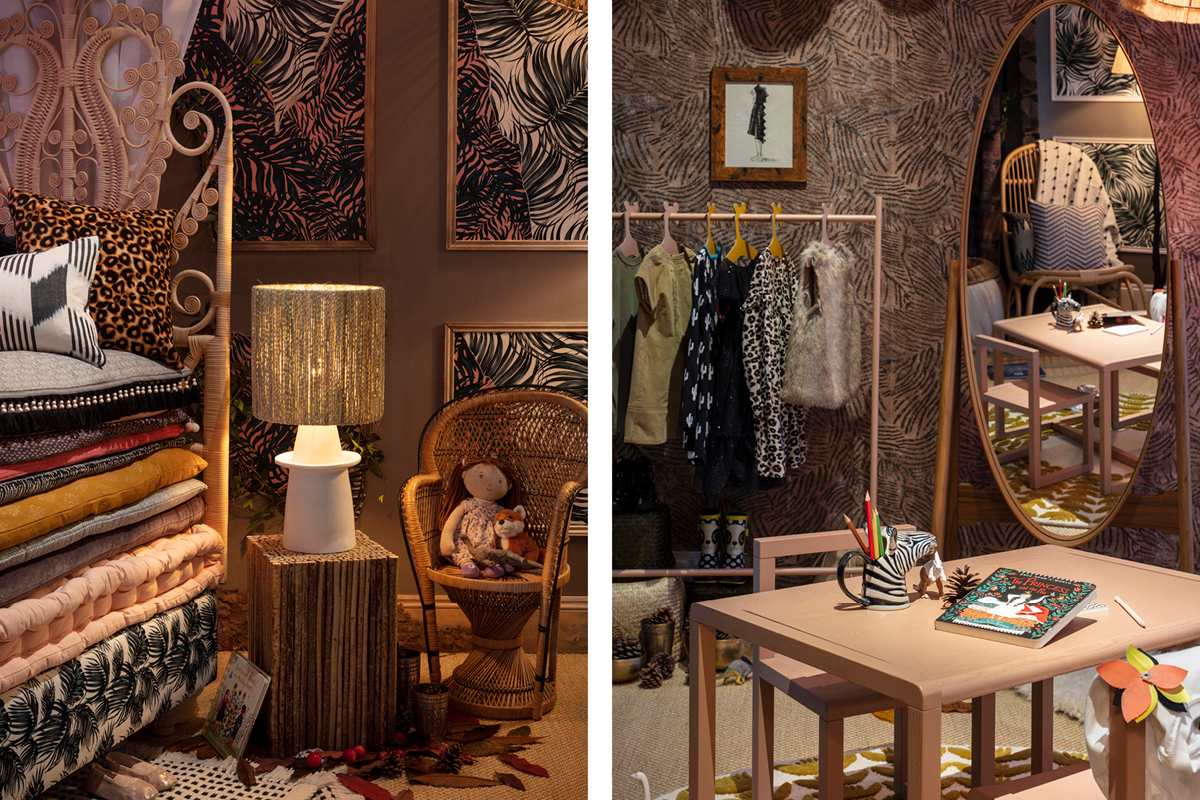 Run for the Hills at Decorex
Commissioned to create the Kids Room, their design concept was called 'Into the Wild', styling the bedroom for a super stylish 5-year-old eco-warrior.
The team at Run for the Hills explained the concept behind their design:
"We created an edgy and cool, fashion-forward mini person's space, with lashings of creativity and originality. But also with a big heart and high concept conscience. They say it is the young, eco-crisis generation who will save the planet, and we want to bring to life that story of hope within our room set, creating a wow space which is both comforting and exciting for our mini-activist who sleeps there. But which is also thought-provoking for everyone who visits the set. This is conveyed through a powerful messaging, creatively woven throughout."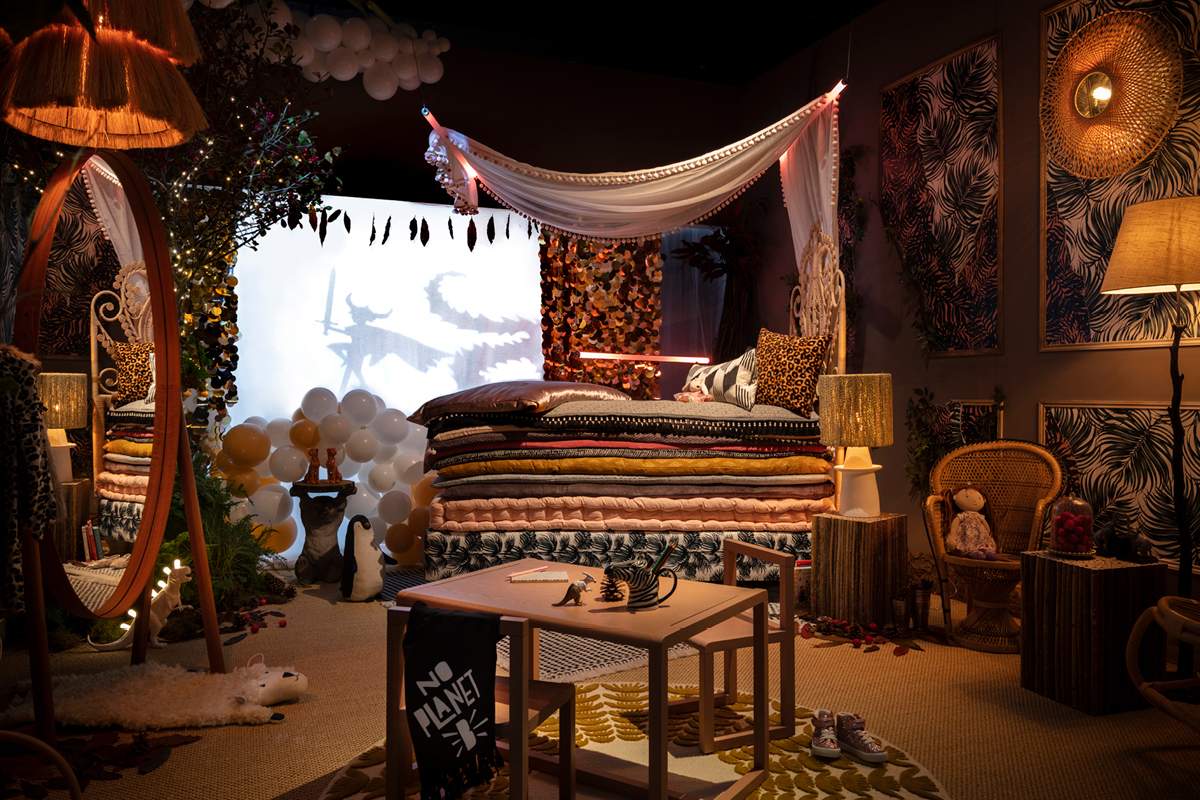 The team chose to use our deep grey-brown Rocky Horse to add a dark yet flattering backdrop to the various design details of the bedroom. We were excited to see this fantasy room come to life in a children's bedroom space that was equally fun, magical, beautiful and hopeful!
Read more about this fascinating project here.