Simple, rustic decor with The Fens
2nd December 2015

At Earthborn we believe everyone should have a space at home that offers a moment of calm. Whether that's a cosy living room or a quiet corner of a bedroom – somewhere to sit, take stock and be still for a few minutes.
The Fens is our latest colour trend, with a focus on rustic simplicity that transcends any decorating fads or interior design fashions. It's about taking the time to find some peace and quiet in a hectic world; and creating a little slice of calm at home.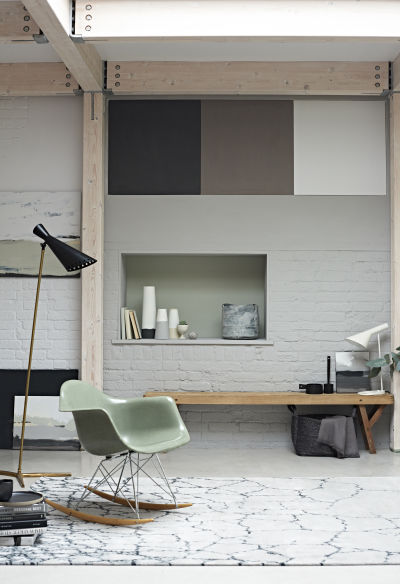 In this story we champion simple design, quality craftsmanship and natural materials; with a colour palette of cool neutrals and warm greys that enhance the feeling of serenity. Delicate foliage and organic shapes are a nod to Japanese aesthetics, whilst modern designs are inspired by Scandinavian classics, resulting in a look we call 'Scandinese'. Stone, cork and driftwood provide subtle texture, combined with thrown pottery and handwoven baskets.
Colour inspiration for this look comes directly from nature – think of rugged landscapes and windswept coastlines. To create a rustic, simple decor at home, mix warm greys like Kissing Gate with earthy fawn tones such as Rocky Horse, for a timeless colour scheme. The cool white of Picket Fence and deep charcoal of Hidey-Hole add tonal interest, along with grey-greens like Gregory's Den. Add a hint of warm cream and palest lilac to soften the look.
Fancy a try? Head to our sample shop or order a free colour card! And see the rest of our colour trends here.