Should I always paint my ceiling white?
22nd February 2021

When it comes to decorating a room, your ceiling colour might not be the first thing that springs to mind. An often overlooked part of a new colour scheme, most of us opt for white. In this blog post we're talking about this forgotten fifth wall, and how to decorate!
Different ceiling styles
The ceiling used to have much more prominence in interior design. Just think about the sought after details of many period homes, including ornate cornicing, decorative roses and mouldings, plasterwork friezes, and embossed patterns stretching the entire surface of the ceiling. Ceilings were treated with the same attention to detail as the rest of the room!
Of course most Georgian and Victorian houses have the luxury of high ceilings, meaning such features aren't competing with other decorative elements. If you have a property with high ceilings, you might even be looking for ways to make the room feel less cavernous. Painting the ceiling and wall area above the picture rail is one way to do this, as well as providing an opportunity to try out some braver colour choices. Here we've used Crocky Road paired with Milk Jug.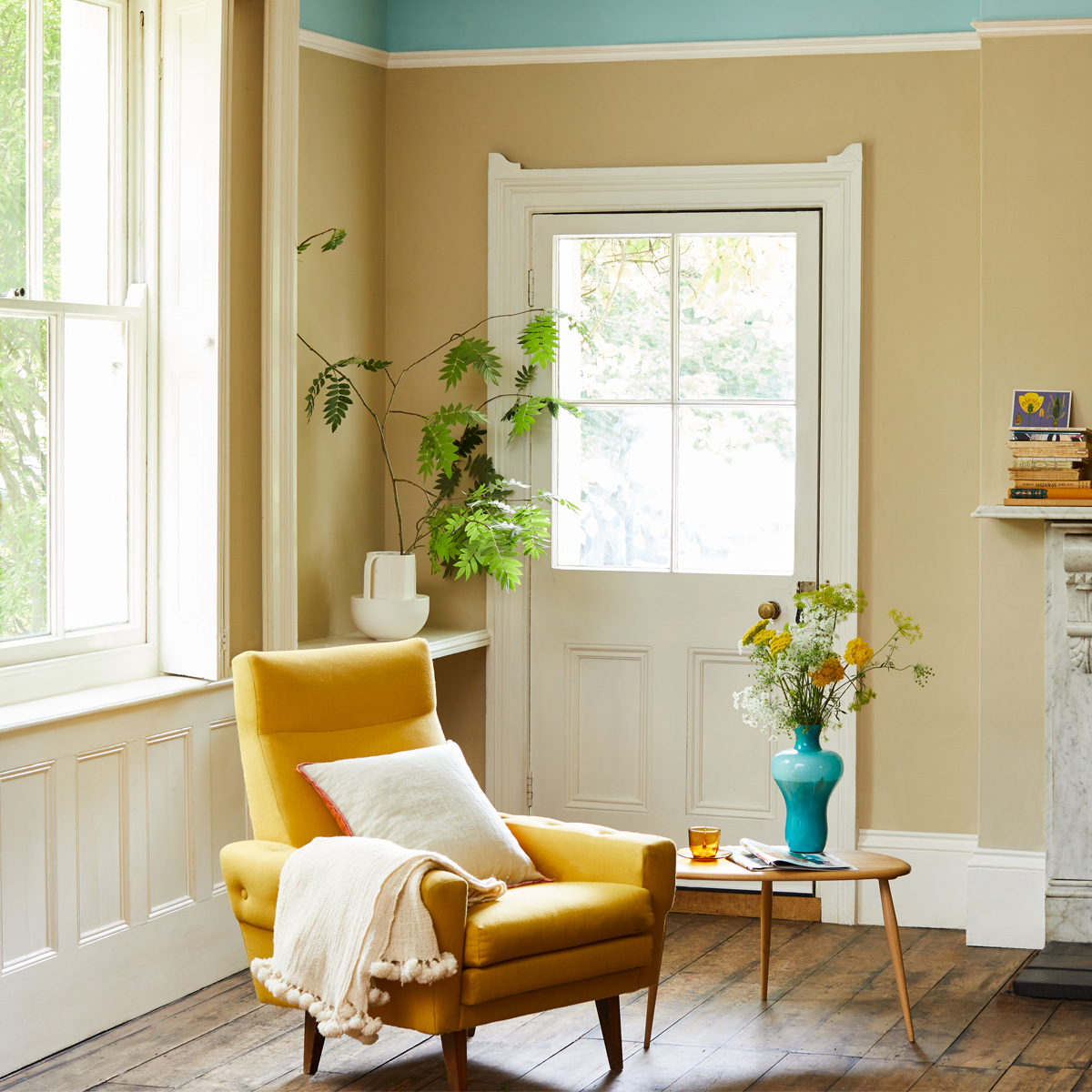 Even in Tudor homes and traditional cottages, low wooden beams offer some added visual interest. Even if their original purpose was purely practical! Whether you wish to highlight this feature or reduce it, you can find out more about painting wooden beam in this blogpost.
Why are ceilings usually painted white?
Fast forward to the latter part of the 20th century and the ceiling seems to have fallen from favour. They're lower and usually smooth in texture (perhaps with the exception of Artex). And with simple, unfussy cornicing, they're almost always painted a standard trade white.
It might seem unadventurous by comparison, but white has become synonymous with ceilings. After all, white is versatile, forgiving and helps to reflect light, making the low ceilings feel loftier and more open. Plus, the theory that white goes with everything means you can change your wall colour without having to bother with the ceiling.
Painting a ceiling white might be the obvious choice, and in many cases it's a great option. After all, white reflects light and give an airy feeling. In modern and minimal styles of décor, a white ceiling will work perfectly. A traditional white such as Earthborn's White Clay is a more flattering option than pure brilliant white, which can sometimes look harsh.
But that doesn't mean white is the only option!
Alternatives to a white ceiling
In small rooms the stark horizontal line separating the wall and ceiling can often enhance a low ceiling height. Try switching your colours by applying a mid tone on the ceiling and keep the walls light. Then continue the colour partway down the wall. Here we've used Up Up Away on the walls and Grassy on the upper walls and ceiling. You'd be surprised at how spacious it can feel!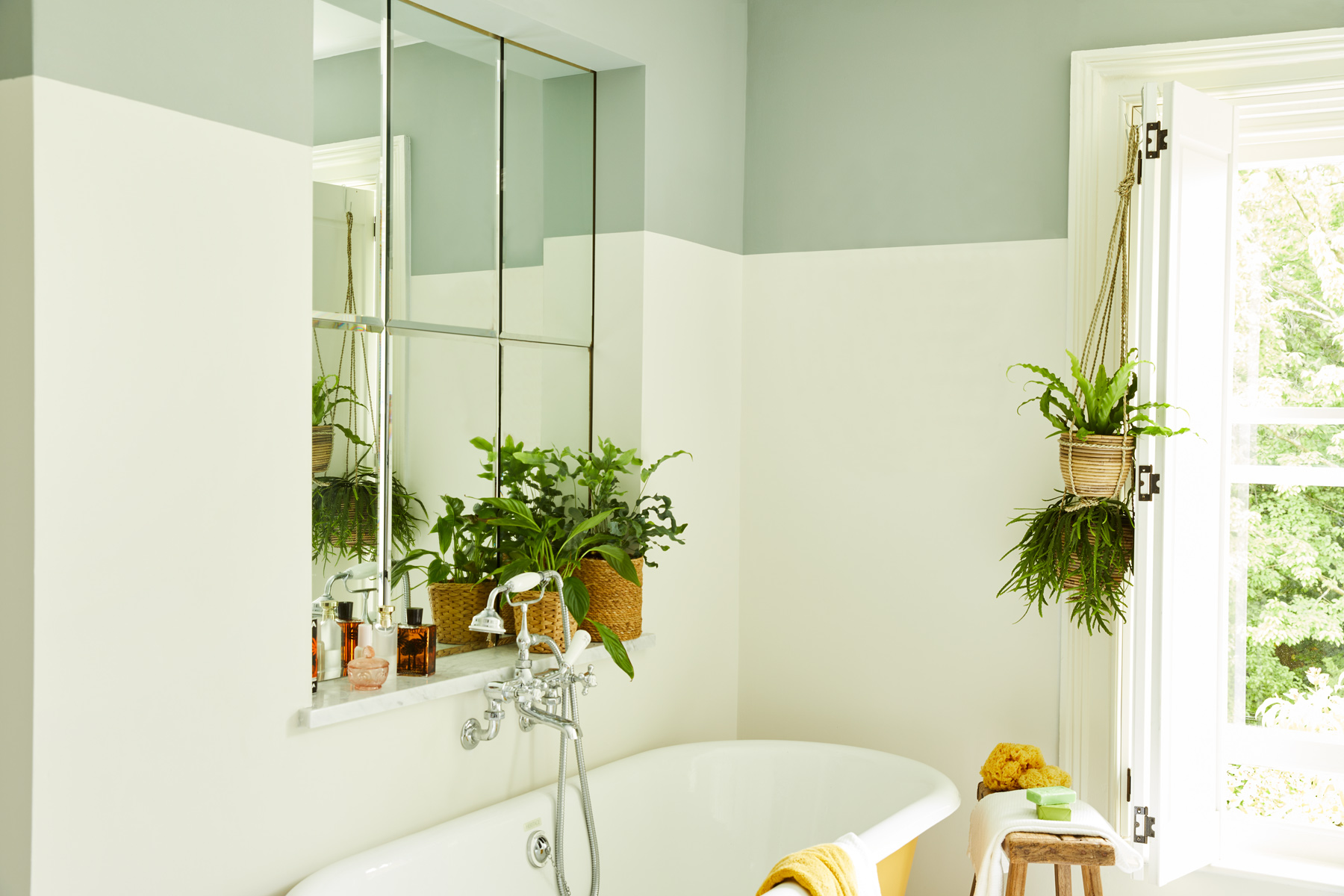 If you prefer the look of a lighter ceiling, instead of white, choose a tonal colour that's within the same palette as the wall colour. Walls painted in Gregory's Den, for example, would be better complimented by a ceiling painted in Seagull. It will give the illusion of white, but its faintest green-grey hint is much more flattering.
One surprising trick used by many interior designers, is to paint your walls and ceilings in one single colour. The lines of the room disappear, making the room feel larger than it is. Lighter colours will help the room to feel more open. But deeper shades will help to create an intimate, cosy feeling, especially in small or dark rooms. If you take that same colour right down to the skirting boards too, it will create a cocoon-like feeling.
If you opt for a neutral wall colour however, a bold ceiling is a great way to enhance the space no matter how low your ceilings. Take a look at Emma Jane Palin's recently revamped office for inspiration. She painted her walls in an easy-going neutral but added a bright pop by painting her ceiling in our gorgeous pink colour Delilah.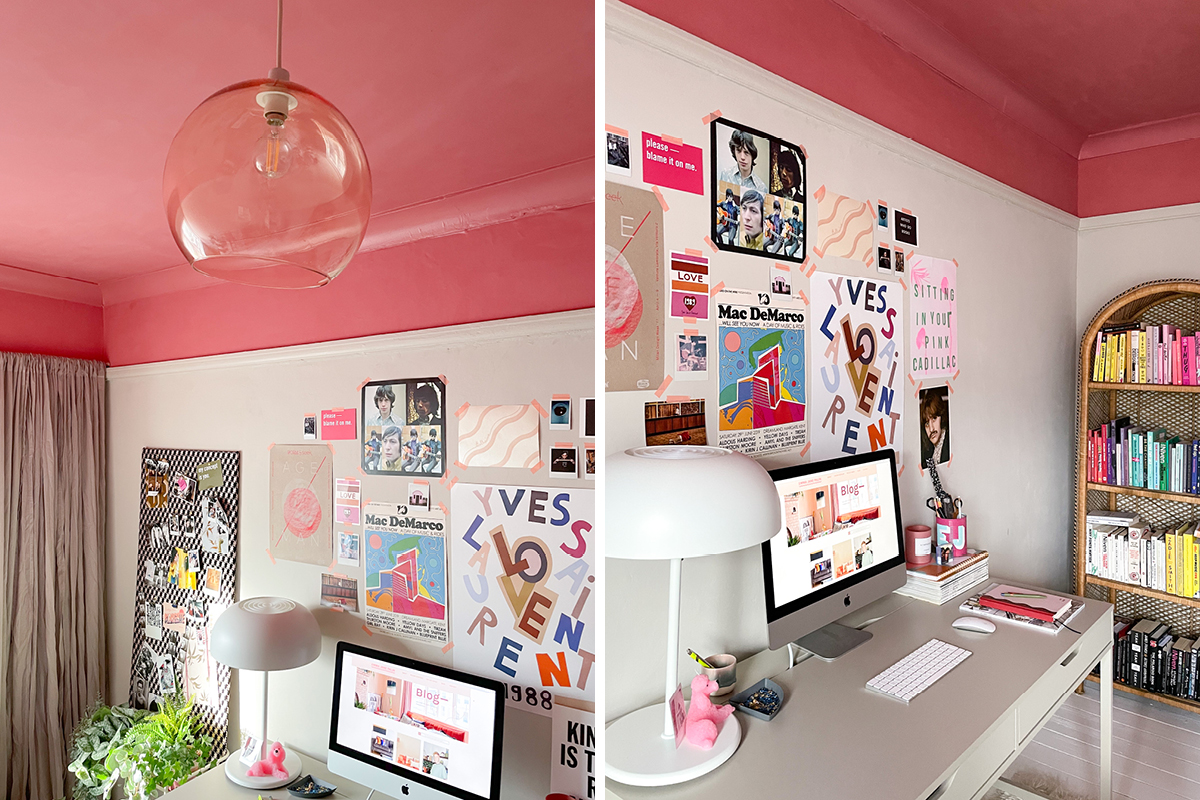 We'd love to see how you've decorated your room (ceiling included!) so do tag us in your social media posts…