Furniture Wax
A clear wax for interior wood surfaces. Use over Earthborn Eco Chic Claypaint and create standout pieces.
Available to buy now
All you need to know
Earthborn Furniture Wax is a clear wax that provides a protective satin finish to interior wood surfaces. It can also be used over Earthborn Eco Chic Claypaint for Furniture to produce a durable and decorative effect on furniture. Waxed surfaces will remain breathable, protected and maintained, repelling water, dust and grease.
Drying time: Can be polished after 30-45 minutes, depending on drying conditions.
This product needs several days to fully cure. During this period, wipe any spills or liquid immediately.
Approx coverage: Up to 50m² per litre.

400ml
Approx. Coverage
20m²

125ml
Approx. Coverage
6.25m²
Buy now
Satin Finish
Protective Wax
Repels Water
Dirt Resistant
Anti-static
Can be used over Earthborn Eco Chic
Worn areas easily maintained by re-applying the wax
Toy Safety Standard
Beeswax
Carnauba Wax
Candelilla Wax
Hydrocarbons
Silicone Oil.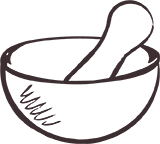 Download a handy data sheet. You can view it using the latest version of Adobe Acrobat Reader.