Guest blog: Earthborn retailer Franklin's Interiors transforms Aesop store
16th March 2020

From heritage building suppliers to trade decorating outlets, interior design showrooms to furniture upcylcers… we're very proud that many Earthborn stockists are true experts in their field.
One Earthborn retailer, Franklin's Interiors in Brighton, is owned by furniture restorer and designer Jane Keehan. A treasure trove of beautiful antiques and painted furniture, Franklin's is a particularly unique and inspiring shop to visit.
Jane says: "I became a furniture painter by accident! I started working part time in a small furniture shop over ten years ago with my now husband Michael, and upcycling vintage pieces quickly became a way of life. I love the way you can give an old piece of unloved furniture a new lease of life.
Our shop premises have grown and in 2012 we moved down the road to a fabulous old industrial building, which was previously a Methodist chapel and before us a tyre garage! After some renovations Franklin's Interiors was born…"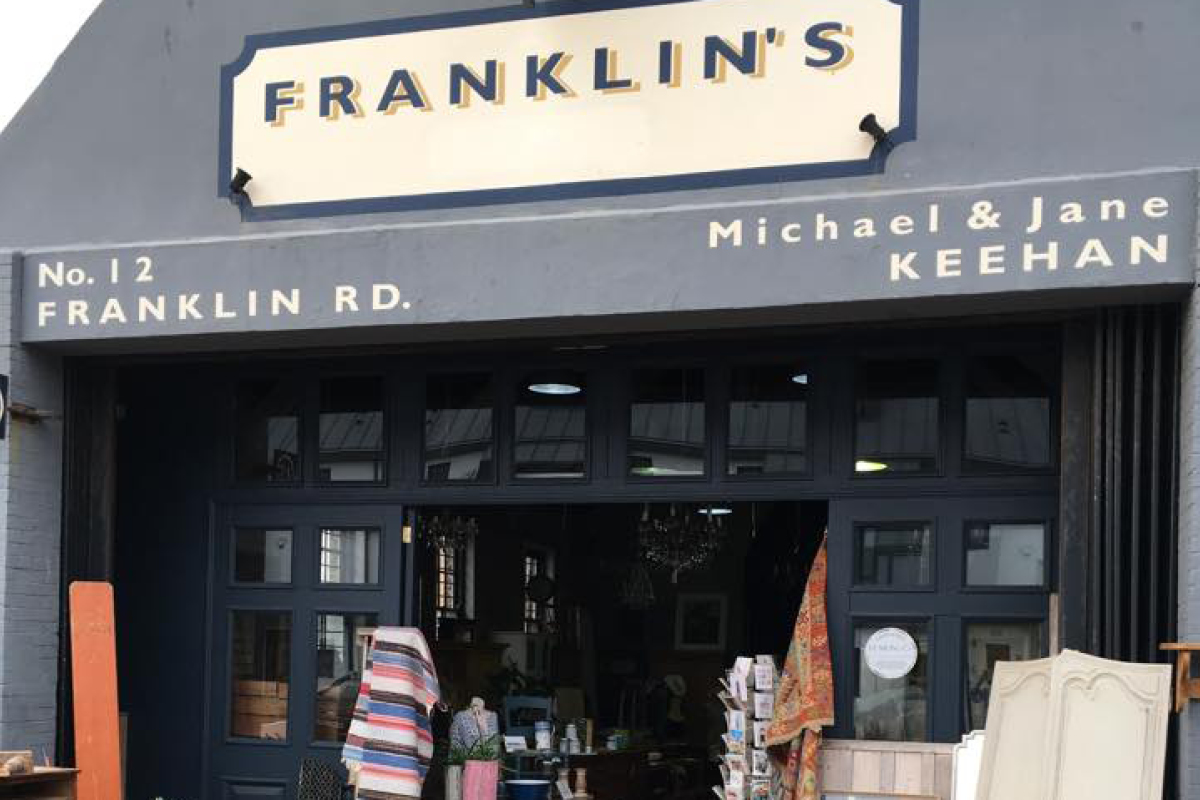 Jane recently got in touch to tell us about a very exciting project she'd been working on with luxury skincare brand Aesop.
She explains: "I was delighted when approached by a local shop fitting company, BCS Robertson, to get involved with their total fit of the new Brighton Aesop store in the North Laine area.
I knew Aesop were a prestige premium brand. Their attention to design and detail shines through in all their stores worldwide. They were exacting and precise but quickly agreed on a finish from my sample boards."
Jane decided to use Earthborn to create the type of look that Franklin's interior's were creating for the Aesop shop.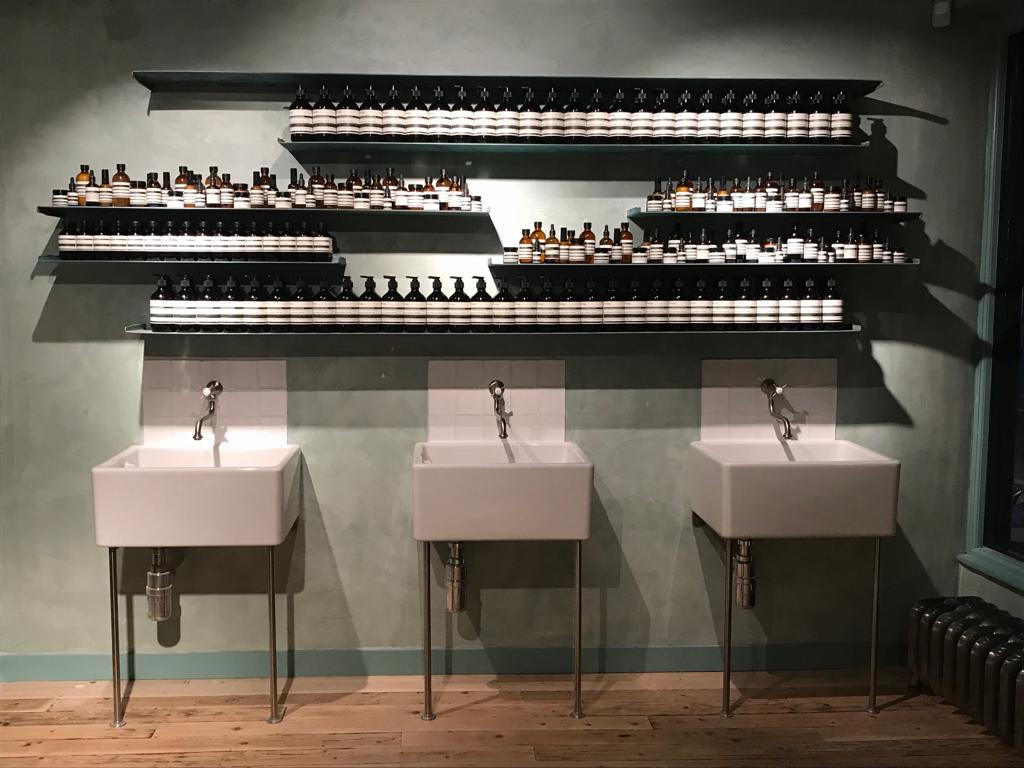 "My brief was to try and replicate a worn, distressed and aged finish on new pine fixtures and rattan panels.  Earthborn's Eco Chic Claypaint for furniture was perfect for the wooden cabinets and doors, as it dries quickly (time was of the essence) allowing me to build layers and achieve texture.
The paint can be mixed together effortlessly to create bespoke shades, so I set about blending colours to meet with their brief; an image of an old vintage cabinet, most probably Swedish."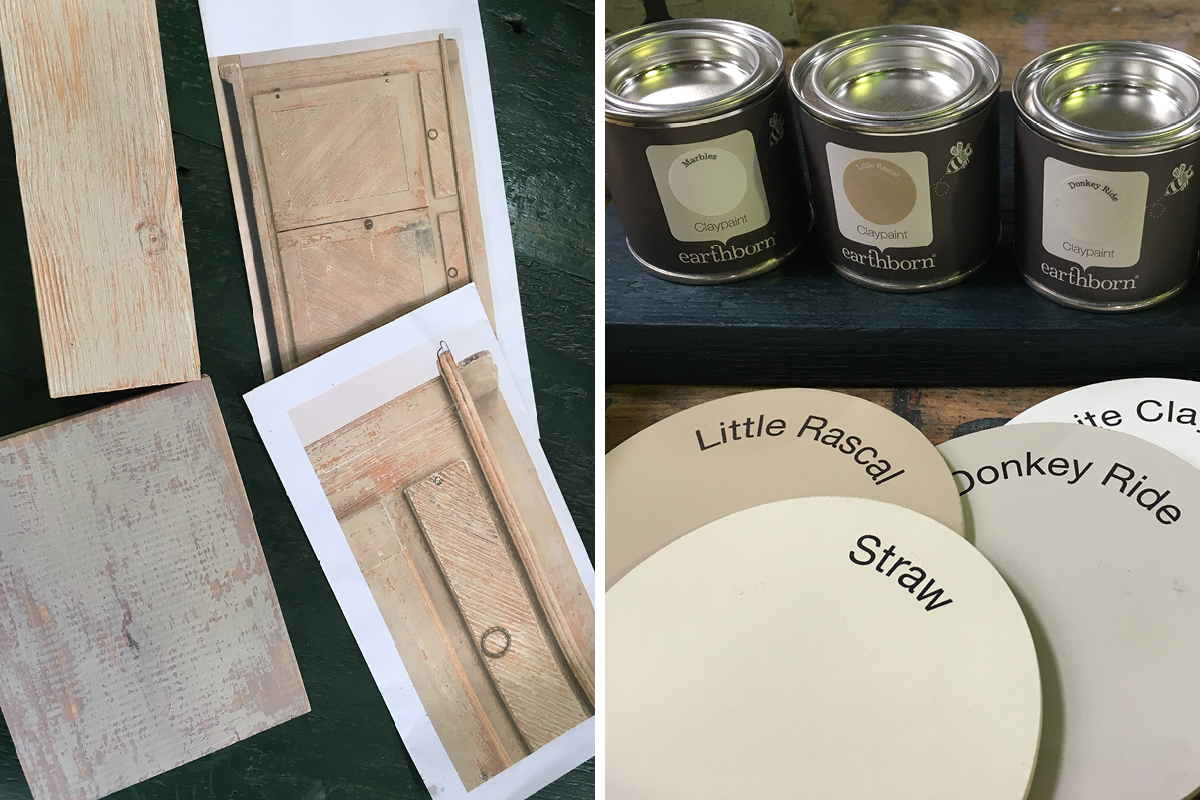 Jane explains how she created the unique effect: "I used a mix of Straw, Little Rascal, Donkey Ride, White Clay and Marbles. I first had to wire brush the cabinets and panels to lift the grain and create an aged effect. I then set about trying to pummel the surface with metal objects strung on a wire to create random pits and dents to age and distress the wood.
This has to be done with care so as not to overdo the effect, otherwise it can look too contrived and unnatural. I then applied a dark water based wood stain to the pale pine surface as this gave a good base to create an aged patina.
The paint was then applied with a natural bristle brush which gives more texture. I built up layers applying the paint in different directions to create the desired effect. I dry brushed with very little paint at first, with some of the wood showing through, then building layers."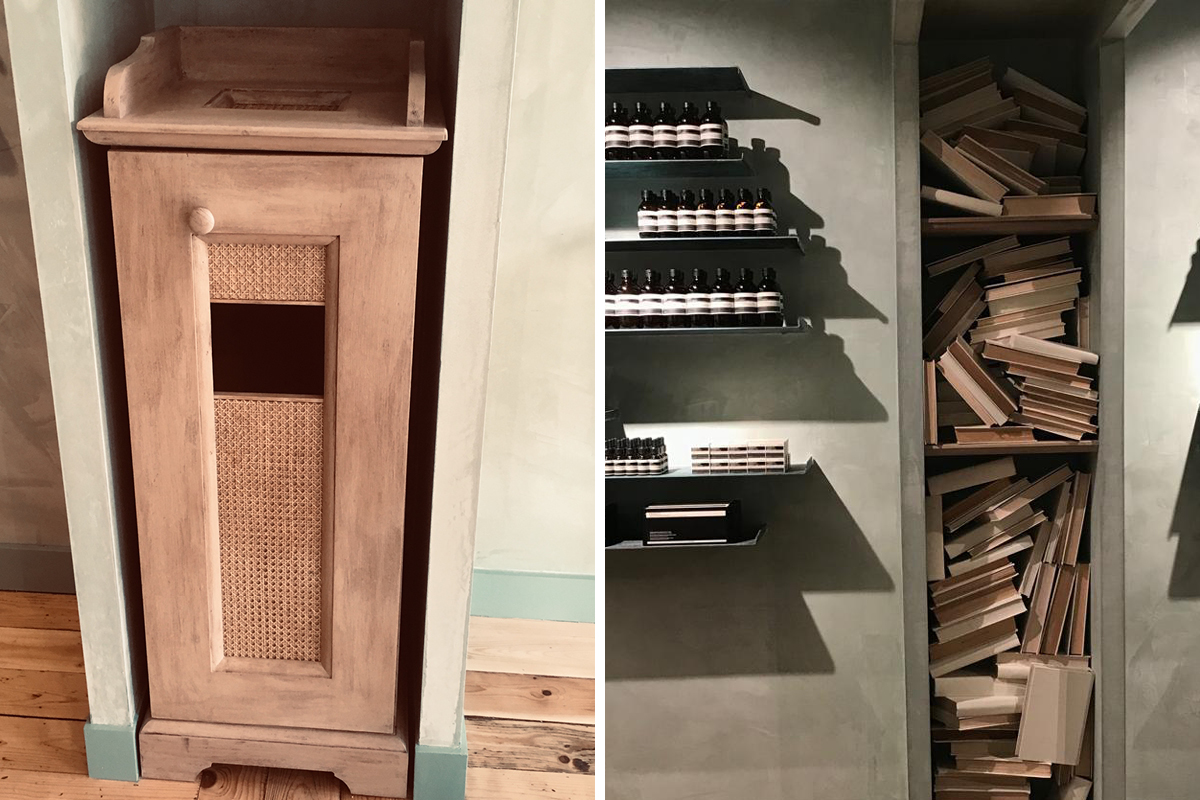 The project required skill and patience, which fortunately Jane has in abundance. We love how she created a subtle, natural patina. It's as if the cabinets had aged over many years!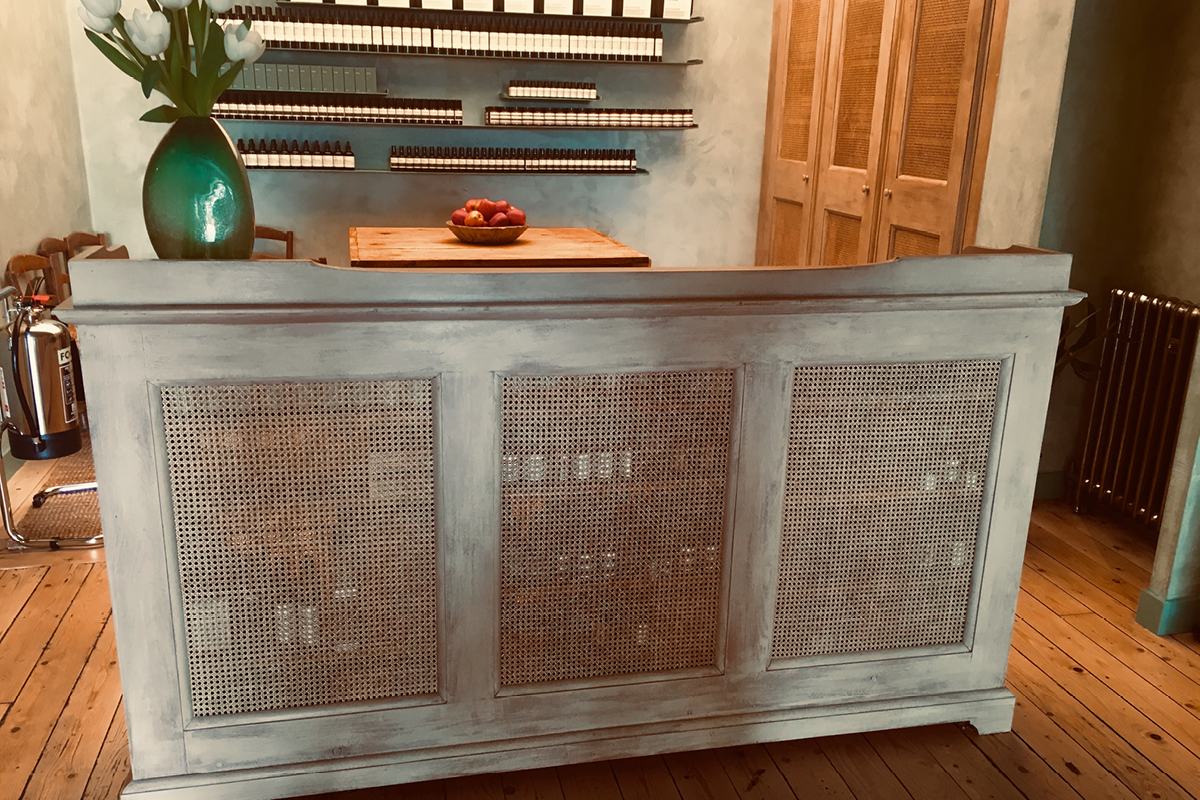 "Once dry the final finish was achieved with the Earthborn clear Furniture Wax, which offers great durability and adds a slight sheen. It gives the overall patina a lovely look of age and wear. Imagine years of hands resting on and using the counter and cabinets.
The results were perfectly imperfect! The colour was warm and mellow and sits so well with the other greens and blues in the shop; a perfect mix of vintage with clean lines and colours of the product packaging."
We're so impressed at how Jane has used Earthborn paints in such a creative way. Although the distressed look isn't always for everyone, we love how Jane has demonstrated that a crisp, contemporary interior like the Aesop shop, can in fact work wonderfully with rustic touches.
Jane says: "I visit the shop when I am in town and love to see my handy work showcasing their fabulous products. The staff say the cabinets are wearing brilliantly with no sign of chipping or scuffs so the durability is excellent."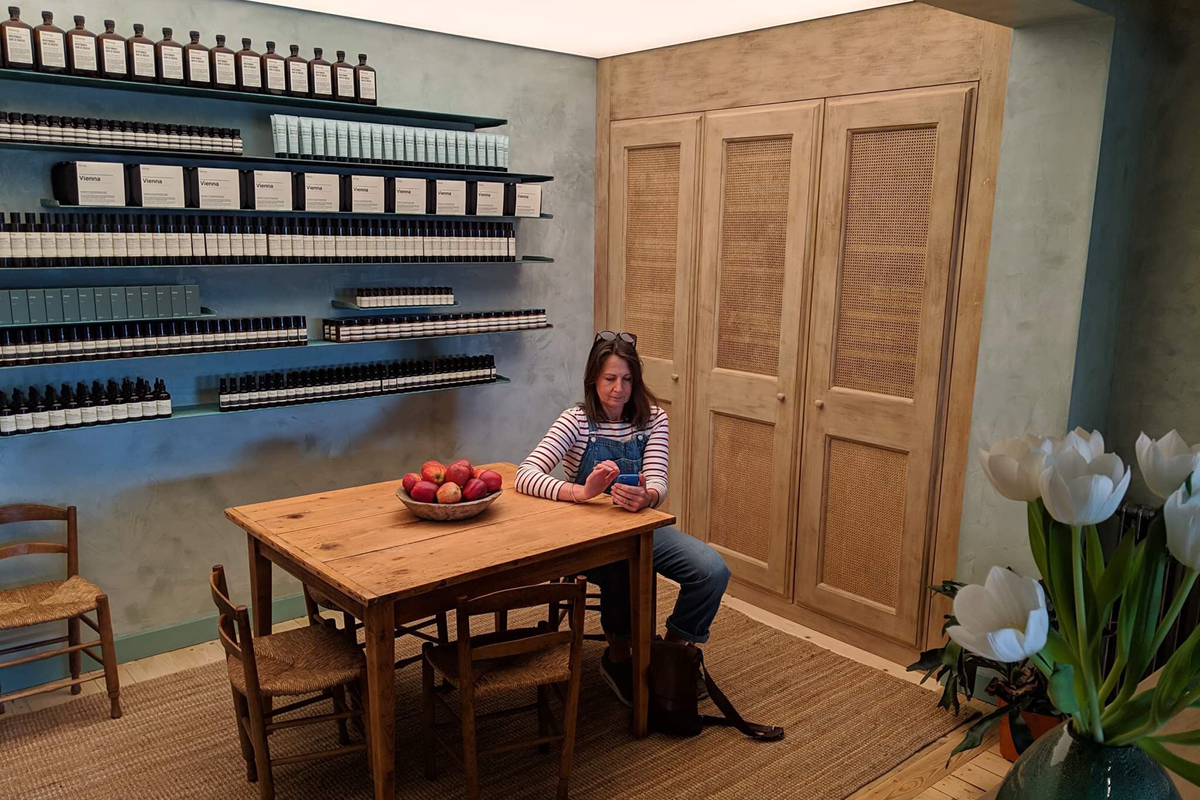 If you have a piece of furniture that could do with a brand new (or old) look, head to our sample shop where you can now buy everything you need for your upcycling project, including tins of Eco Chic, Furniture Wax and brushes.
Do you know of any exciting projects using Earthborn? We'd love to hear about them! Why not drop us line here?