Earthborn Ecopro launches BS4800 colour range
1st June 2016

Our Ecopro range of interior paints is designed for trade professionals. The range is EU Ecolabel approved, virtually VOC free (containing a maximum of 0.5g/L) and formulated without oils or acrylics to the same high quality as the rest of our products. Available in larger, more economical sizes, Earthborn Ecopro is perfect for commercial and larger domestic projects where a true eco paint is required.
We've made some changes to the range recently and we're excited to announce that Ecopro Emulsion and (new) Eggshell paints are now available in the full BS4800 colour range.
What is the BS4800 colour range?
The 'BS' part of BS4800 refers to British Standard. There are many thousands of British Standards covering a whole range topics and products, setting out an industry-wide agreed way of doing things. The first British Standard paint colour range was introduced at the beginning of the 20th Century, and the BS4800 range first developed in 1972.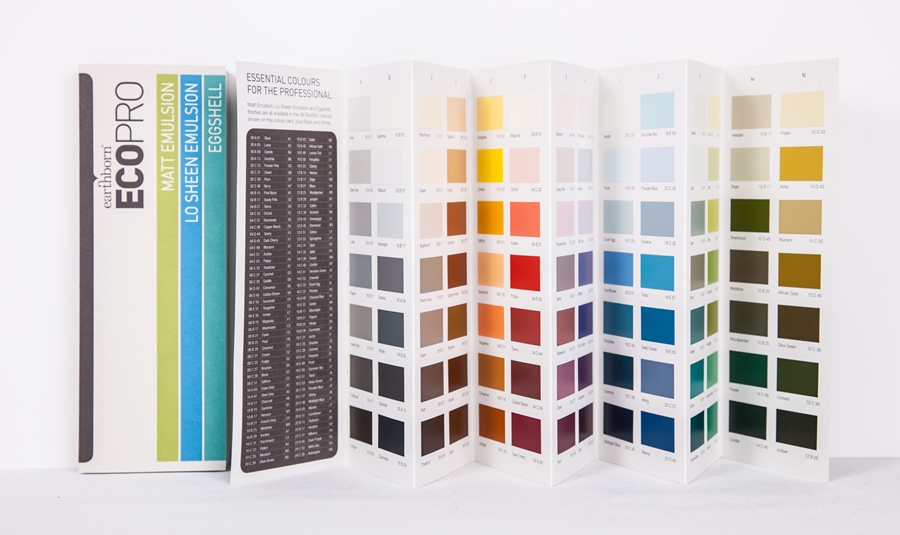 This industry accepted paint colour range has changed over the years and BS4800 continues to be a widely recognised colour system used by many professionals in the decorating and construction industry, including:
painters & decorators
contractors
architects
designers
specifiers
Usually these colours are specified for commercial projects, however many domestic painters and decorators use the BS4800 range too as a consistent, industry standard colour palette.
The product range
Ecopro Matt Emulsion is a 'high-body' flat matt emulsion for use on interior walls and ceilings. Like the rest of the Ecopro range it carries the EU Ecolabel, meeting strict eco criteria, and is virtually VOC free. Ecopro Matt Emulsion is super quick drying so decorated rooms can be returned to normal soon after painting, and free from the nasty paint smells and emissions that are so commonly associated with trade paints. Available in 5L & 10L tubs.
Ecopro Lo Sheen Emulsion (which replaces Midsheen Emulsion) has an improved formula, with a low sheen level that's durable and washable. Ideally suited to higher traffic commercial areas, like Matt Emulsion it is virtually VOC free with no oils or acrylics, and no nasty smells either. Available in 5L & 10L tubs.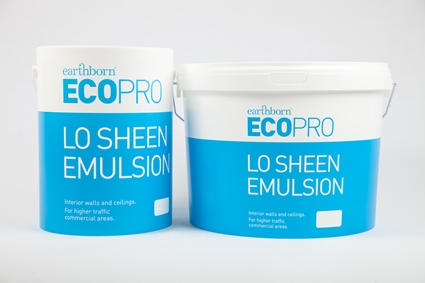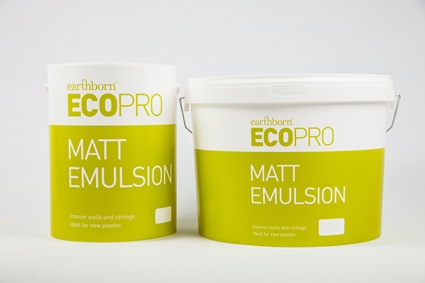 Ecopro Eggshell is a brand new addition to the Ecopro range. It's a super-durable, scuff resistant paint that can be used on interior woodwork, as well as walls and ceilings, for a hard wearing finish. Plus it's formulated without oils and acrylics and virtually VOC free too. Available in 750ml & 2.5L tins.
Ecopro Eggshell is different to our classic range Eggshell. It's a trade product made with different ingredients using a different formulation, available in the BS4800 colour range. We recommend using a primer with the Ecopro Eggshell.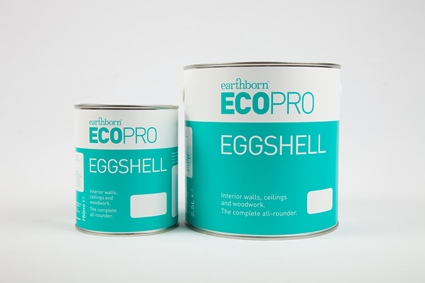 We are excited to announce that our Ecopro Eggshell & Emulsions are now available in 98 BS4800 colours, plus black and white. Any of our Earthborn stockists can order in any of our products. You can get your Ecopro colour card here.