Earthborn #claymate Q&A: Jade Maria Interiors
8th June 2020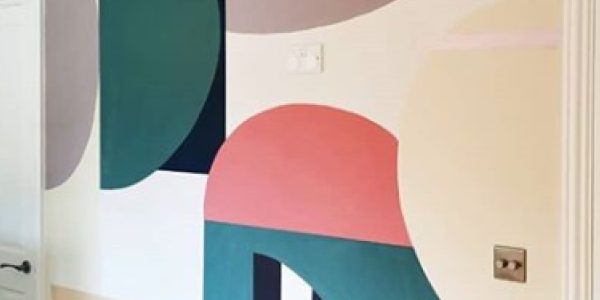 The latest Earthborn #claymate to put our paint through it's paces is the very inspiring interior designer and artist Jade Maria of Jade Maria Interiors! She has a passion for interior design and 'creating interiors that are wonderful, personal and you'. We have worked with Jade Maria on several projects in the past, including this commissioned mural, that she even says is her favourite Earthborn project.
We were delighted when Jade Maria agreed to takeover our Instagram stories for the weekend. If you missed it she did a live demonstration showing you how to paint artwork on to a self made screen using our paint colours Hidey-Hole and White Clay. She also answered all the interior design and art questions you had, with all the highlights below. For the full take over and to see the transformation of the screen head over to our Instagram.
Q&A takeover with Earthborn Claymate Jade Maria
How do you create your murals? And decide the pattern?
So, I really play with shapes. I screenshot images of so many different things that I'm drawn to because of the shapes. I then pull those out and play around with them on photoshop until I have a design I love. Then I start playing with colour. I always use photoshop for planning but drawing works too!
Do murals work with neutral colours too?
Yes, yes! @kellywearstler graffito wallpaper is a real good example. So gorgeous!
What do you use to create your graphic shapes in your murals? Stencils? Masking tape?
I always use frog tape for any straight lines I want, circles I just find circular objects to draw around, but the rest is freehand, and I use my photoshop plan, so I know the position to scale.
I love your work! How easy is it to repaint furniture?
Why thanks! This really depends on the material of the furniture, but wooden furniture can be easy as long as it's sanded and primed properly.
What prep do you do before painting furniture and which paint is best for furniture? I don't want it to peel off after time.
Make sure you sand it real good and then use a primer. Multi Purpose Primer from Earthborn is great. Eggshell is usually best for wooden furniture and then use the Furniture Glaze by Earthborn to seal it or give it a good wax.
Should I do a mood board before I commit to colours?
ABSOLUTELY! And also try out your colours in real life by placing samples next to each other and teaming with any fabrics, metals, wood and furnishings that will be in the room too.
Where do you start when designing a new room? Floors, walls, furniture?
To be honest, I don't have a starting point when I'm designing personally. It changes and it depends on what I've initially been inspired by or the ideas I have. Each part comes together as one starting point as everything needs to work together.
Rather than choosing one specific starting point put everything onto a moodboard and create a real life one that you can see and touch too and try to think of it all as a starting point until you have your perfect team!
Should you always stick to white in the ceiling?
Absolutely most definitely not! I have strong feelings about how beautiful painting the ceiling can be. It completely transforms a room. It can be scary if you haven't done it but there's so much incredible evidence to show its works.
Colour inspo for a north facing room please
Do not paint it cool white. You want warmer tones. Go for either a warmer neutral or warmer white shade or embrace the dark with a darker colour that still picks up some light or a warm pastel.
I'd like an accent wall, should I paint the one behind the bed or paint 2 walls?
I've never been a fan of an accent wall so if I had to pick, I would say 2 walls. 2 is better than 1, anyway right?!
How easily can I inject colour into a room?
I'm assuming this is a neutral room that you want to inject colour into. So, to do that, it's so easy! My favourite way is to do it through some really bold, amazing and colourful artwork. Or you can do it through soft furnishings. You can do it through both if you really want to. Or you can do it with accessories, so you can really have a play around if you have a neutral base. Make sure you go for colours that you really love and are drawn to, so you still love everything in the room.
For further inspiration you can follow Jade Maria over on her Instagram channel or take a nosy over on her website.
We also have more takeovers to come, so keep an eye on our Instagram too!