10 bloggers. 4 weeks. 1 room. Revamp Restyle Reveal 2017
20th September 2017

What do you get when you combine 10 bloggers, 4 weeks and an assortment of fabulous interiors brands? The Revamp Restyle Reveal project!
We're very excited to announce that Earthborn will be sponsoring the very first Revamp Restyle Reveal project. We'll be working alongside some of our very favourite home décor bloggers and fellow interiors brands to completely transform 10 rooms…
What is the Revamp Restyle Reveal project?
The RRR project sees 10 influential bloggers take on the challenge of redecorating one room in their home. The catch? They've only got 4 weeks! This includes everything: stripping wallpaper; replacing cabinets; choosing new furniture; applying new tiles; and, of course, adding a fresh lick of Earthborn paint.
The RRR project kicked off in early September, and the bloggers have been hard at work since then! There was an initial flurry of requests for paint tester pots so the bloggers could try out their favourite colours (spoiler: Peach Baby and Trumpet have been very popular choices so far). We were then glued to our phones as we watched their Instagram updates! It's lovely to see how they have each used Earthborn paints in such creative ways – we've seen plans for statement walls and colour blocks, stencil designs and even a faux headboard.

Colours left to right: Peach Baby and Trumpet
Who's taking part in Revamp Restyle Reveal?
The RRR project is hosted by the wonderful Lisa Dawson, an interior writer and home stylist, along with the equally brilliant Bianca Hall (from French for Pineapple) and Oliver Thomas (finalist on BBC2's The Great Interior Design Challenge). Talk about an impressive line up!
Joining the trio are 7 fellow bloggers, each one an expert in their field. You can learn more about them all over on the Revamp Restyle reveal website.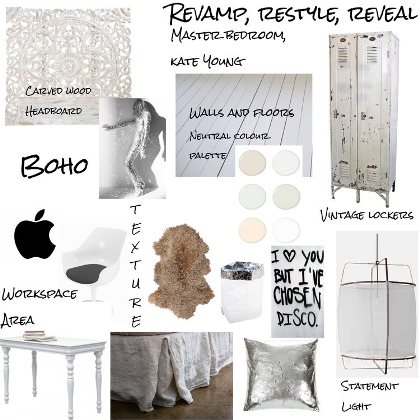 Mood boards (left to right) courtesy of Kate Young (Kate Young Styling) and Ruth Matthews (Design Soda)
How can you follow along with Revamp Restyle Reveal?
Make sure you follow the official RRR social media feeds, especially their Instagram (that's where most of the action is!). Also, if you don't already, be sure to follow the individual bloggers so you can follow along on their Revamp Restyle Reveal journey.
You can also share your own home transformations with us – just tag #RevampRestyleReveal and #MyEarthborn so we can see how you're using Earthborn paints! The best ones might even be featured on our social media channels… Good luck and happy restyling!