'Slow living' is term that many of us might be familiar with, but for some it's a completely new idea.
Slow Living is generally defined as a 'slowing down' in our fast paced society, something that many of us have been forced to do over the past few weeks, and may have to do more of in the coming months.
It's about taking time to consider what we value the most. That means taking a long-term view of the things we do, what we buy and how we live generally. Slow Living is usually about being mindful and sustainable in the way we live. Whether that's only buying the food we need, buying fewer but higher quality clothes designed to last longer, or repairing rather than throwing away items in our home.
It also means trying to live more purposefully by taking care of our minds, bodies and the environment. Recognising what we can do to reduce stress and improve our surroundings can help.
So how does Slow Living relate to paint colours?
If you're using your extended time at home to take stock, and even tick off some of those house jobs, then considering how your immediate surroundings can improve your mood is a great start.
Instead of rushing to buy things we don't really need, cleaning and re-organising areas of the home is one  of the easiest ways to create a calmer, less stressful environment. Take your time and tackle one small job at a time.
And if you are planning to redecorate, consider using a timeless paint colour that has longevity. There's lots of information online about how colour can affect our moods, which is worth taking a look at.
Neutral paint colours work in every space and have a timeless appeal – perfect for slower living. From our lightest off whites to slightly deeper beiges and greys, opting for a versatile neutral shade will create a calm backdrop. Try Feather Pillow, a pale warm neutral that is flattering in all types of light, or Donkey Ride, which is a little deeper and has a soft beige undertone. Warm greys like Cat's Cradle are also extremely versatile and will easily fit in to all décor schemes.
If you're looking for a colour to enhance your mood and lift your spirits, greens and yellows will promote serenity and cheer. Warm yellows like Humpty Dumpty, a natural ochre tone, is bright but very easy going. Whereas warm grey-greens like Gregory's Den will help to create a calming retreat.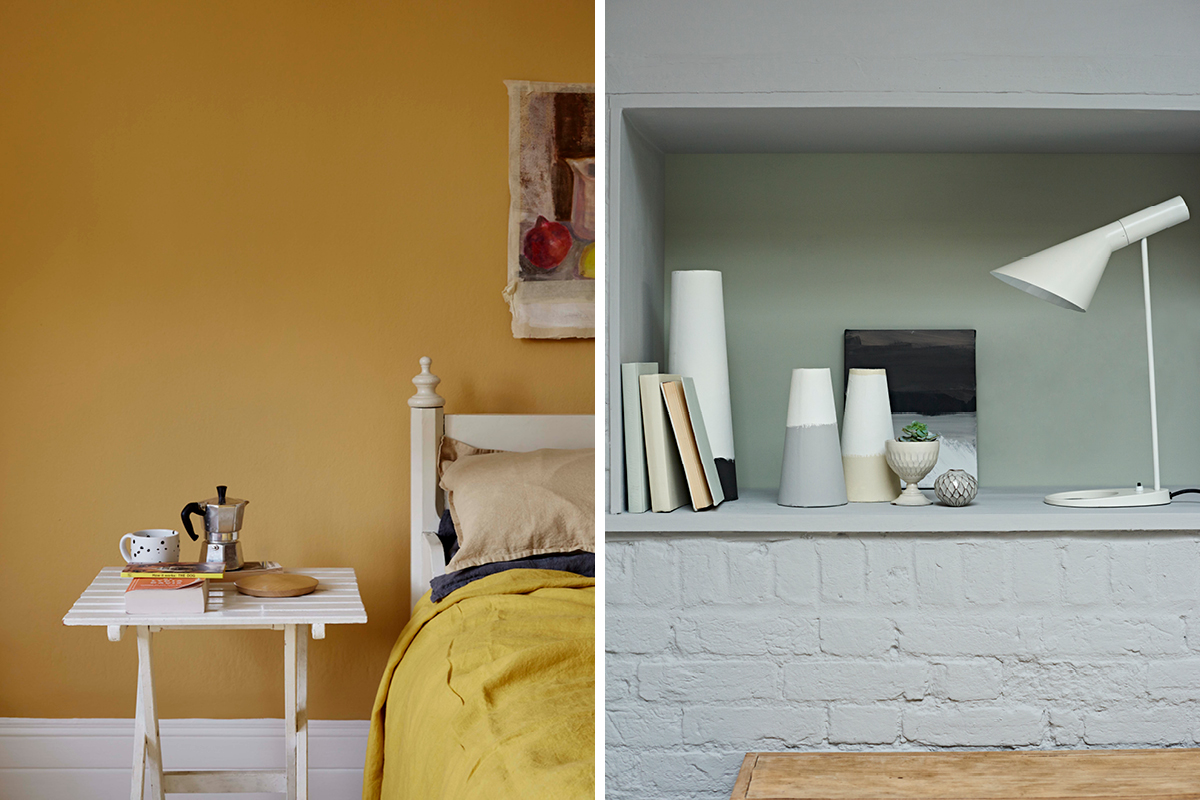 Other mood enhancing shades with a timeless quality include blues like Smidgen, and soft unfussy pinks like Cupcake.
Head here to see all of our colours and order a free Earthborn colour card.
Paint for Slow Living
Our philosophy at Earthborn is 'Better for you, your home and the planet'. Opting to use environmentally friendly paint that's healthier to live with is one small way to make a more sustainable choice. Our paints are formulated without any harmful emissions and our Claypaint lets your walls breathe. To find out more about our eco friendly formulations, take a look at our FAQs here.