Summer of Colour: Hawaiian Tropics | Interior decorating ideas
3rd August 2022

Have you spent all year dreaming of the perfect summer holiday? Or you've just returned and your memories are fading faster than your tan? With our Hawaiian inspired interior design tips, you can say goodbye to those holiday blues and bring the beautiful Hawaiian tropics home with you this summer!
Colour Palette
Bring the serenity of Hawaii to your home with tropical inspired colours, injecting hues of green, but not forgetting those vibrant pops of coral.
Hawaiian interior design is associated with the stress-free life on the islands and that is exactly what this colour palette encompasses.
Introducing wood tones into the colour scheme is also a lovely way to get that true Hawaiian feel.
Paint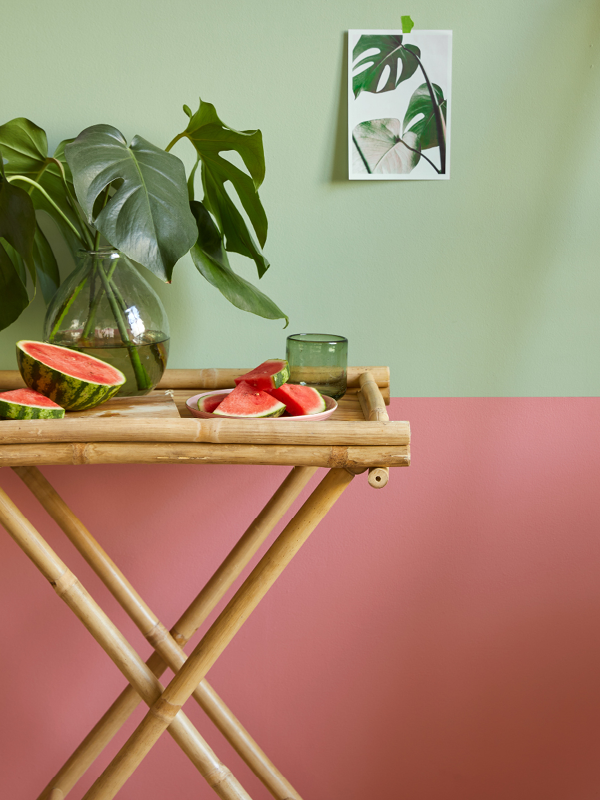 The outstanding amount of greenery in Hawaii is what makes the islands so beautiful. Paint colours such as Cricket and Hobby Wood are the perfect shades to bring the tropical forests and palm trees of Hawaii to you.
Paint your walls in Cricket to create an oasis of calm and introduce darker greens like Hobby Wood through colour blocking or painting alternate walls. You could also highlight elements such as archways, fireplaces and panelling by painting in the darker green to represent the depths of the rainforest in your home.
Adding subtle hints of a vibrant coral, like Delilah, will make you reminiscent of the stunning Hawaiian flowers found around the islands.
Pops of vibrant colours are the best way to subtly add vibrant hues into a neutral colour scheme, this can be achieved by painting furniture such as shelves, picture frames and tables using our range of Eco Chic paint.
Décor
Hawaiian interior design is all about relaxation, serenity and the Hawaiian concept of Ahupuaa – living in balance with nature (something we're fond of too). One way to bring nature into your home is by incorporating furnishings made from Hawaii native woods such as bamboo or rattan.
Bring the nature of the rainforest inside and fill your space with house plants. Dracena marginata plants perfectly resemble a miniature palm tree, which is perfect for bringing the Hawaiian rainforest to your home… without the rain of course!
We'd love to see your holiday inspired projects, so don't forget to tag us on social media using #EarthbornByMe