At Earthborn we believe there are no rules when it comes to colour, and you should always choose paint colours that you love and will enjoy being surrounded by. But sometimes we want to know if a colour we like will work in our home and suit our space.  Whatever room you're decorating, it always helps to know which direction the light is coming from as this can affect the overall colour of the space. If you have a north facing or dark room, check out this article on how to choose the best colours for these rooms. Here we will focus on choosing paint colours for East and West facing rooms.
The main point to consider when selecting paint colours for East and West facing rooms is that the light changes in these spaces more dramatically than North or South facing rooms. So whatever colour you choose, take a look at your chosen samples in the morning and afternoon. You might be surprised at how different the colour looks depending on the time of the day! But the good news is that you can select almost any colour for these spaces and enjoy how the shifting light can give your chosen colour a new dimension.
Paint colours for East facing rooms
When it comes to decorating an east facing room, bear in mind that it will see most natural light in the morning, and the room may feel slightly cooler through the afternoon so you will likely use artificial light later in the day. Natural and artificial light can greatly affect how you perceive the colour too so check your chosen colours in both types of lighting!
Blue and green paint colours are usually considered good options for decorating an East facing room. Consider blue paint colours that don't contain too much grey though, as this can sometimes 'flatten' the space in neutral to cool east facing light. Light green and aqua paint shades like Shallows (Earthborn's Colour of the Month for December) or Sapling, a mellow, creamy green, can help to imbue freshness and subtle colour in these spaces.
If you're looking for a neutral or white paint colour for your east facing room, our recommendations would be: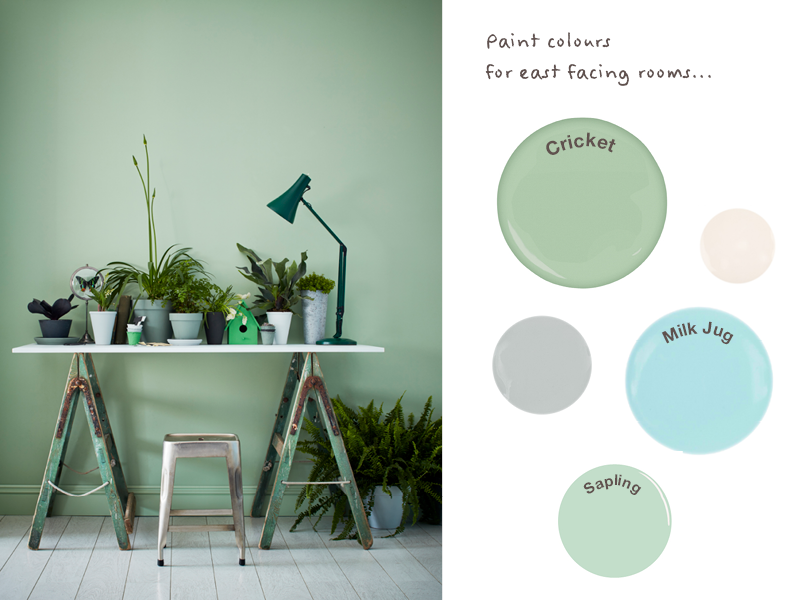 Paint colours for West facing rooms
Like East facing rooms, West facing rooms can see a dramatic change in light from morning to afternoon. In the morning you may find colours here are slightly shadier, so the grey undertones of many paint colours will be enhanced. These spaces aren't as dark as north facing rooms (which experience a cool light) but you may find that bright and light paint colours will work best in these spaces.
Our favourite white and neutral paint shades for west facing rooms are:
It's also possible to introduce more colour to west facing rooms so you can afford to be a little bolder with your choices! Warm peachy and orange-toned paint colours like Peach Baby or Freckle may appear fairly 'neutral' in the morning but cast a deliciously warm glow as the light increases through the day.
Earthborn's unique formulations mean that our paint colours create a softened, light enhancing feeling in many spaces. Even bolder pops of colour like Can-Can and Trumpet have a delicate quality that flatters all types of light. Order your free colour card here and see the whole beautiful range for yourself!