Summer of Colour: 5 Summer decorating ideas
1st July 2022

Summer holiday season is upon us, and after lockdown it seems like everyone is making the most of it. From coastal escapes to at-home staycations and long-haul destinations, whatever your plans this summer we hope you're doing it in style!
Once the holiday is over, how do you prolong that holiday feeling and escape the post-trip blues? We've picked out our top five colour schemes that remind us of popular holiday destinations around the world. Pick up your paintbrush and transport yourself back to your favourite destination so the holiday never has to end with these summer decorating ideas.
Santorini Style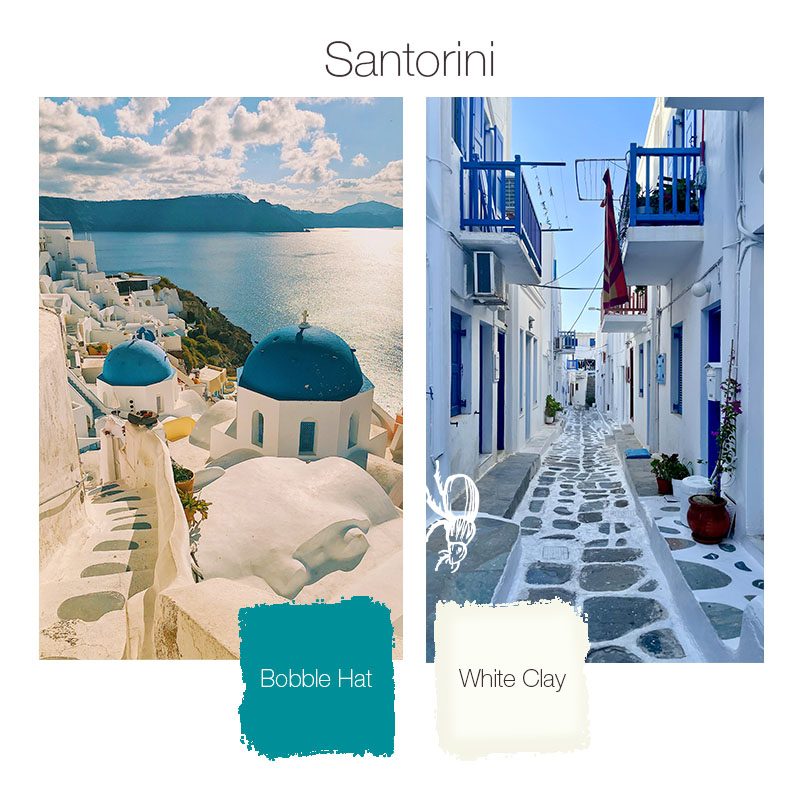 Santorini is renowned for its blue rooftops, that pop against the white buildings. Bobble Hat is a beautifully rich blue reminiscent of the clear blue Aegean waters as well as the colourful rooftops.
Pair this with White Clay to contrast against the blue and give that Greek island vibe.
Moroccan Markets
Morocco's markets are a feast for the senses – colours such as Baked Tile, Can-Can and Humpty Dumpty conjure up images of the spices, fabrics and souvenirs that can all be picked up in the endless alleyways of Marrakesh.
These colours are also reminiscent of the buildings and sandy backdrop Morocco is known for.
Coastal Charm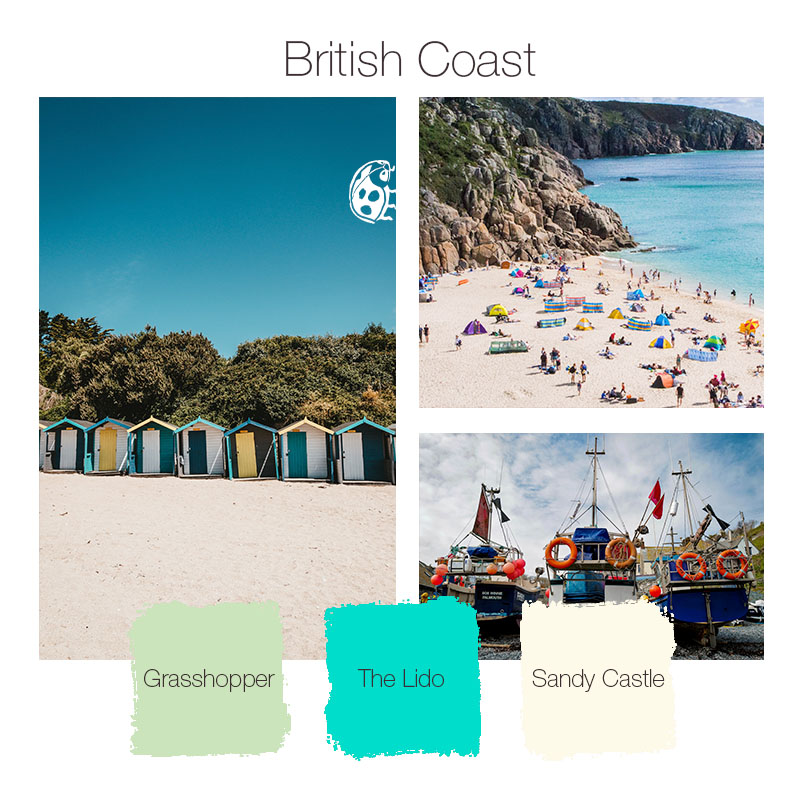 British holidays evoke memories of building sandcastles on the beach or visiting the local lido. Our coastal charm colour scheme incorporates colours inspired by both of these activities, Sandy Castle and The Lido; alongside Grasshopper to provide the perfect lush green backdrop we often see on the UK coastline.
Ibiza Sunset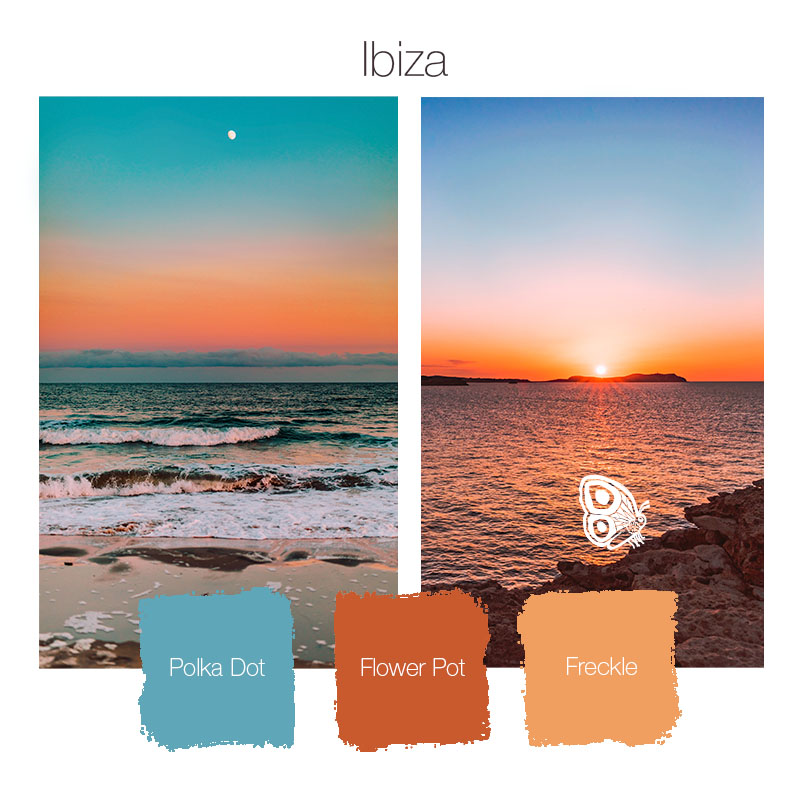 Ibiza is famous for its sunsets, which draw couples, families and revellers alike to the beach to watch the sunset over the sea. The sky is awash with pinks, oranges and purples as the golden glow of the sun drops into the blue water. Freckle, Flower Pot and Polka Dot capture the essence of this magical moment for you to bring the sun into your home.
Hawaiian Tropics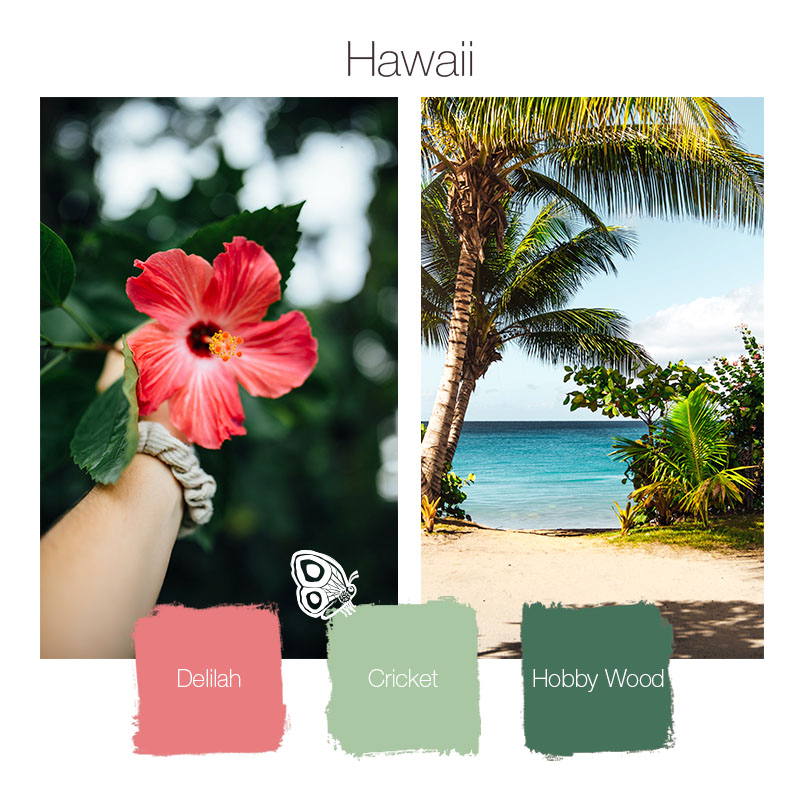 Hawaii's dramatic lush green rainforests are covered in beautiful tall trees, with the beaches surrounded by palm trees, and pops of colourful flowers creating the epitome of a tropical backdrop. Pair Delilah with Hobby Wood and Cricket to recreate this tropical vibe at home.
Throughout the summer we'll be providing you with plenty of inspiration to help you hold on to that holiday feeling, with summer decorating ideas from around the world.
Sign up to our newsletter to make sure you stay up to date with everything, and if you've done your own summer holiday inspired makeover, don't forget to tag us on Instagram and use #earthbornbyme