Summer of colour: Santorini style | Interior decorating ideas
2nd July 2022

When you think of Santorini, whether you've been there or not, the first thing that usually pops into your mind is the multitude of whitewashed houses with their blue accents or roofs, tucked onto the hillside overlooking the sea.
The Greek island of Santorini attracts visitors from all over the world, but when you're back in your corner of the world, how can you incorporate Santorini inspired interior design in your home to keep that holiday feeling alive?
Colour Palette
Achieve that Instagram grid-worthy look by blending hues of blues with white, two colours that epitomise the island. But a Santorini inspired colour palette isn't just about blue and white, you also want to bring in other tones to complement those colours in your home.
Bring in warm wood tones, as the brown goes nicely with a blue and white scheme. Similarly, flashes of earthy greens and plants draw interest that contrast the other colours without being overwhelming.
Paint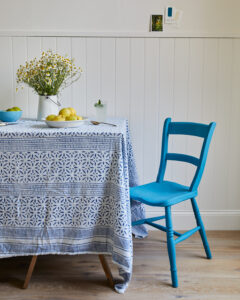 Keep it crisp and clean with the paint and add charm and intrigue with the decoration.
White painted walls in a colour such as White Clay will instantly brighten up any room and help you achieve those Greek island vibes, mimicking the whitewashed walls Santorini is famed for.
Use a vibrant blue like Bobble Hat to add pops of colour; you can do this by painting a feature wall, making a statement with your woodwork or even going for a bold blue ceiling.
Ceilings are often forgotten when decorating our homes, but painting your ceiling in a bright colour can instantly make a room feel more 'designed' as well as make it feel bigger. In the dark days of winter, when you've got a beautiful blue ceiling, you can look up and pretend it's the blue summery skies of Santorini.
Decor
Santorini inspired interior design is simple but has lots of layers to add depth.
Natural wood furniture can add warmth and bring in that sense of nature, but you can stick with the blue and white theme for your furniture too.
You could even upcycle a chair, using our Eco Chic furniture paint, to add further pops of blue and create some stand-out pieces to be proud of.
Style with rustic and eclectic patterns – woven straw wall art, geometric patterned rugs or cushions, paired with mosaic bowls or coasters picked up on your travels.
Don't forget to bring in the tones of green with some house plants to give you that holiday vibe all year round.
We'd love to see your holiday inspired projects, so don't forget to tag us on social media using #EarthbornByMe