Paint suitable for children's toys and furniture
25th May 2020

If you are looking for paint suitable for children's toys, furniture and bedrooms you are probably wondering what you need to consider. We'd say the three most important things are; the ingredients, durability and colour choice.
Knowing the full list of ingredients means that you can make a more informed choice about which paint to buy. If you have a better idea of what is in the paint it will help you make sure the children's paint doesn't have anything nasty in it. High levels of acrylics and vinyls aren't so good for little ones, or indeed the environment.
When it comes to painted baby toys, they are of course, designed to be played with and not just to look good. The same goes for painted kid's items like tables, chairs and cots – they are all subject to a lot of wear and tear! So if you want more durability, you need to keep this in mind when choosing the right paints too.
Thirdly, and the most fun part is colour! Being able to pick from a lovely colour palette means that you can transform pieces in the shades you love. Be that to add personality, coordinate colour schemes or even to pick your child's favourite colour.
We have a range of paint suitable for children's toys and furniture, they are even great for bedroom or playroom walls too. Read on….
Ingredients
All our paints list the full ingredients on the tin! We have an independent accreditation (EU Ecolabel) that says our paint meet the highest possible environmental credentials. Our paints have also passed the very latest Toy Safety Standard (EN71 3:2019), which means that our paints used for children's toys and furniture painting, such as Eco Chic and Eggshell No.17,  meet the EU toy safety requirements . To see the full list of Earthborn products that meet the standard click here.
Durability
The more durable of our child-safe furniture paints is Eggshell No.17 because it has a hardwearing soft sheen finish that can be wiped. Eco Chic has a very flat matt finish making it more suitable to less used items. However, finishing Eco Chic with Earthborn Furniture Glaze or Furniture Wax will protect the surface and make it far more hardwearing, and also giving it a different look to Eggshell No.17.
For the walls we have Claypaint or Lifestyle. Claypaint is highly breathable and perfect for use over lime, but due to this it doesn't cope well with little finger prints and the mess they may cause! So, if you need breathability we'd recommend a coat of Wall Glaze over the top. But if breathability is not an issue, Lifestyle is the perfect option as it is a much better option for washability.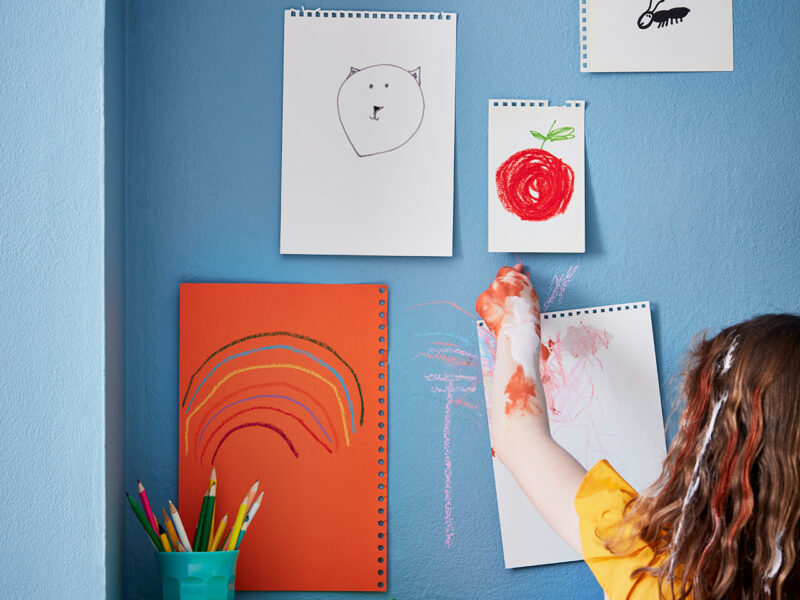 Colour choice
Our Claypaint, Eggshell No.17, Lifestyle and Eco Chic are all available in the same colour palette, you can mix and match to your hearts content. Perfect!