Old meets new kitchen diner reveal by Earthborn #claymate Kimberly from Swoonworthy
14th October 2019

Over the past year our five #claymates have really inspired us with their creative (and totally different) decorating projects. A few weeks ago, we were excited to see that Kimberly from the super stylish blog Swoonworthy revealed the biggest project we've showcased so far. Read on to find out about her glamourous old meets new kitchen diner extension.
Swoonworthy's previous Earthborn projects
Kimberly had already used Earthborn Claypaint for a couple of projects in her house so far, so she understood the benefits of using a breathable paint in a period property like hers.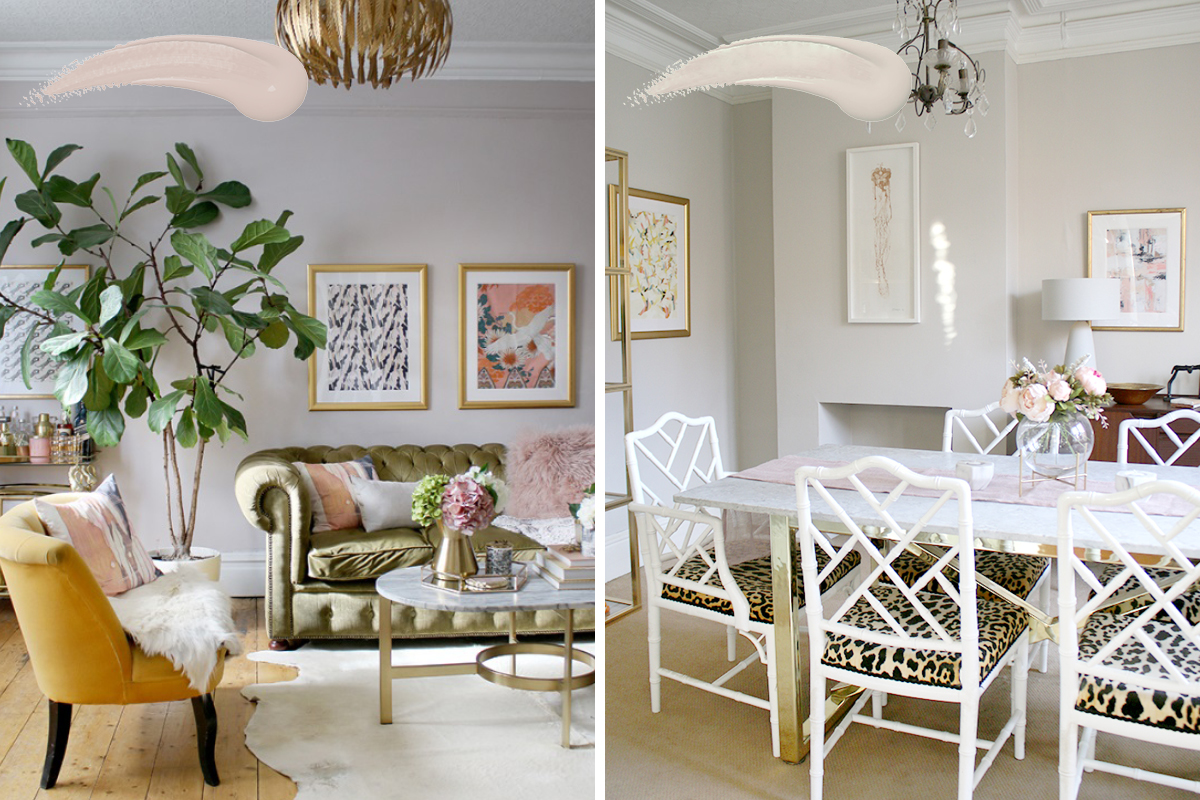 Kimberly describes her style as 'eclectic boho glam'. She's used a calming yet luxurious palette throughout her home, mixed with flashes of colour, pattern and interesting textures. Previous projects have included a living room makeover using Earthborn Claypaint in Paw Print and a dining room painted in Donkey Ride (above).
Kimberly's old meets new kicthen diner reveal
For her latest project Kimberly added a small kitchen extension to her house, creating a large open plan kitchen diner space that is light and spacious.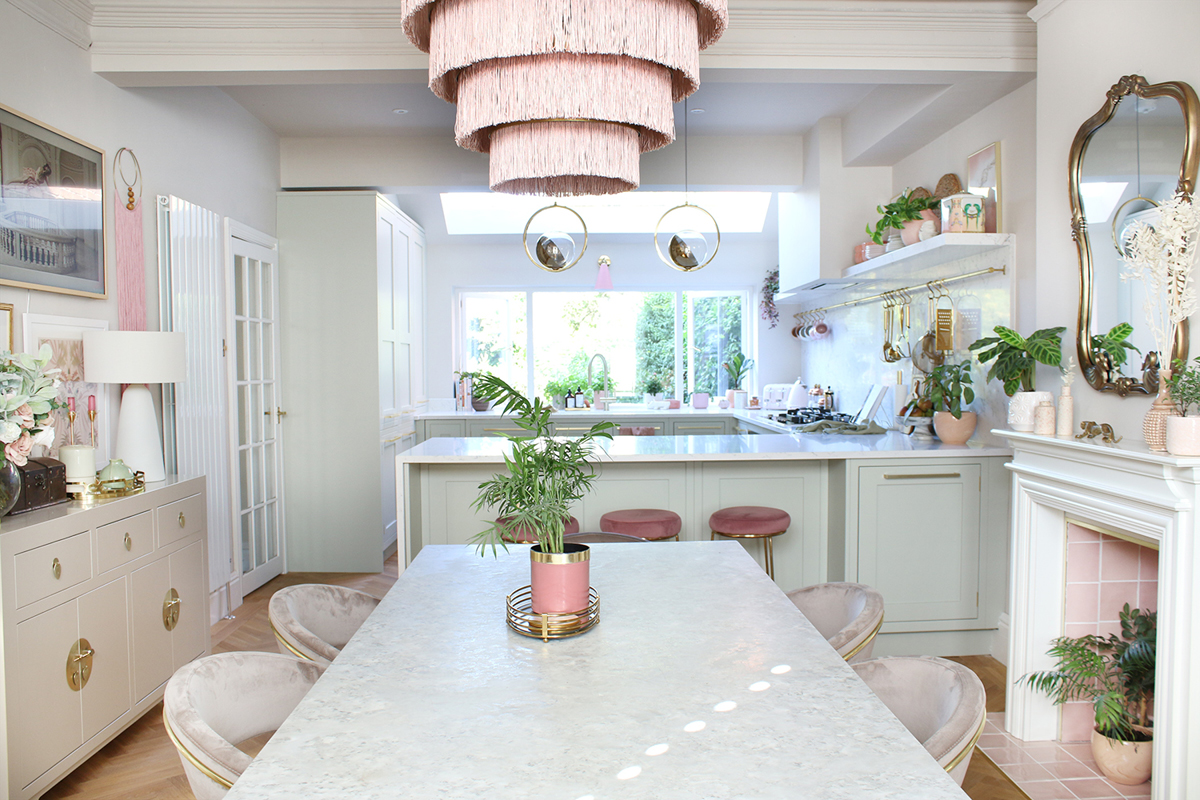 One half of this room is the new kitchen whilst the other half is original to the house, retaining many period details. We think Kimberly has combined the old meets new areas of her home beautifully. We especially love her mixture of classic colours, antique touches and contemporary styling.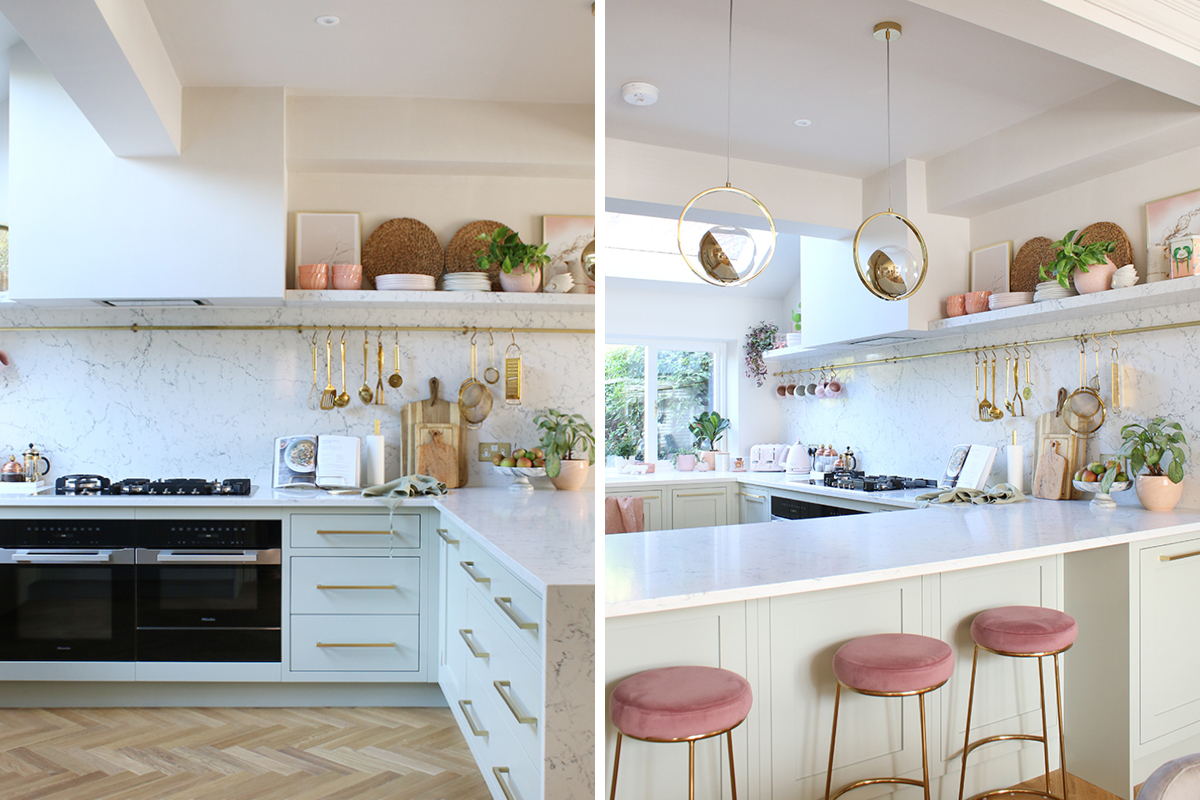 Kimberly decided to use our soft, beige-y paint colour Donkey Ride to provide a warm neutral backdrop to her calming taupe, pink and gold colour scheme, as she explains:
"I actually used the same colour for our quickie paint job and I loved it so much that I knew I'd be using it again when it came time for the proper makeover. And that really does count for something because I never ever paint a room the same colour twice! But I made an exception because it's just my perfect beige-grey. It's a beautiful shade."
She then used Earthborn Eggshell No.17 in White Clay for a smart, clean finish on wood work and joinery, including the simple fire surround. White Clay is a warm white shade, formulated to be the same soft colour as our Claypaint. Kimberley said:
"We used White Clay Eggshell No. 17 for the woodwork throughout which creates a lovely warm glow."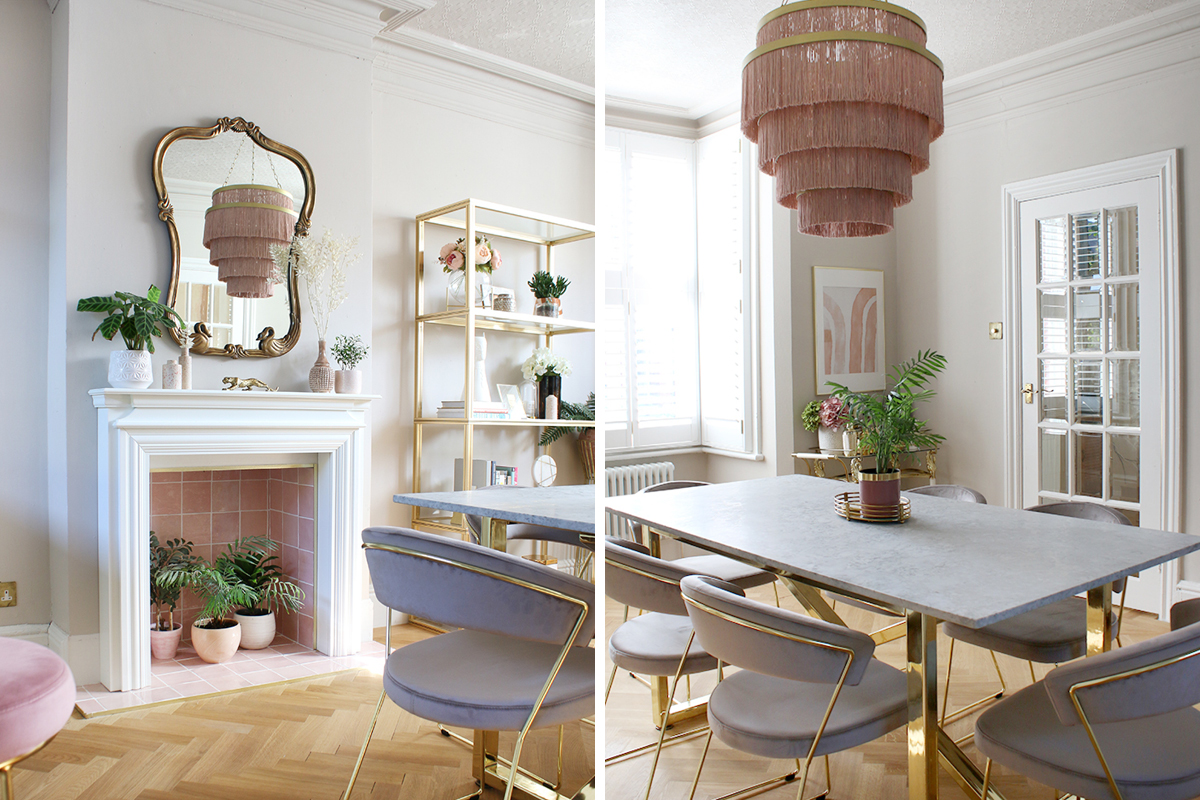 If you'd like to try out a warm neutral colour palette like Kimberly, why not order a sample pot in Donkey Ride here. And for more dream kitchen inspiration, you can read more about the transformation of this space on Kimberly's Swoonworthy blog.