Summer of Colour: Moroccan markets | Interior decorating ideas
21st July 2022

Are you dreaming of sunnier climes, but unable to get away this summer? We're here to help transport you to Morocco, with our holiday inspired interior design tips. We curated a trio of our favourite heated hues and have shared some Moroccan style decor tips to help get that holiday feeling at home, all year round.
Colour Palette
Rich earthy and sandy tones, such as reds, yellows and oranges are at the heart of Moroccan style decor. Although this colour palette may seem daunting to some, the beauty of Moroccan interiors allows you to be as vivid or as subtle as you want with these colours.
Pair these with airy whites and deep sea blues reminiscent of Moroccan patterned tiles, to help tone down the vivid colours for a scheme that's more suitable for everyday living.
Paint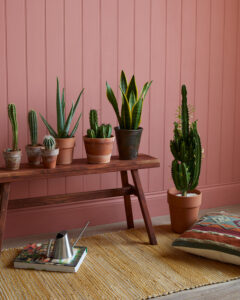 Drawing inspiration from the warmth of the landscape, the sand coloured buildings, and the infamous spice markets, paint colours such Can-Can, Baked Tile and Humpty Dumpty are the ideal base colours for your Moroccan style decor.
Saturate your walls in any of these colours to instantly add a warm glow to any home. Colour psychology suggests that these shades can actually make you feel warm too, which is perfect when you're trying to recreate that holiday vibe in the depths of winter!
If you don't want to paint all your walls in these colours, for a subtle nod to the Moroccan scheme, use a neutral such as Up Up Away as a base then add pops of any of these fiery colours on your woodwork or as a feature wall.
You can also use this trio to highlight architectural features such as archways, fireplaces, and panelling which will immediately draw the eye. If you don't have any architectural features, colour blocking is a clever way to add character to any room, opt for archways and scallops for the ultimate Moroccan feel.
Décor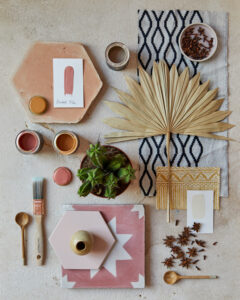 If you've ever heard the saying 'less is more' you can be sure it wasn't used to describe Moroccan interior design. Layers and layers of different textures, patterns, and colours should be used to create a room inspired by this exotic holiday destination.
Furniture should be kept low to the ground using pouffes or low coffee tables to create a relaxed feel, place these on a geometric style rug, or two for that layered look. Fixtures and fittings should be in earthy golds or coppers, with accessories such as pillows and throws in highly textured materials and bright colours.
For a contemporary feel that is still reminiscent of Morocco, opt for simpler patterned elements in neutral colours.
We'd love to see your holiday inspired projects, so don't forget to tag us on social media #EarthbornByMe