If you're about to redecorate your kitchen it's the perfect time to think about some fantastic kitchen colour schemes to revolutionise your kitchen and have this central room in the home really make a statement.
Your home should be more than just a place you put your feet up at the end of the day. It can be a reflection of your personality and speak volumes about what inspires you.
In a modern household the kitchen is the place where families gather, couples entertain and many of us spend most of our time. It is often described as the heart of the home and we couldn't agree more. That is why we have put together some wonderful Kitchen Colour Ideas to get you inspired about decorating.
Choosing a kitchen colour scheme is an important decision. The style, size and layout of your kitchen will all influence kitchen colour ideas.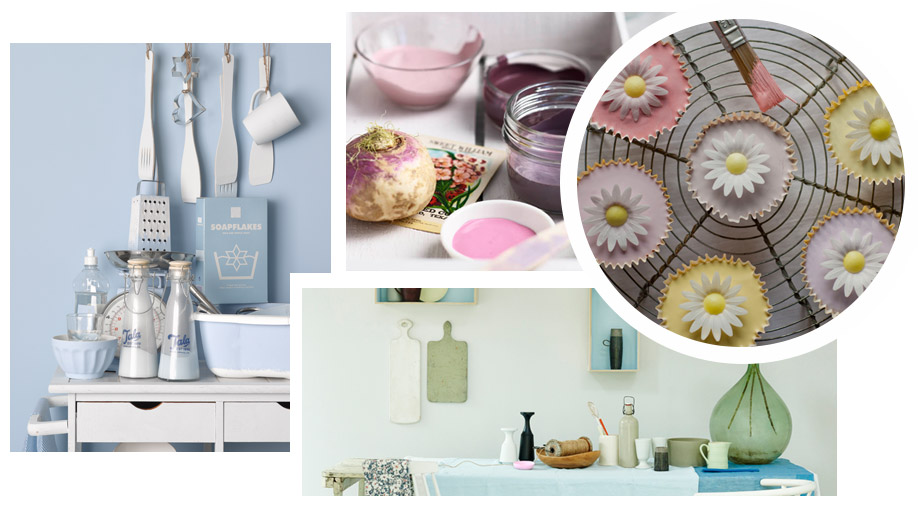 We all know that choosing the decor for a new room is an exciting, but often a time consuming experience. If you are planning a new kitchen then it is often the case that units, worktops and flooring etc take up most of the thought process and decision making but giving serious thought to your kitchen colour scheme is absolutely essential.
The colour of a room can complete its tone and atmosphere. Even neutral colours, when used properly can give a big impact. Whatever your personality we are sure there is an Earthborn kitchen colour paint for you.
Bright & Energetic
If you love colours that make you feel revitalised and ready to face the day or put you in mind of sunshine, then a bright and energetically styled kitchen will be a great solution to help you express yourself.
The kitchen is where cooking takes place and many of us love to express ourselves through food. Having a kitchen colour scheme that matches your cherry bright personality will make you love cooking even more.
For bright and bubbly kitchen colour ideas we suggest going for sunny yellows or pastel shades, such as our Daisy Chain or Yum Yum.
Now yellow is a great way to invite energy into your kitchen but even though it's the colour of sunshine it can be a little much for some. If you like bright atmospheres and pastel shades but feel a full yellow kitchen is a bit much try our pastel blues and pinks like Smidgen or Cupcake or a calmer yellow such as Lemony.
The key to pulling off this style are the accessories. It's best to have a kitchen that has plenty of natural light to make the best of your bright theme. Don't forget some cutesy frilly curtains to match and the finishing touch is some bright flowers.
We feel this style makes for a perfect breakfast room atmosphere. It will infuse you with joy in the morning ready for the day ahead.
Warm & Exotic
Love cooking delicious authentic cuisine from around the world, especially with plenty of spice? If you love your kitchen and want an exotic environment to cook in then go full throttle with some deep tones. Deep red tones are not common colours seen in kitchens in this country, so this theme will make your kitchen unique, original and dynamic. It's ideal for those who love deep, warm colours. Our Riding Hood, Flower Pot or maybe even Pumpkin Pie colours can be used for rich kitchen colour ideas. To pull off the exotic feel be sure to display any terracotta toned kitchen cooking equipment, especially ceramic pots and your full range of colourful herbs and spices proudly on display.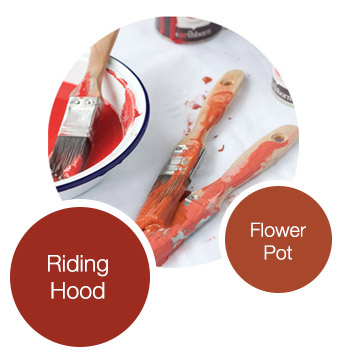 Rustic
An increasingly popular look for those who adore the old world country cottage style kitchens. If you don't have many beams or wooden doors then manufacture the rustic country look with colours like Freckle or Humpty Dumpty. If you are already blessed with the rustic wooden look then compliment this with a subtle neutral colour in the off white range. Do not choose bright white or any white too pristine as this will look too modern in your rustic kitchen and spoil the illusion. Our colours Vanilla, Mittens or Marble will work well.
To ensure you pull off a gorgeous rustic kitchen without looking old fashioned you need some natural looking wood elements, preferably without looking too varnished. Slate floors or stone floors are a big plus for the cottage motif and if you have an old world hob or cooker you are sure to own this look.
Consider adding an old fashioned country rug for a finishing cosy touch. Brass has become very popular of late when embracing the rustic look. Get some brass cooking equipment and display it in open shelves rather than hiding it away in closed cupboards. Remember this is all about the cute cluttered look.
Sophisticated & Ultra Modern
If our rustic kitchen colour ideas sound like your polar opposite, then you will probably want an ultra modern kitchen. This is the kitchen colour scheme for those wanting a sophisticated place to entertain. Greys or purples are the colour to stick to, including our Rocky Horse, Paw Print, Jack Horner, Damson Mousse or even Dark Cocoa if you are drawn to darker shades, but be sure your kitchen has adequate lighting if you follow this route.
The way to create that super chic modern look is to use plenty of chrome elements, especially on your cabinet handles. Granite work tops and a sleek glass table with dark metallic chairs will be the cherry on top of this glamorous modern kitchen.
Dynamic Timeless Fashion
The black and white combo is truly timeless so why not embrace it in your kitchen. Sometimes considered a very 60s style we love the power of this kitchen colour scheme. It just keep coming back as a beloved style and has real staying power. Go for stark white walls, offset with black wood cabinets and cupboards, alternate these with white work surfaces and be sure to have matching black and white tiled floors. If you have money to burn and are embarking on a complete glamorous renovation of your kitchen there is nothing like a bit of marble to polish off this look. A showy marble table will give the ultimate impact.
Helpful Highlights
Whether you have gone for white/ off white, grey or dark walls the perfect way to bring a kitchen to life is with highlights. It makes it easier to find essential features in your kitchen and really helps the style pop. Offset a grey, white or dark kitchen colour scheme with a bright splash of colour under cupboards and in line with your work surfaces. Will you choose yellow, blue or even a vibrant green?
Spacious & Immaculate
White, white and more white is the way to go for this pristine look. It may sound dull but a totally white room will really emphasis natural light and make your kitchen look bigger. If you have plenty of windows you can make an average sized kitchen look massive. It is also a good start to create a vintage kitchen. Vintage kitchens are made possible by the cabinets and accessories you buy but you need either a white, pastel blue or turquoise to compliment. Look at our White, Smidgen or The Lido to go vintage and stick with bright white for the pristine, spacious look.
Weathered
This is really popular among kitchen colour schemes this year. The kitchen colour ideas to make it work will all be whites and blues. Try white, distressed furniture. You can even take this all the way to an almost nautical weathered theme. All you need for this is to choose deeper blues like Button Tin to highlight.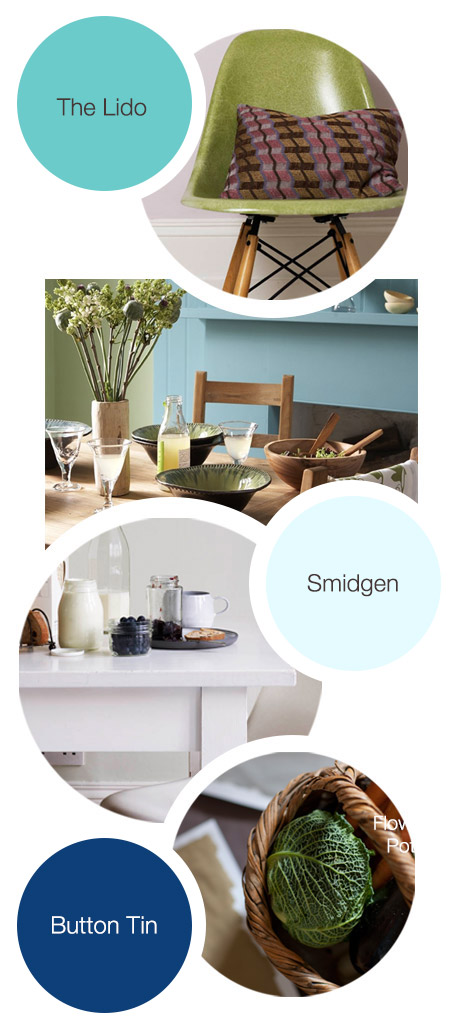 How will you decorate your kitchen?
Earthborn Claypaint and Earthborn Lifestyle Emulsion are both great choices for your kitchen.
The two ranges offer a wide choice of colours so whichever kitchen colour scheme you choose we can help you make it a reality. Our ranges contain 72 stunning shades so you are sure to find the perfect colour or combination of colours for your inspirational kitchen design.
We know choosing paints can be tedious but there are so many reasons why our environmental designer paints are a superior choice.
Schemes like LA Diner and Kitchen Sink could both be used to create kitchen spaces which are bright and airy but still warm and inviting. Ultra modern shades of white and grey can be used to create a clean and contemporary look.
Struggling to decide which kitchen colour schemes represent you? Why not see even more inspirational colour ideas with our Craftology Scheme or for something really bold and warm then we love the shades in our Crafternoon Theme .