When planning a decorating project picking paint colours is probably the first thing you will do. It's the exciting part, your opportunity to put your own stamp on a room and make it feel completely different.
Some people start out with a clear idea of exactly what they want to achieve, it might be to make a bedroom feel decadent and indulgent or to make a kitchen diner warm and inviting, turning it into your dream dinner party location.

If you have a vision and you know exactly how you'll make it a reality then fantastic. On the other hand if you are looking for ideas and inspiration or need help picturing the end result then there are a range of approaches you can take to help. After all you want to create that perfect space so it is worth investing some time and thought at the beginning to ensure the outcome is exactly what you want. Here at Earthborn we have some great suggestions on how to choose a paint colour to match your personality.
So where do you begin?
Think about what you would like to achieve. Having a clear goal like making a space lighter or cosier will help.
Consider the colours you love and how they make you feel. Do you have a favourite colour that you always wear? That might be a good place to start. Whether you love warm, rustic tones or identify more with floaty, romantic pinks and delicate pastels you want to pick a colour scheme that you will love and enjoy.
Mood boards
Different people will take a different approach and there is no right or wrong way to select your colour scheme.
Mood boards can be really helpful and lots of fun too. A mood board can really help if you are torn between two ideas or colours schemes, create a board for each scheme and you will quickly start to realise which one is the right choice.
Mood boards are also brilliant if the colour scheme is a joint decision. They are perfect for sharing ideas with the rest of the family or with friends for honest feedback.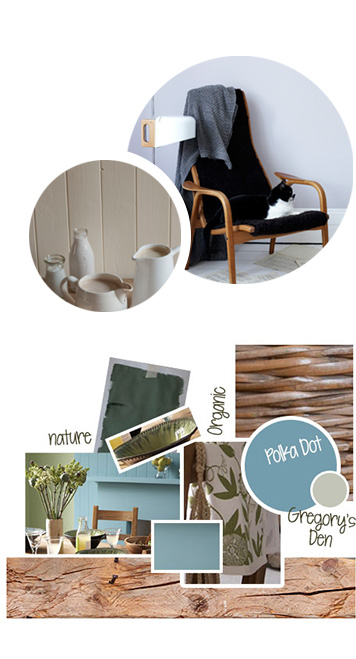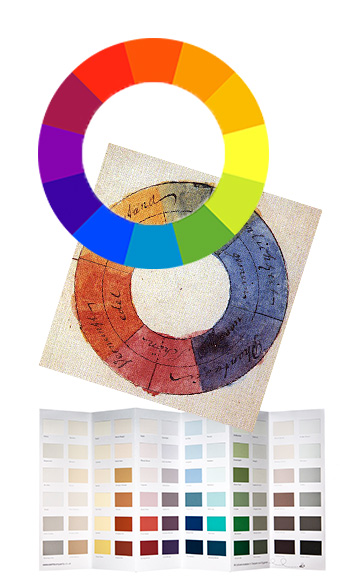 Colour wheels
A colour wheel is a great tool for selecting colour combinations, particularly useful if you need colours which will coordinate with an existing item such as a carpet or sofa.
With a colour wheel you can experiment with ideas and types of colour scheme.
Do you want to go for a monochromatic scheme, selecting different tones of the same colour? This can be a great approach for creating a clean, modern looking space. Try selecting three different tones of the same colour and then to create a feeling of space try using the darkest on the skirting the mid-tone on the wall and the lightest shade for the ceiling.
Harmonious colour schemes are another option. Choosing colours which sit next to each other on the colour wheel will always create schemes that work. Harmonious colour schemes can range from neutral to bright and bold depending on the depth of the colours you choose.
The other option is to go for contrast. Colours which sit opposite to each other on the wheel are often referred to as complementary. Using the colour wheel will give the confidence to choose colour combinations which are bold but you know will work together. Definitely worth playing around with and perfect if you are looking for something bold and dramatic.
Earthborn Mood Picker
At Earthborn we always think that starting with the type of mood you would like to create in a room is a great way to achieve your desired look and a room that makes you feel exactly as you wanted.
To make picking paint colours easier we have created a mood picker which will generate a choice of colour palettes that match your chosen mood. Try it. It might even give you some ideas and paint colour combinations that you love but would never have thought of. If all else fails take a look at our inspiration section or our social media platforms for some lovely ideas and beautiful examples of finished rooms.