How to upcycle furniture with Earthborn's products
15th November 2021

At Earthborn we believe that painting and upcycling furniture is more than just a 'passing trend'. Updating a second-hand piece is not only a great way of making a more sustainable choice at home, but painting furniture is also one of the simplest ways to inject colour and personality into a room. Creating something that is totally unique to you.  Follow our easy steps to upcycle your own piece of furniture.
Step 1.
Choose your colour: Our Eco Chic Furniture paint is available in 84 signature shades.
Step 2.
(Optional) apply our Crackle using the instructions and tips below:
Earthborn Crackle is an easy to use, water based and acrylic free medium, perfect for those who like to experiment with unusual paint effects by adding an authentic, textured look to vintage furniture. Use on flat surfaces such as wardrobe doors or tabletops to create drama. Or on smaller areas like chair legs or in carved details to enhance subtle ageing. The crackle patina lends itself not just to an antique look but can also give a fresh twist to contemporary styles of décor.
Here's how to create an aged or antique effect on painted furniture using Earthborn Crackle:
Prepare your furniture for painting and apply a coat of Eco Chic

. 

When the paint is dry, apply a coat of Earthborn Crackle.
Allow a little time for it to dry.
Apply a contrasting coat of Earthborn Eco Chic at right angles to the Crackle using smooth, deliberate brush strokes. Take care not to 'over brush' any areas where Eco Chic has already been applied.
Use a hairdryer to enhance the cracking effect.
Create even more ageing by sanding all the 'high points' and revealing the colour underneath.
Finish with Earthborn Furniture Glaze or Furniture Wax.
Simply wash brushes in warm water.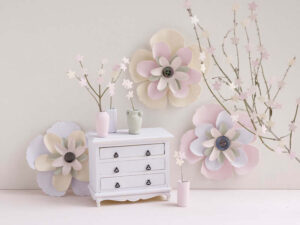 Step 3.
Choose from Furniture Glaze or Furniture Wax to finish transforming any tired piece of furniture into a masterpiece.
Earthborn Furniture Glaze is a water-based, clear glaze designed to protect painted pieces from everyday use. Introduced as an alternative to our soft, clear Furniture Wax, Earthborn Furniture Glaze offers a higher level of protection making it ideal for busy family life. For use over natural wood or Eco Chic, it offers a durable, wipeable finish that repels dust and is especially perfect as a topcoat for Crackle effects. As a non-yellowing clear solution, it's easy to apply and dries to a soft sheen finish.
Earthborn Furniture Wax is a clear buttery soft and water resistant wax that provides a protective satin finish to interior wood surfaces. It can also be used over  Eco Chic to produce a durable and decorative effect on furniture. Waxed surfaces will remain breathable, protected and maintained, repelling water, dust and grease.
If we've inspired you to take on your own creative upcycle project, Earthborn Crackle & Furniture Glaze (along with Eco Chic & Furniture Wax) can be bought through any one of our network of nationwide stockists. And if you don't have a stockist close by, you can order from our website too!
Click here to find your stockist.  For more top tips on how to paint furniture click here.