How to pair our Summer inspired Modern Country Colours
2nd August 2021

When we partnered with Country Homes and Interiors magazine to launch 12 Modern Country Colours, we wanted to create a collection of colours that were bold enough to enliven your space whilst being easy to coordinate.
So while many of our new shades are modern feature colours, they each carry a softness that makes them easy to pair with other colours from our Classic colour range, without overwhelming your décor.
In this final post we're looking at four summer inspired shades from our new Modern Country Colours palette, and our suggestions on how to pair them with other Earthborn shades.
Summer Frock and St John
A delightfully breezy blue with a relaxed feel, Summer Frock carries a denim warmth that pairs well with earthy tones and off-whites. We especially love it with our slightly grey toned neutrals such as St John, a warm white with the tiniest hint of grey.
Combined with natural materials, Summer Frock can help a room feel simultaneously cosy yet fresh, a rare quality in a paint colour!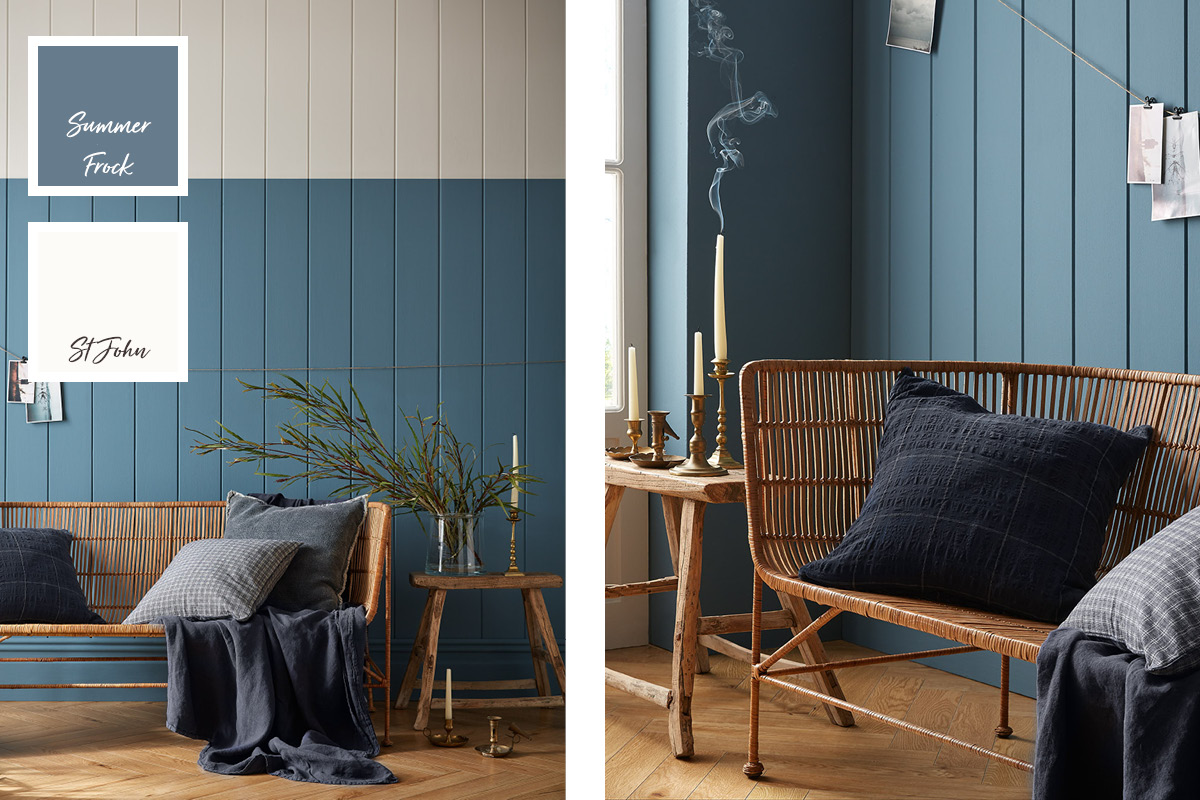 Peaseblossom and Seagull
Peaseblossom is a classic olive green, with its subtlest yellow-brown undertone. However this heritage green is anything but dull! Used as a feature colour, Peasblossom will invigorate an otherwise neutral space. Or use as a full colour for a surprisingly easy-going , botanical feel.
We love Peaseblossom when paired with pale, neutral shades like Seagull, an off-white colour with a delicate grey-green hint. But it's just as beautiful paired with charcoal accents like our new Scuttle colour!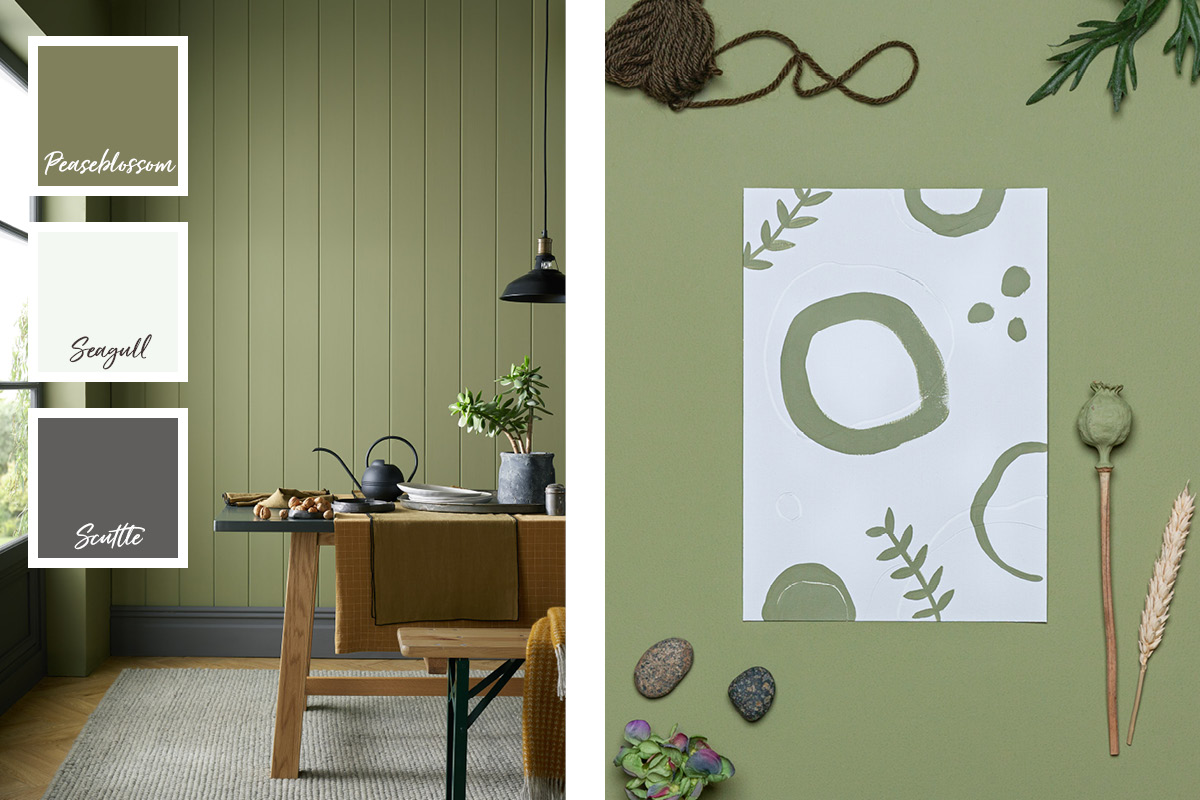 Sponge Cake and White Clay
Sponge Cake is a soft, pale lemon designed to add a subtle, luminous glow to walls. Pair with White Clay for a simple, laid back colour scheme and pale blues like Gingham for that summer fresh vibe. Or add an unexpected element by pairing with deeper shades like Yew Maze.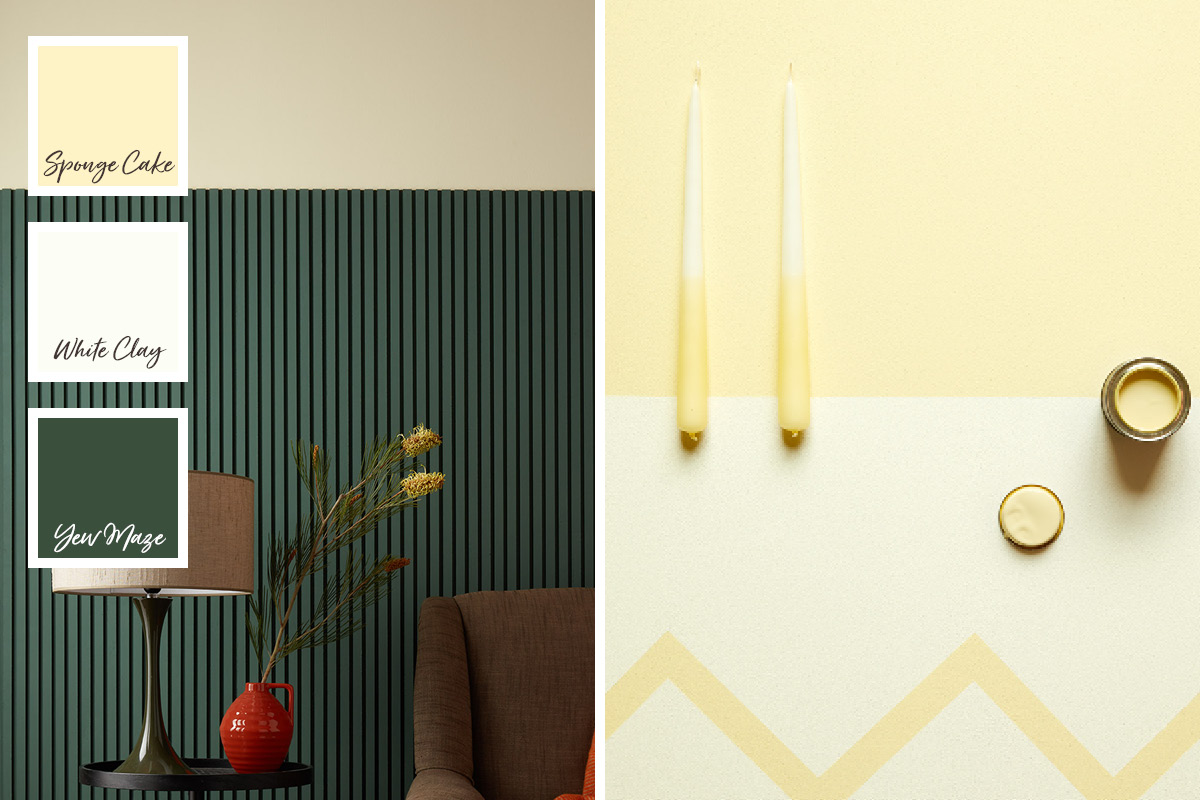 Baked Tile and Feather Pillow
Inspired by warmer climates, Baked Tile is a relaxed, sun-baked shade. Not too pink and not too orange, this characterful tone will add instant drama to bland furniture and dull corners. Use as an accent stripe (or any shape that takes your fancy) across a wall for a modern flash of colour. Or pair with soft greys and warm neutrals like Feather Pillow for a grown-up palette.