How to pair our daring & bold Modern Country Colours
19th July 2021

In this series of blogposts we're selecting our favourite Earthborn shades that work best with our new Modern Country Colours palette.
While the 12 new colours are perfect as modern feature colours, knowing which colours to put with them – on adjacent walls and woodwork – can sometimes be tricky.
However, when we partnered with Country Homes and Interiors magazine to launch this range, we knew we wanted to create a collection of shades that were bold enough to enliven your space whilst being easy to coordinate.
So in this post we're looking at four 'daring and bold' colours from our new Modern Country Colours palette, and our suggestions on how to pair them with other Earthborn shades.
Puddling and Cupcake
Puddling is a deep, dramatic blue that will certainly make a statement in your home. However when used on feature walls, furniture and cabinetry, it brings a luxurious, sophisticated feel to a space.
For a natural partnership, pair with the green-blue tones of Winter Garden. Or for an unexpected combination, Puddling works perfectly with light peaches and pinks such as Cupcake, for a delightful colour twist.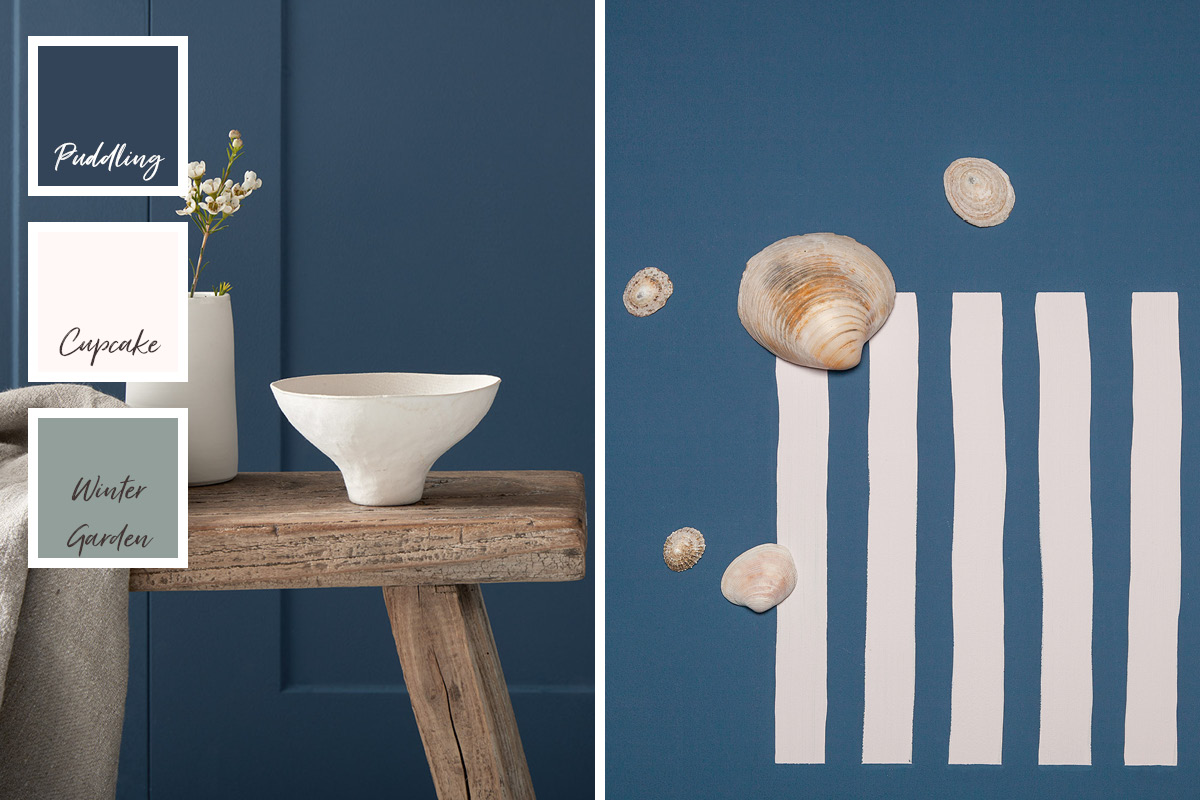 Scuttle and Cat's Cradle
The warm charcoal tones of Scuttle will add depth to your interior. Less harsh than black, but with a little more complexity than a standard grey, Scuttle is an alternative neutral that is stunning when used in place of white on woodwork and trims.
It pairs just as effortlessly with greens, pink and purples (as picture with Dried Petals below) as it does with a more calming, layered palette of warm neutral and grey. Cat's Cradle is an ideal bedfellow, a warm mid grey that complements Scuttle beautifully.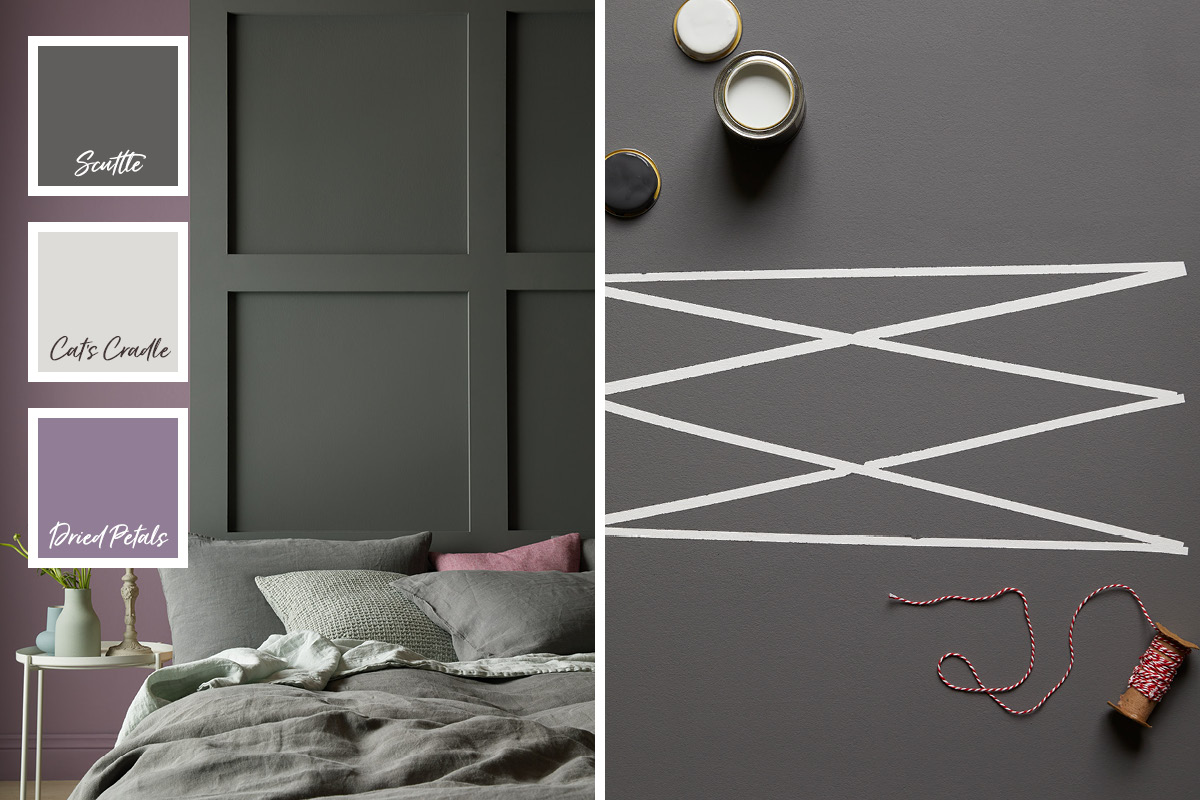 Yew Maze and Gregory's Den
This rich, velvety green is surprisingly easy to live with. At home in both modern and traditional styles of décor, Yew Maze has become ones of our favourite new greens. To enhance it's verdant tones, Yew Maze works well next to lemons and yellow based neutrals like Sponge Cake.
Or for an easy-going, harmonious colour combination, try it next to grey-greens like Gregory's Den.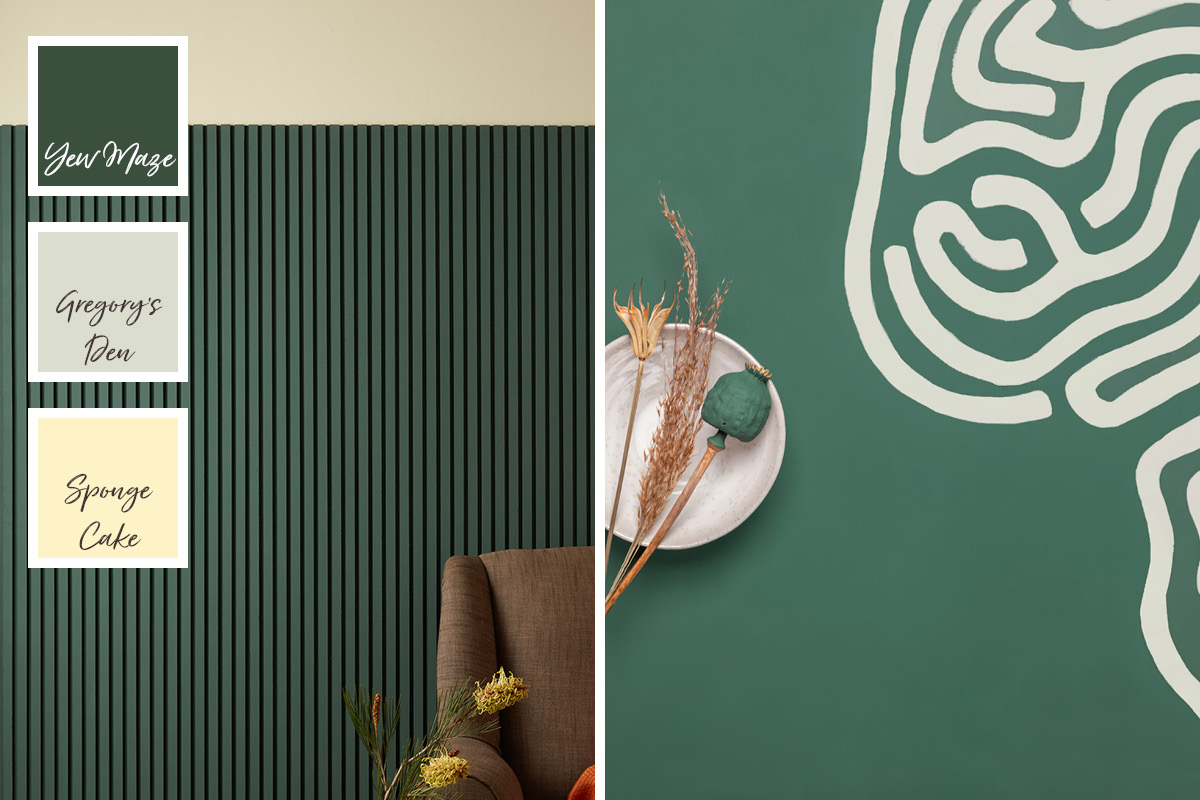 Nutkin and Donkey Ride
Nutkin is a highly flattering flattering colour. It's a warm, relaxed shade of reddish-brown that works especially well paired with warm neutrals.
Team it with colours that have a red, pink or brown undertone, such as Paw Print, Inglenook or Donkey Ride, as pictured. It also works well with yellow and mustard tones which can be introduced as accent colours.