Earthborn supports environmental art show
25th April 2016

The ENDANGERED 13 event involved 13 artists working in a diverse range of media, from painters and poets to sculptors and mural artists. Whilst the live project lasted just a day, the work they have produced will become a permanent fixture.
Human Nature is an exciting collaborative art project that aims to raise awareness of environmental issues through its exhibitions and events. The artists involved create a diverse range of thought-provoking artworks, encouraging people to question their relationship with the environment, further explore environmental issues and ultimately make positive changes.
In 2015, Earthborn was the proud sponsors of the Human Nature exhibition in Bristol and Leeds and this spring, we are delighted to have been once again involved.
ENDANGERED 13 consists of a series of artworks created during a unique 'live' art event, which was presented in April along a 120 metre stretch of railway arches in Tower Hamlets, London. A short walk from Mile End Underground, it's located within an urban park with over 30 acres of woodland. Its aim is to highlight the worrying degree at which some of the earth's animal species are declining. As Human Nature founder Charlotte Webster explains on the ENDANGERED 13 website:
"According to the International Union of Conservation of Nature (IUCN) there are currently 23,250 species listed as threatened. This means: critically endangered, endangered or vulnerable. Adding extinct and extinct in the wild species the figure is 24,153.
It's widely predicted that as many as two-thirds of all species could be near extinction by the end of this century. But, some are now rising in population due to increasing concern about the extinction crisis. Co-ordinated conservation efforts include the protection of natural habitats and prevention of destructive practices such as illegal hunting."
Earthborn, along with other eco conscious sponsors, provided paint for a number of the distinctive murals. And time pressures of the day meant that a lot of painting needed to be done over a short time frame! Featured artist Louis Masai was impressed with the ease of using our Ecopro range of paints:
"Earthborn is really nice paint, good coverage, good colours, which means you can paint lots of wall surface fast…rate it highly…one love."
The finished murals feature a range of threatened animals, from UK species to those at risk globally. The murals are not only breathtakingly beautiful but thought provoking. Louis Masai's Coral Reef piece is a visual delight that also highlights concerns over their rapid decline.
Artist ATM is a London-based artist whose paintings of rare and endangered British birds have appeared all around the capital. His painting of the Curlew aims to draw attention to its population decrease, which has shown a 46% decline across the UK from 1994-2010, with this figure exceeding 50% in Wales and Scotland.
Jim Vision's painting of a lonely Polar Bear presents a powerful image. Polar bear numbers are declining fast as their habitat is lost due to climate warming, along with oil and gas exploration.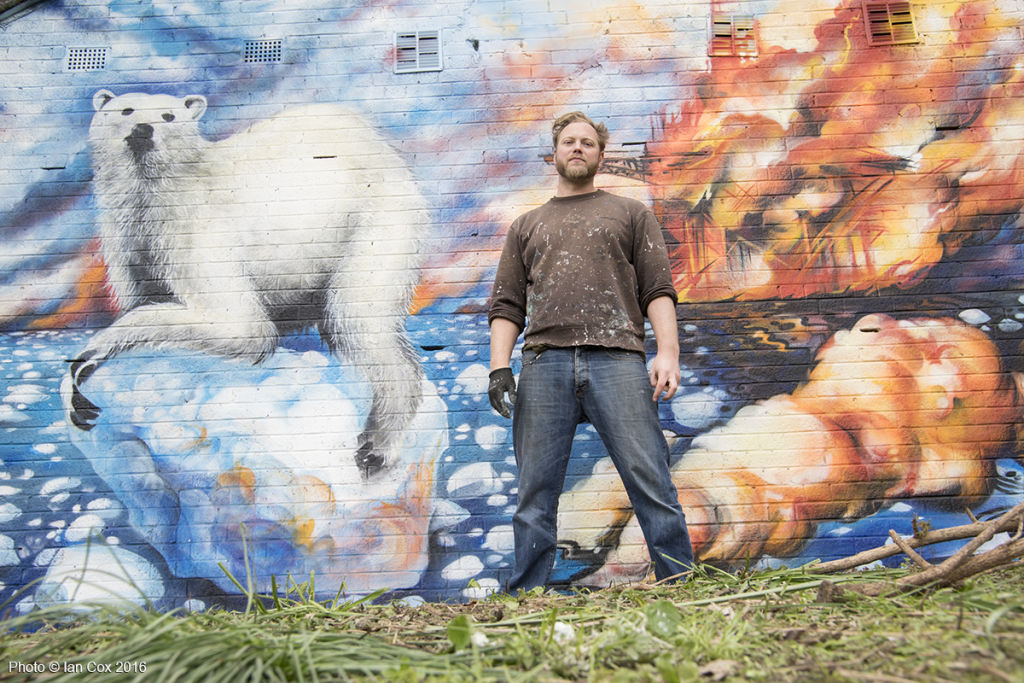 As well as highlighting the plight of larger species such as rhinos, elephants and gorillas, the project emphasized the dramatic population decline of smaller animals and vital insects too.
Bees are rather close to our hearts at Earthborn, being the mascot of our Claypaint, so we were especially taken with this incredible Bee mural created by Louis Masai and Morganic. Bees pollinate around 70% of the world's crop species, but their numbers are falling due to use of pesticides, insecticides and global warming. A world without bees would have catastrophic effects, causing famine, global economic problems and further decline of other important animal species.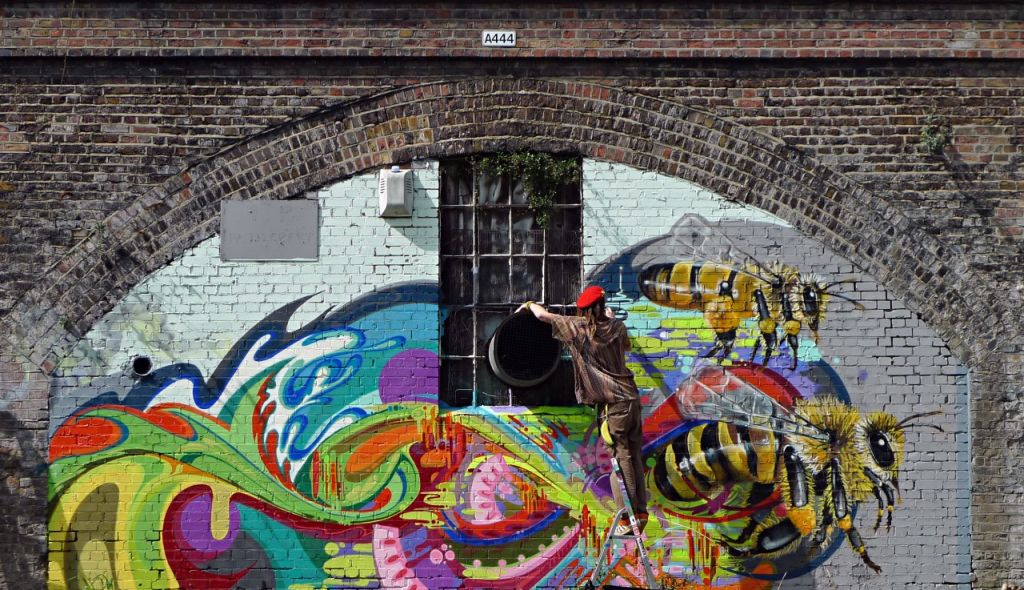 The murals can be found on Ackroyd Drive at Tower Hamlets Cemetery Park, London. Head the ENDANGERED 13 website for more images, artist interviews and further information.
Image credits:
Third from top – TH Cemeterey Park
Second from bottom – Graffiti Walls LDN
Last image – Morgan Davy
All other images – Copyright Ian Cox