Earthborn #claymate Q&A: Soozi Danson
12th May 2020

With a love for patterns and colour, Soozi Danson started writing her blog The Patterned Palace to document the renovations of her 1900's semi-detached property. Since then she has become well-known as an interiors and lifestyle blogger and for her creativity!
True to form, Soozi put our palette to the test when she embarked on her home office makeover. As an Earthborn #claymate, she picked out some of our bolder colours and wowed us with the transformation. You can read more about it here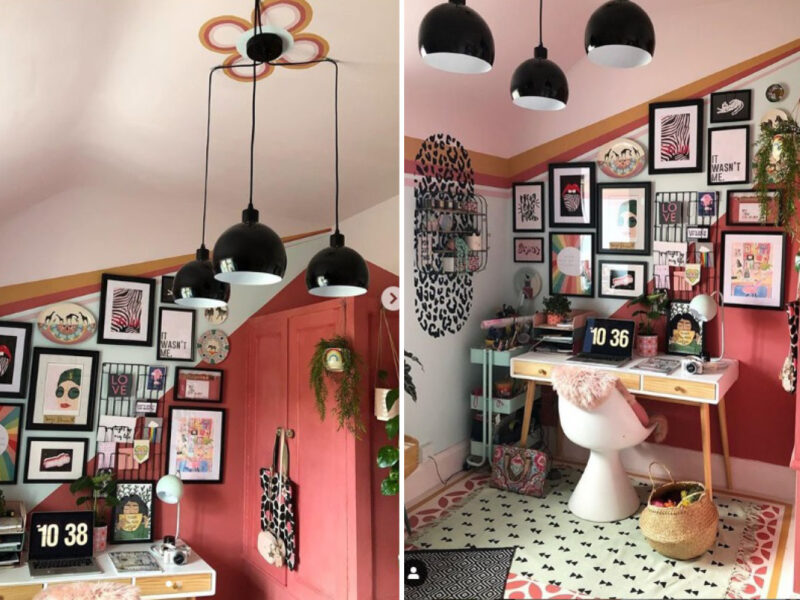 Soozi was back over the weekend to takeover our Instagram stories and talk colour and answer those burning interior questions. Read some of the questions and answers below, and for the full takeover check our highlights on Instagram.
Q&A takeover with Earthborn Claymate Soozi Danson
1.What do you love the most about Earthborn?
The fact that it doesn't smell when your using it so you can still use your room and you don't have to stay out of it for days. It dries really quickly so when your layering paints and doing murals, you can get through them quite quickly. You can use the next colour without danger of it mixing together. Also, the coverage, they cover so well so you don't need bucket loads of it to get a good colour!
2.What's your favourite Earthborn project you've done?
That has got to be my office! I absolutely love all the colours together. I used Cupcake, Rosie Posie, Delilah, Freckle and Shallows. It's my office so I could go completely all out and use whatever colours I wanted and I ASOLUTELY love this room.
3.What colour should I use against my pink bathroom tiles?
I would go for another shade of pink, mainly because I love pink. Depending on the shade of the tiles, if they are a darker tone maybe go with a lighter wall so Cupcake or Rosie Posie or if they are a light tile, perhaps go for a darker shade like Delilah.
4.I have a colourful artwork that I want to take centre stage on my wall, which paint should I use?
If you've got a nice piece of colourful artwork that you want to make centre stage in a room, perhaps chose a colour from it and paint the wall in a lighter shade so that the colourful artwork really pops in the room and makes a statement.
5.How do you become colour confident? I love colour but I'm scared to commit
My advice would be to start small. Don't go out and invest in an expensive sofa in a beautiful colour because you've seen it and lots of people have it and it looks great, because it might not work for you and that's an expensive mistake to make. Try painting a wall, live with it for a while because if it doesn't work you can just paint over it and you haven't spent a fortune. Maybe paint a little side table or something, just to bring the colour in. Or just buy a cushion in the colours you like. You need to live with it first and see if it works for you. It may look great in someone else's house but not so great in yours.
6.What paint can I use to compliment with my emerald green sofa?
I would probably go with a peach tone like Ballet Shoe or Peach Baby. If you prefer a pinky tone Cupcake would look nice or if you're feeling brave you could go all out and do Delilah. That would look pretty cool with an emerald green sofa.
7.What room should I experiment with colour in? My guest bedroom feels too drastic
I would say the downstairs loo if you've got one! That is a great place to do something really funky and its always a talking point when you have visitors. Either that or if you've got a space that's your own, an office space maybe or a utility room, that would be a good place to do your own thing.
8.I'm creative and bold, husband is beige king. Beige always wins in the common areas. Help!
If hubby is insisting that the walls stay beige, bring in colour somewhere else. Sneak it in, he may not even notice, and he may even learn to love it! I would paint an old piece of furniture or a cheap piece of furniture you've got, just something little you've got; a side table or chest of drawers and introduce colour like that. Or just buy cushions or a nice piece of artwork. I have to admit I have been known to decorate a room whilst my husband's out. A little risky but it's worked for me, so maybe try that!
9.How do you create your beautiful murals?
I get inspiration for my murals, usually from Instagram accounts I follow @editbysusielawrence she's amazing and @banyanbridges (she's my fave!).
To create the shapes, I use a spirit level (very essential) and then I cut shapes out of old cardboard boxes to make templates. When I do the pill shape, I just use straight lines and use the template to do the top and bottom part. To do the scalloped edge I used the straight lines and then drew around half a CD to go along, which was easy. Lots of masking tape and lots of trial and error and if you make a mistake its fine because you can just paint over it.
10.How do you make a pattern and colour work so well together?
I normally start with pattern. I have a lot of pattern in my house! Then I pick out some colours from the pattern, maybe cushions (I know I talk about cushions a lot, I have a lot of cushions!) but pick out some colours or if you've got pattered wallpaper I'd just pick out some colours to play with. I have to say, I love a monochrome pattern, I have a lot of monochrome in the house with rugs, cushions and throws and they are great because you can put a monochrome pattern with any colour and it looks fab.
11.What's a bolder colour that I can use with Hopscotch?
I don't usually use a lot of neutral shades, so I had to really think about this one. The three colours I would pick out are Polka Dot, Mister Toad and Delilah.
Don't forget to give Soozi a follow on her Instagram and keep up to date with her interior renovation projects over on her blog!