Mister Toad: The Tale of Mr. Jeremy Fisher
At Earthborn, we always like to do things differently.
All our paints have a story behind them and Mister Toad takes his origins from Beatrix Potter's Tale of Mr. Jeremy Fisher.
Beatrix Potter's tale is a nostalgic reflection on her father's leisurely summer days spent sport fishing in Scotland. We've always been rather fond of the story and couldn't help but love Mr. Jeremy Fisher a little for his cheery, rather accident-prone nature…
We wanted to create a colour which aligned with Potter's gorgeous illustrations of the natural pond-scape… So we created 'Mister Toad', a mellow, earthy green reminiscent of lily pads and other aquatic plants. We love how fresh and contemporary it (or should we say 'he') is!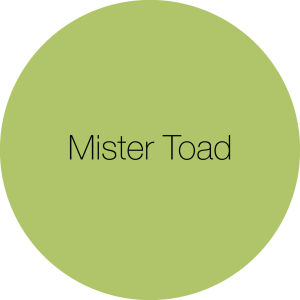 We would recommend tonal pairing with darker shades, Hobby Wood is a wonderful woodland green and much coveted this year. Alternatively, coupling with Dark Cocoa or Rocky Horse works to accentuate Mister Toad's earthy undertones whilst Freckle looks fabulous if you're hoping to channel a more retro palette.
Green is such an evolved colour this year – from chalky pastels to dark, decadent shades and those hazy hues that fall somewhere in between. It's a colour that promises to imbue your space with a restful feeling of balance.
We wonder what Mr. Jeremy Fisher is up to nowadays… #MoreThanJustaPaint