Colour of the Month: Bo Peep
2nd March 2018

Bo Peep: a silky smooth, soft blue which comes with a promise to imbue your space with a sense of harmonic serenity…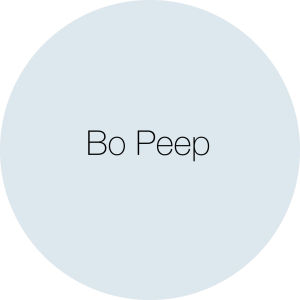 2018 interior trends are centred by bold splashes of colour and whilst we love the darker, more dramatic shades this shift has welcomed, now we're heading towards lighter brighter days, ice-cream pastels are on our mind… Bo Peep is perfect for introducing a gentle touch of spring into your interior projects.
Bo Peep works wonders in bathrooms and bedrooms… smaller, more intimate spaces. It also becomes very swoon-worthy when paired tonally with darker shades. Try a sophisticated bluey-purple such as Trumpet or a deep midnight blue (Toy Soldier is pretty dreamy).
As pastel hues always do, Bo Peep partners beautifully with the greys we are coveting this month as part of our #battleofthegreys campaign: Inglenook and Eiderdown carry lilac undercurrents which work to accentuate Bo Peep's delicate tones.
If you haven't already, head over to one of our social channels to find out more and be in with a chance of winning a gorgeous, authentic prize! @Earthbornpaints
Feeling inspired? Request a sample pot today.