Case study: Guild Hall
16th November 2017

Cardigan's historic Guildhall was given a new lease of life nine years ago and has become a thriving hub of community life. Following its £2.5million restoration by not for profit company Menter Aberteifi, the Grade 2 listed Guildhall provides a popular venue for classes, functions and exhibitions as well as a weekly market.
The community's love for its Guildhall is reflected in the volunteer scheme that undertakes vital maintenance work. The volunteers have just completed repainting the building's magnificent main function room, known as the Great Hall.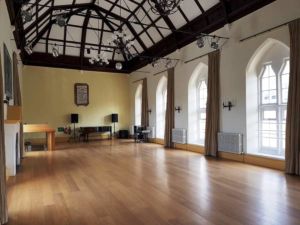 Julian Beynon-Lewis, Managing Director of Menter Aberteifi, reports: "The Guildhall was built in1858. Its restoration included lime plaster, so we needed a highly breathable paint to complement the plaster. Our paint supplier Celtic Sustainables recommended Earthborn Claypaint and we have been really impressed with it.
"It's a very environmentally friendly paint, in keeping with our ethos of sustainability.
And its breathability is vital to prevent a build up of damp in the building's historic walls.
"In practical terms, Claypaint covers really well and it does not give off any harmful odours, so there were no worries about people using the building immediately after painting.
"We applied a coat of Earthborn's breathable Wall Glaze on top of the Claypaint in high traffic areas to give the walls a washable, protective finish."
Claypaint is a unique, clay based emulsion. It contains no oils or acrylics, which means it is virtually VOC free. It is made using advanced technology to maximise the natural properties of clay. The result is a high performance, highly breathable paint that covers exceptionally well and gives a distinctive, ultra matt finish.
Earthborn Wall Glaze is a water based clear glaze for interior use. Being virtually VOC and acrylic free, it is specially formulated for its breathability and environmental benefits. As well as being used as a protective top coat, it can be applied before painting to stabilise sandy, powdery surfaces. It can also be mixed with Earthborn Pigment to create special paint effects or an interior wood stain.
For further information visit: