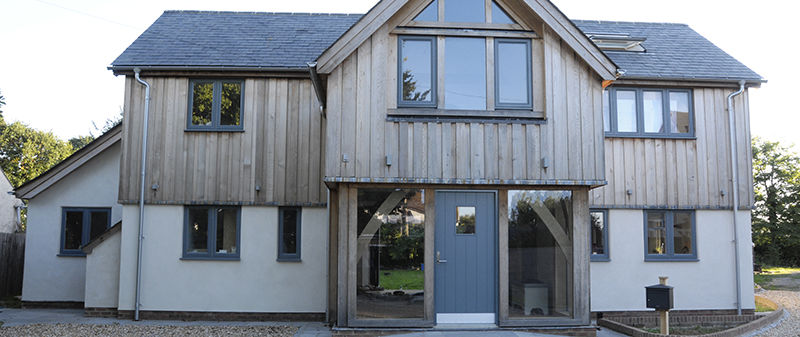 Case Study: Oak frame self builder keeps it natural
When self-builder Joe Shimbart set out to build his dream home he knew that he wanted to live in a house made of natural materials.
He chose an oak frame with external walls constructed of environmentally friendly hempcrete. This lightweight, breathable, insulating material is made from a mixture of lime and the shredded core of industrial hemp.
Speaking of his three-bedroom home in Hampshire, Joe said: "I didn't want to wrap the oak frame in man-made materials, so I chose breathable hempcrete for the walls and finished them internally with lime plaster and Claypaint.
"I always do a lot of research before making any specification choice. Claypaint stood out because of its outstanding breathability and beautiful matt finish. It looks great on lime plaster, creating a warm, homely effect."
Claypaint is a unique, clay based emulsion. Its advanced technology maximizes the natural properties of clay to create a high performance, highly breathable paint that covers exceptionally well and gives a distinctive, ultra matt finish.
Being free of oils and acrylics, Claypaint is virtually VOC free and does not give off any toxic emissions. That means it is safer for the health of building occupants as well as the environment. Its eco credentials include the stringent EU Ecolabel.
Joe added: "The lack of emissions meant I never felt nauseous when using Claypaint, unlike with acrylic paints in the past. In practical terms, it was easy to use. We only needed two coats to achieve full coverage and, because it is water based, brushes were easy to wash out."
Joe has blogged about his self-build for Home Building & Renovating magazine www.homebuilding.co.uk/author/joetheshimbart/
Get the latest paint inspiration!
Don't miss out on the latest inspirations, tips and deals from Earthborn, sign up to our newsletter today!