All about breathability and a guide to painting exterior lime render
Lime render is a traditional building material that allows the walls of a building to breathe and retain flexibility. Modern cement render, by contrast, isn't highly permeable and tends to 'seal' the walls. Whilst both products have their own advantages and disadvantages, it's especially important to use a breathable finish on lime rendered buildings.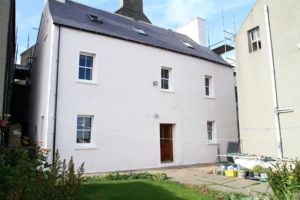 The Society for the Protection of Ancient Buildings (SPAB) offers lots of advice and information on the treatment of lime rendered buildings and the importance of breathability, especially on older buildings. They explain:
'In the context of building materials, and with particular reference to old and historic buildings, the generic term 'breathable' is used to describe an important property of building fabric: the extent to which building materials are able to transmit moisture. Breathable materials should be sufficiently permeable to enable absorbed and surface moisture to evaporate during ambient drying conditions. Loss of moisture from the material needs to occur rapidly enough to ensure that there is no accumulation of moisture which can lead, over time, to significant deterioration of building fabric, development of mould growth, infestation, or other form of decay. A breathable material, by definition, cannot be impermeable and should not trap moisture.'
Using conventional 'plastic' based masonry paints on lime substrates could potentially cause longer term issues by trapping damp, and even causing damage to the fabric of the building itself. Earthborn Ecopro Silicate Masonry System is a highly breathable protective finish suitable for lime render, recommended by lots of lime specialists. It's a two-part system consisting of paint and primer and works by physically knitting into the lime substrate, forming an extremely long lasting, highly breathable yet protective finish.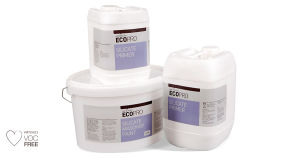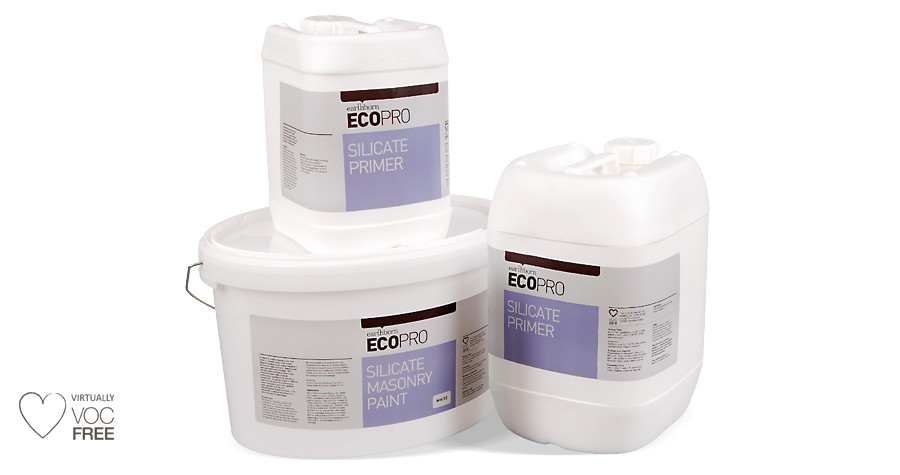 We're often asked about the best way to paint exterior lime render, so we've put together a few pointers which we hope will help:
The Ecopro Silicate Masonry System should be applied to bare, unpainted masonry substrates such as lime plaster. It's also suitable for use on brick, stone, pebbledash and concrete.
The surface should be clean, dry, sound and stable and the temperature needs to be a minimum of 8°C day and night when painting and drying.
If painting onto new lime render, allow enough time to for the lime to cure as well as dry before applying any paint. Your lime provider should be able to advise, but as a rule of thumb we recommend 4 weeks' curing time for every 5mm thickness of render. Painting before this time can prevent the lime from curing properly so it's important not to paint too early.
Limewash is a traditional coating often used on lime render, but it requires long term maintenance and can be arduous to apply. The Ecopro Silicate Masonry System can be used on any stable mineral surface, including limewash. However, as it forms a bond with the substrate and limewash is not always a stable surface, we would recommend removing as much as possible prior to overpainting.
The application of the Ecopro Silicate Masonry System should be as follows:
Apply a first coat of Ecopro Silicate Masonry Primer
Apply a coat of Ecopro Silicate Masonry Paint diluted with around 20% Primer.
Apply a full coat of Ecopro Silicate Masonry Paint
Whatever the age of your lime rendered property however, it's imperative to use a breathable finish so as not to seal the exterior substrate and to allow the lime, and the building, to continue to breathe. Following these simple guidelines will result in a super long lasting, highly durable and breathable finish for your lime rendered property.
Ready to paint? Click here to order a colour card and paint samples, or head to our paint calculator to work out how much you'll need.
Get the latest paint inspiration!
Don't miss out on the latest inspirations, tips and deals from Earthborn, sign up to our newsletter today!